Education & Classes in Shoreline
---
Education & Classes Deals
---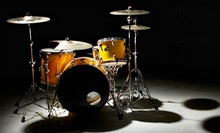 Professional drummers help novice and experienced musicians select instructional materials or purchase new, used, and vintage instruments
Use Saturday 11:00am - 4:30pm
---
Recommended Education & Classes by Groupon Customers
---
In business for 22 years, Cook's World Cooking School infuses aspiring epicureans with cooking expertise in an appetizing assortment of hands-on classes. During each one-night class, a rotating cast of skilled and professionally-trained local chefs guide students through the basics of a specific type of cuisine, cooking skill, or saucepan percussion technique. Go Italian in a doughy pizza-making and throwing class, create sophisticated small plates of flavor-packed treats in the spanish tapas course, or slather on new skills in a barbecue class, in which students learn to tame the wild elemental forces of fire, smoke, and tangy sauce.
Classes run for three hours each with 15 or fewer students, ensuring ample time for participation and one-on-one guidance. All class sessions are held in Cook's World's well-equipped culinary studio, which houses a cornucopia of professional cooking equipment and a carpet woven from retired chefs' hats.
2900 NE Blakeley St.
Seattle
Washington
206-528-8192
Art On The Ridge's galleries display fine art from accomplished local artists, but it's not there to intimidate. The facility's open philosophy for its classes and workshops revolves around encouragement: anyone can create art, and should have fun doing it. Painting classes for adults use wine to fuel creativity, whereas children's sessions cover everything from pop-up art to classes illustrating how art links to math, science, and history. The lineup of instructors has included a fine-arts professor from Antioch University.
Local and visiting artists present their work in the gallery, introducing visitors to exhibits as wide-ranging as Mexican Oil Landscapes and Chainsaw meets Fine Art. Guests can purchase pieces or inquire about commissioning artwork from represented artists to fill their living rooms with portraits or acquire a masterfully forged signature on a report card.
8005 Greenwood Ave. N
Seattle
Washington
206-510-3421
Claiming certifications from the Federal Aviation Administration, Regal Air's instructors have trained aspiring pilots for more than 25 years. Located at Paine Field, the flight school's team adheres to FAA-approved syllabuses, helping students obtain certifications to fly vessels such as private planes and multiengine aircrafts. Training ranges from supervised, hands-on instruction in the air to simulated instruction on the ground in a Garmin 430 DomeAir flight simulator.
Beyond the flight school, Regal Air's operations span a rental fleet of Cessna and Piper planes that let experienced pilots easily reach their castles in the sky. A service team caters to aircraft owners, maintaining planes in accordance with FAA standards.
10217 31st Ave. W
Everett
Washington
425-353-9123
An extension of the Tacoma Bar Academy, the Bartending Academy of Mill Creek has educated students in the finer points of bartending and mixology for more than 35 years. Classes include a 40-hour bartending-certification program, which prepares aspiring tenders to take their place in the drink-slinging industry with lessons in bar etiquette, drink-making techniques, and more than 150 cocktail recipes. The professional classroom setup echoes that of an actual bar, allowing students to get a feel for each element's proper place, from the sliced fruit and soda guns to the emergency manual that outlines exactly what to do should a horse, duck, and pirate walk in.
16030 Bothell-Everett Hwy., Suite 150
Mill Creek
Washington
425-354-7243
---
---
Education & Classes Deals - Recently Expired
---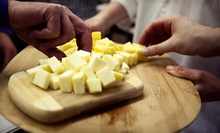 Licensed cheese artisans lead two-hour, hands-on cheese-making classes ideal for group outings or gifts; students leave with 2 lb. of cheese
---
---