Shoreview, MN Health and Fitness
---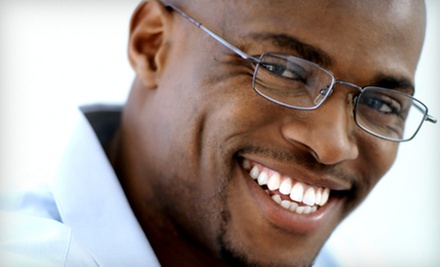 ---
Recommended Health & Fitness by Groupon Customers
---
Anytime Fitness, which boasts 1,689 clubs in North America, makes it easier for average folks to etch out time for exercise by doing one simple thing: staying open 24 hours a day for 365 days a year. As fitness seekers challenge themselves on cardio and Hammer Strength machines and hoist Iron Grip free weights in clean, well-stocked facilities, security monitoring ensures they're safe and producing enough sweat to meet official government standards. Members can also ramp up their exercise regimens with the help of Anytime Fitness's staff of personal trainers, who demonstrate moves and sling motivating tips. After workouts, guests can shower in the private restrooms or hop into one of the tanning booths available 24 hours a day.
7077 10th St. N
Oakdale
Minnesota
US
4Ever Fit Studio's instructors tone and strengthen the bodies of 35–40 students per class with exercises ranging from full-body workouts with cardio to Vinyasa yoga classes. Zumba classes burn calories with all the excitement of a dance party but none of the noise complaints, and boot-camp classes combine the benefits of cardio and core-strengthening exercises into one multifunctional workout.
Certified personal trainers help individuals surmount plateaus in weight loss or muscle building, and also help guests embrace body-benefiting nutritional practices. 4Ever Fit Studio also hosts events such as nutritional seminars, women's expos, and Richard Simmons impersonation contests at its studio.
2676 E County Rd. E
White Bear Lake
Minnesota
651-340-2329
Certified hydrotherapist and Peaceful Waters owner Tammy Fischer is certified in a variety of natural therapies that can detoxify the body and lead to better overall health. She has handpicked the latest equipment and products to facilitate each client's visit, including the comfortably cushioned, gravity-fed Angel of Water colon-hydrotherapy system. Fischer applies nine different therapeutic-grade essential oils by Young Living during raindrop therapy, aiming to purge the spine and feet of bacteria and viruses. She employs a steam tent to draw out impurities from the skin and also uses the IonCleanse ionic bath, which is designed to detoxify the body via the feet. During the footbath, patrons relax in an iJoy robotic massage chair, which impersonates a human being and inspires joy just like Anderson Cooper.
7300 Hudson Blvd., Suite 220
Oakdale
Minnesota
651-330-9583
Dr. William Johnson II has tamed teeth through general and cosmetic dentistry for more than 36 years—two of which were spent with the U.S. Coast Guard in Boston. At Dentistry at Central Medical, he and his staff perform a variety of treatments and services, including whitening teeth, customizing dentures, and implanting crowns, bridges, and veneers. In particular, Dr. Johnson specializes in properly placing tooth-colored fillings and in gentle injection techniques.
The team designed its practice to respect patients' time and individual needs—the staff are always reachable, as the office's phones transfer directly to a cell phone or begin to melt if unanswered, and appointments can be quickly booked online. Each operatory is replete with a nitrous oxide delivery system and with the newest Cavitron cleaning equipment, which renders mouths immaculate without any gritty paste. High-tech sterilization equipment keeps all tools spotless, and air purifiers remove any airborne allergens.
393 Dunlap St. N, Suite 303
St. Paul
Minnesota
651-644-4440
For 20 years, Doctor of Chiropractic Catherine Gray has taken a whole-body approach to alleviating pain and helping each client find their physical potential. She leads a handpicked team of holistic health experts, including Doctor of Chiropractic Theresa Burns, who specializes in caring for athletes and children; personal trainer and medical exercise specialist Chris Chronister; and two licensed massage therapists. The doctor showcases her dedication to healing bodies in every facet of her career. In addition to owning and operating MorningStar Chiropractic, she runs a consulting company that helps students transition from chiropractic school to private practice, and is a quarter-time faculty member at Northwestern Health Sciences University. Jeff Zachman, L.Ac has also recently joined the team.
The team takes a multifaceted approach to chiropractic care, addressing damaging subluxations and their physical consequences with methods ranging from cervical traction to ultrasound physiotherapy. They also offer soothing reiki sessions to balance chakras impacted by stress or metaphorical meteors.
1210 E Moore Lake Dr
Fridley
Minnesota
763-571-0800
The dental professionals at Dental Health Care Center have been venturing into the dark corners of people's mouths for four decades. The practice's trio of skilled dentists, Drs. Cashin, Woell, and Dalluge, transforms smiles with modern technology, such as Opalescence custom teeth-whitening trays and transparent Invisalign braces, which straighten teeth without putting their owners in danger of being mugged for scrap metal. Whether they're plugging teeth with Cerec ceramic fillings or outfitting mouths with implants, the dentists explain each procedure in detail.
1717 E 66th St.
Richfield
Minnesota
612-861-7109
---