Restaurants in Shoreview
---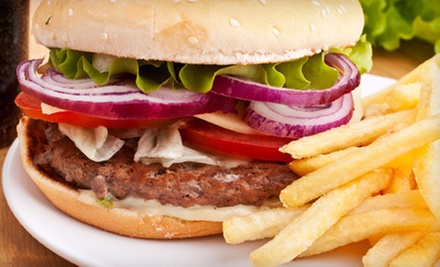 ---
Recommended Restaurants by Groupon Customers
---
Sprays of flowers in petite, glass vases perch atop each table, a lush reminder of the local fields where 128 Cafe culls the seasonal fruits, vegetables, and other ingredients which comprise its rotating menu. Mélanges of veggies mingle with pasta and couscous or provide a crisp counterpoint to tender chops, tenderloins, or barbecued baby back ribs, a house specialty. Chefs whip up each dish to be served in the softly lit dining room or from 128 Cafe's food truck, which frequently rolls to festivals, boulevards, and photo finishes at pinewood derbies.
128 Cleveland Ave. N
St. Paul
Minnesota
651-645-4128
Using natural meats from local farms and culinary inspiration from all across Asia, skilled chefs craft dishes such as tom yum noodle soup and Vietnamese banh mi sandwiches filled with Korean BBQ pork. Patrons can customize their orders of Japanese shoyu ramen with an assortment of meats and veggies, including pork belly, calamari, bok choy, and wild mushrooms. Kinsen Noodles & Bar also offers an array of vegan, vegetarian, and gluten-free options, which diners can devour while seated inside a cozy booth or standing atop a table. The restaurant's wall of mirrors reflects the cool blue glow of the bar, where mixologists concoct fruity drinks ranging from classic sangria to rum punch with coconut milk.
1300 Lagoon Ave., Suite 150
Minneapolis
Minnesota
612-367-4595
Though people can rely on pretty much any corner store to supply them with a quick gallon of milk, at Lulu's Market & Deli, customers can also stop in for Greek-inspired fare. They can grab saffron-coated wings or fries, baba ghanouj, gyros, and baklava, as well as cold-pressed coffee and Persian-blend earl-grey tea.
Lulu's has maintained its presence at the corner of Selby and Fry for the last 17 years, but after new ownership in 2010, it became more than just a corner convenience store. In addition to the deli, the staff also provides delivery and catering for birthday parties, family reunions, and hunger strikes.
1626 Selby Ave.
St Paul
Minnesota
651-645-2160
A bright illustration of a burger and beer towers over Adrian's Tavern, inviting the neighborhood inside to enjoy sandwiches and brews. Since its origins as a steak house in 1931, Adrian's has remained a family-owned-and-operated establishment run by Jim and Karen Pratt. Nine varieties of burgers, craft and domestic beers, and red and white wines satisfy dinnertime hungers and thirsts. The bar welcomes kids with an extensive child-friendly menu, and old-fashioned pinball machines and video games offer families alternative entertainment to staring contests with Grandpa.
4812 Chicago Ave.
Minneapolis
Minnesota
612-824-4011
Hailed by StarTribune writer Tom Horgen as "two guys who know their beer," Mark van Wie and Paul Schatz have worked for the last decade to put their pub The Muddy Pig on the maps of local and international beer connoisseurs. At their second venture, The Pig & Fiddle, they have raised the bar even higher with 36 beers on draft—including a slew of Belgian-style brews—to go with chef Stephanie Kochlin's menu of European-inspired pub fare.
Each day from 4:00 p.m. until 1:00 a.m., Chef Kochlin prepares hearty dinner entrees using recipes gathered from rustic European locales and cooking oils derived from melted Renaissance paintings. Along with artisanal cheeses, house-prepared meats, and boiled pierogi, the kitchen specializes in European pasties—pouch-shaped pies filled with roasted lamb and house-made pickles. Aside from the nightly dinner menu, The Pig & Fiddle frequently curates events such as special dinners with course-by-course beer pairings.
3812 W 50th St.
Minneapolis
Minnesota
952-955-8385
Inside a restaurant whose vibrant purple awnings help diners spot it from afar, cooks concoct 75 different dishes derived from the "roof of the world." Artwork-laden walls surround the tables and cushioned chairs in the dining area, where patrons enjoy home-cooked items ranging from Tibetan-style dumplings made with lean chopped beef to batter-fried sesame chicken. The restaurant's separate bar area provides patrons with a place where they can grab a drink, watch TV, and practice thumb-wrestling moves with others.
1833 Nicollet Ave.
Minneapolis
Minnesota
US
612-872-8663
---