Restaurants in Shoreview
---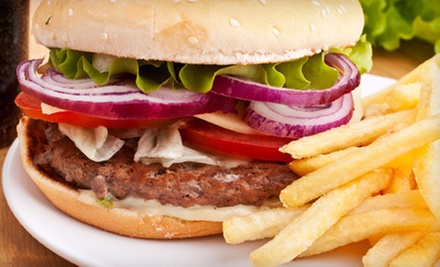 ---
Recommended Restaurants by Groupon Customers
---
Using natural meats from local farms and culinary inspiration from all across Asia, skilled chefs craft dishes such as tom yum noodle soup and Vietnamese banh mi sandwiches filled with Korean BBQ pork. Patrons can customize their orders of Japanese shoyu ramen with an assortment of meats and veggies, including pork belly, calamari, bok choy, and wild mushrooms. Kinsen Noodles & Bar also offers an array of vegan, vegetarian, and gluten-free options, which diners can devour while seated inside a cozy booth or standing atop a table. The restaurant's wall of mirrors reflects the cool blue glow of the bar, where mixologists concoct fruity drinks ranging from classic sangria to rum punch with coconut milk.
1300 Lagoon Ave., Suite 150
Minneapolis
Minnesota
612-367-4595
Though people can rely on pretty much any corner store to supply them with a quick gallon of milk, at Lulu's Market & Deli, customers can also stop in for Greek-inspired fare. They can grab saffron-coated wings or fries, baba ghanouj, gyros, and baklava, as well as cold-pressed coffee and Persian-blend earl-grey tea.
Lulu's has maintained its presence at the corner of Selby and Fry for the last 17 years, but after new ownership in 2010, it became more than just a corner convenience store. In addition to the deli, the staff also provides delivery and catering for birthday parties, family reunions, and hunger strikes.
1626 Selby Ave.
St Paul
Minnesota
651-645-2160
A bright illustration of a burger and beer towers over Adrian's Tavern, inviting the neighborhood inside to enjoy sandwiches and brews. Since its origins as a steak house in 1931, Adrian's has remained a family-owned-and-operated establishment run by Jim and Karen Pratt. Nine varieties of burgers, craft and domestic beers, and red and white wines satisfy dinnertime hungers and thirsts. The bar welcomes kids with an extensive child-friendly menu, and old-fashioned pinball machines and video games offer families alternative entertainment to staring contests with Grandpa.
4812 Chicago Ave.
Minneapolis
Minnesota
612-824-4011
Hailed by StarTribune writer Tom Horgen as "two guys who know their beer," Mark van Wie and Paul Schatz have worked for the last decade to put their pub The Muddy Pig on the maps of local and international beer connoisseurs. At their second venture, The Pig & Fiddle, they have raised the bar even higher with 36 beers on draft—including a slew of Belgian-style brews—to go with chef Stephanie Kochlin's menu of European-inspired pub fare.
Each day from 4:00 p.m. until 1:00 a.m., Chef Kochlin prepares hearty dinner entrees using recipes gathered from rustic European locales and cooking oils derived from melted Renaissance paintings. Along with artisanal cheeses, house-prepared meats, and boiled pierogi, the kitchen specializes in European pasties—pouch-shaped pies filled with roasted lamb and house-made pickles. Aside from the nightly dinner menu, The Pig & Fiddle frequently curates events such as special dinners with course-by-course beer pairings.
3812 W 50th St.
Minneapolis
Minnesota
952-955-8385
The year 1927 saw Babe Ruth's Yankees dominate pro baseball and the precursor to Big Louie's Bar and Grill—Main Street Tavern—open in Minneapolis. In addition to depicting athletes from that bygone era, the Big Louie's menu catalogs an array of traditional American bar and grill fare. From boneless wings to fish 'n' chips, the cuisine roster has even more depth than the famed Yankees lineup of '27. The restaurant further establishes its entertainment value by hosting karaoke and bingo and by not allowing recitations of real-estate-law books.
790 County Rd. D
New Brighton
Minnesota
651-636-2901
As reported by Kassie Petermann of _Sun Newspapers, the current owner of the Columbia Grill & Tavern is working to make a positive impact on the Columbia Heights community. Local resident Lee Aadahl made drastic changes to the restaurant's interior—including new carpet, furnishings, and a refinished bar—and drew up a fresh menu of comforting appetizers and sandwiches inspired by his 38 years in the restaurant industry. Diners can begin with Wisconsin cheese curds or pan-seared steak bites finished with brandy, then follow those with a hand-pattied bacon cheeseburger or chicken sandwich with mushrooms and swiss cheese.
During the daily happy hour, bartenders pour cold glasses of Guinness or Blue Moon while patrons watch sports on 12 flat-screen TVs spread around the restaurant and hidden in one lucky hamburger. The restaurant furthers its community involvement with charitable events, such as a fundraiser for breast-cancer awareness.
4005 Central Avenue Northeast
Minneapolis
Minnesota
763-205-2477
---