Shorewood Cleaning and Home Services
---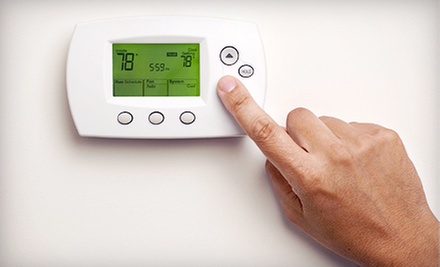 ---
Recommended Home Services by Groupon Customers
---
ECOMAIDS uses only all-natural, modern, bio-based green-cleaning products that are gentle on your family, your pets, your family's family of pets, your pet family, and the environment. These mild yet effective products get surfaces sparkly clean without damaging furniture finishes or utility surfaces. Each scrubbing session covers your home's kitchen, living room, dining room, entryway, bathrooms, and hallways. The maids will dust, spray, scrub, wipe, mop, and vacuum floors, surfaces, baseboards, and more. They'll empty the garbage, clean the encrusted tomato sauce from the sink, and scour lingering carbon footprints off the ceiling. To keep you from having to go on an expedition to find dishes lurking under your housemate's bed, ECOMAIDS will gather and load your dishes into your dishwasher for you. Click on ECOMAIDS' checklist to get a full run-down of services provided.
AT HOME
West Allis
Wisconsin
US
Whether performing preventative-maintenance services on heat pumps, fan coils, or furnaces or upgrading aging air conditioners, Burant Heating & Air Conditioning's temperature specialists pride themselves on their quality workmanship. With each new installation, techs calculate the furnace size required to heat each client's home, business, or condo-grade tree fort before custom cutting all sheet metal inside their truck. As they work, they lay down carpet runners and don booties to protect floors, and client investments are protected by a two-year parts-and-labor warranty, which summons the techs back to repair any problems free of charge.
9525 S 60th St.
Franklin
Wisconsin
414-421-5930
Todd Rockweit draws upon scientific studies, advice from organic farmers, and an endless willingness to test and improve his own natural gardening solutions. Hunched over a microscope to peer into fresh batches of compost, he works towards that sense of connection one gets when pressing bare feet down into grass or biting into fruit grown by hand. Rockweit also sticks to a faith in organic technique so secure that in situations in which it seems synthetic products are the best solution, he will call in another company.
During visits to home yards and gardens, the Backyard Organics team works to identify weed infestations, nutrient deficiencies, and rabbits and deer destroying shrubs to look cool in National Geographic. The crew then brings to bear a range of corn-gluten meal, deer-deterrent sprays, and compost blends customized according to the season and plant cover. Soil tests reveal chemical imbalances, and services such as aeration and overseeding restore lawns to lushness after attempts to break the longest-croquet-game world record.
6953 Thornberry Trl.
Oshkosh
Wisconsin
920-850-7450
In 1875, Charles Hawks founded Hawks Nursery Company to outfit local farmers and residents with plant stock: usually fruit trees, shade trees, and shrubs. As towns grew more populated, the company's staff grew, too, and soon Charles employed 200 salesmen, who traveled the Midwest by horse and buggy, train, or high-powered propeller beanie to sell their stock. When the Depression began atrophying business, Charles responded by expanding into the landscaping industry. There, the company really blossomed. Today, a team of landscape designers—most with college degrees in the field—transforms exterior spaces with verdant plant life, patio designs, and water hazards. The landscape artists' stellar reputation even earned them landscaping work at the Milwaukee County Zoo and outside of the Milwaukee Art Museum.
Hands-on gardeners flock to Hawks Nursery, wandering down outdoor paths that wind past potted flowers and plants, fountains, and trees. The serpentine paths funnel into an information gazebo, where gardeners of all skill levels can ask questions, such as how to care for newly transplanted shrubs or how to teach trees to grow caramel apples. An interior show room sells high-quality gardening supplies, patio furniture, and tropical plants, as well as seasonal decorations.
12217 W Watertown Plank Rd.
Wauwatosa
Wisconsin
414-258-5525
Equipped with a comprehensive cache of environmentally friendly cleaning products, the fully insured, experienced staff at Green Cleaning Company vanquishes domestic grime and messes. The dwelling dusters specialize in revamping soiled cabinets and woodwork, and extend their meticulous services to all rooms and secret chambers hidden behind refrigerators. Products from brands such as Seventh Generation and locally based Schmidt Custom Floors work to oust filth with minimal effects on the environment
740 N Plankinton Ave., Suite 1
Milwaukee
Wisconsin
SpeedyMen Moving Services sends its licensed and insured team to help ease the stresses of relocation with quality packing supplies and coordinated moving services. Movers treat every personal belonging as if it were fragile and invaluable, using tape and protective padding to safely transport furniture, boxes, and even cars in their fleet of spacious moving trucks. They capably tackle tasks of all sizes, helping to disassemble mattress frames and swing sets or lure pet grizzly bears out of garages.
220 Regency Ct.
Brookfield
Wisconsin
414-531-6767
---