Theme & Amusement Parks in Shorewood
---
Theme & Amusement Park Deals
---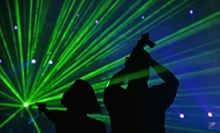 Players armed with metal-replica laser weapons pick from 20 different tactical missions, such as Death Match or Command and Conquer
---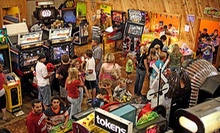 Opponents square off on a 20,000-square-foot outdoor inflatable field
---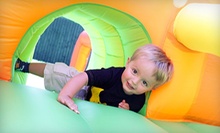 Sock-clad tykes aged 3–10 scamper through 7 bounce houses and a cushy obstacle course or engage in ping-pong and air hockey in all-day play
Use Monday 10:00am - 7:00pm
---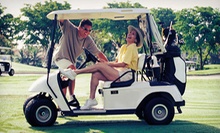 Wedged between Browns Lake and the Fox River, a 6,449-yard course boasts elevated greens and a miniature Golden Gate Bridge
Use Monday 6:00am - 8:30pm
---
Recommended Theme & Amusement Parks by Groupon Customers
---
Eight enormous inflatables tower above the sock-clad youngsters visiting Jump Zone's indoor park. Decorated with kid-friendly themes such as Batman, fire trucks, and the rainforest, inflatables accommodate kids ages 2–12 as they hop in bounce houses, slip down slides, navigate obstacle courses, and hatch plans to open up 401(k) accounts. Meanwhile, a toddler play area entices children ages 2 and younger with a pirate-themed inflatable. Along with its inflatable fun, Jump Zone enthralls guests with an arcade and offers to host parties complete with an inflatable throne for guests of honor. Parents enjoy free admission when they enter with a child, at which point they can watch their youngsters play, surf the facility's free WiFi, or join their kids for a bite in the café.
6544 South 108th Street
Franklin
Wisconsin
414-409-7610
It's a startling sight: against the backdrop of green, rolling hills, clusters of ostriches and peacocks strut across wooden-fenced pastures, their caws overpowering the lowing of nearby buffalo and elk. This motley collection of exotic animals represents a labor of love for Glacier Ridge Farm owners Mark and Michelle Schultz, who have welcomed more than 30 animal species onto their farm. For three decades now, camels, coatimundi, and a zebra have lounged near the farm's wildflower-ringed pond, debating the species classification of centaurs.
In addition to the lively menagerie, the Mr. and Mrs. Schultz populate their property with a farm store housed inside a 100-year-old barn. There, they dole out ice cream as well as fresh cuts of elk and buffalo meat as well as other Wisconsin-made treats.
N9458 Ridge Rd.
Van Dyne
Wisconsin
920-688-3488
Playnasium inspires imaginations inside pint-size frames as kids cavort on sock-clad feet about the approximately 1,800-square-foot facility. Geared toward children aged 6 and younger, the indoor playground showcases a wealth of active options to entertain children as snow and wintry winds roost in outdoor jungle gyms. Kids whip up imaginary snacks in play kitchens, safely leap around in a net-enclosed bounce house, and draft declarations of their pillow fort's national sovereignty from the coloring area's diminutive picnic tables. Staffers clean and disinfect the entire playroom daily with nontoxic and eco-friendly products to protect budding tots. Playnasium serves up piping-hot coffee to keep parents' tummies toasty, and lunches may be brought from home to refuel tuckered-out tykes. After scheduling an appointment ahead of time, verifying their children's health, and filling a knapsack with a day's supply of snacks, parents can drop their kids off for up to 4 hours of Playnasium-provided childcare and go tend to adult duties.
Playnasium shutters its doors during birthday parties, granting hosts and their guests unfettered access to the facilities' attractions. Plates, napkins, and utensils will be provided to accompany food and cake brought by the client. The facility's dedicated staff lends a hand to parents by helping to set up the room prior to the party and cleaning up any messes or leaky big-wheel motors afterward.
2733 18th St.
Kenosha
Wisconsin
262-720-7529
Following a mission to educate guests on preservation and environmental responsibility, Bear Den Zoo provides a safe, caring home for a wide range of farm animals and exotic species. Black bears, ring-tailed lemurs, giant tortoises, and exotic pheasants play and preen inside constructed habitats as guests look on from a safe distance, observing their mannerisms and learning to convincingly imitate them. In addition to providing guests with information on each animal, the zookeepers coordinate hands-on demonstrations that allow guests to interact with more social animals.
During the fall, the zoo opens its surrounding trails for evening hayrides and late-night adventures in the haunted woods. Tiki torches guide the way, and various ghosts and goblins spook guests amid the roars of nocturnal wildcats lamenting the lack of a reliable Internet connection in their cages.
6831 Big Bend Rd.
Waterford
Wisconsin
262-895-6430
---