Things to Do in Shorewood
---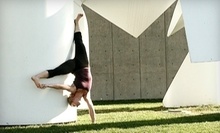 Five styles of yoga classes range from aerobic power Vinyasa to the highly meditative yin yoga and its lengthy posture holds
Use Friday 6:45am - 9:45am
---
Recommended Things to Do by Groupon Customers
---
Brew City Bike Tours offers pedal-pushing participants an opportunity to experience the city and its bountiful beer offerings on two wheels without welding a keg to the back of a tandem bike. Tour participants will glean illuminating knowledge about Milwaukee's brewing past (it was once home to four of the world's largest breweries) while sampling some of the city's most notable microbrews. Each tour lasts approximately 3.5 hours and includes two to three samples of beer at three different stops. When logistically possible, one stop will be a tour of Lakefront Brewery, a microbrewery housed in a former Milwaukee Electric Railway and Light Co. power plant. Bike rentals are not included in this Groupon, so thirsty adventurers should bring their own bike, rent one for an extra charge ($31.68), or attempt to commandeer a wild bronco. BYOHelmet too; they're required for the tour.
2108 North Farwell Avenue
Milwaukee
Wisconsin
The longest running professional soccer franchise in the United States, the Milwaukee Wave debuted in 1984 as one of the six charter members of the American Indoor Soccer Association. Now, nearly three decades later, and as part of the Major Indoor Soccer League, the club builds upon a history that already includes six league championships–most notably, back-to-back titles in 2011 and 2012.
Off the field, the Wave's positive impact ripples into the community through an educational program, Making Waves, which sends players to more than 70 schools annually to discuss why healthy habits are good and why mistaking a referee for a zebra could be bad. The club maintains those community-inspired good vibes during its home games at U.S. Cellular Arena, where frequent promotions and mascot Brad Beach keep fans of all ages entertained.
400 W Kilbourn Ave.
Milwaukee
Wisconsin
414-224-9283
Dogs may be man's best friend, but having a horse show up at your wedding is more likely to impress. Milwaukee Coach and Carriage arranges such romantic gestures with its fleet of well-mannered equines and spacious coaches. Its custom carriage rides wend to and from marriage ceremonies as well as birthday parties, grand openings, and other special events, imbuing passengers' evenings with timeless flair and romance.
For a more casual trot around the city, Milwaukee Coach and Carriage also leads 30- or 60-minute tours of downtown, rolling past popular landmarks to create a memorable date without getting involved in a high-speed chase. Each carriage holds up to four adults and two children total, though 12-person wagons are available for larger groups.
228 E National Ave.
Milwaukee
Wisconsin
414-272-6873
The 14,000-year-old Hebior mammoth stands sentinel past the entrance to the Milwaukee Public Museum, serving as a massive reminder to all who enter that they are traveling back in time. Originally founded in 1882, the museum has spent more than a century collecting artifacts and fossils from around the world to portray the vast reaches of natural and human history throughout 150,000 square feet of exhibit space spread over three and a half floors.
Representing the recent past, The Streets of Old Milwaukee's turn-of-the-century gas-lit lanes and the European Village place visitors up close to replicas of more than 58 structures, including an old-fashioned barbershop and a fully furnished Scottish dwelling. Traveling further back to the Cretaceous period in the Third Planet exhibit, a life-size replica of a tyrannosaurus greets visitors with its tiny arms and impeccable manners. Visitors can also explore treasures from Africa, Asia, and the Arctic, or stroll through the butterfly wing to witness free-flying exotic and native species.
Adjacent to the museum, the Daniel M. Soref Planetarium and IMAX theater display astronomical wonders with a Digistar 3 computer-projection system. The Skies Over Milwaukee show lights up the ceiling with the current night sky for a tour of the planets and constellations. In the same theater, IMAX films transport audience members to the top of Everest or to the bottom of the ocean with a six-story screen, wraparound digital sound, and the distilled imaginations of 5-year-olds.
800 W Wells St.
Milwaukee
Wisconsin
Versed in a wide variety of dance styles, Bailando Latin Dance Company's seasoned gyrators share their knowledge of footwork and technique with students between performances, encouraging pupils to socialize while honing their craft. Group and private lessons in the company's trio of studios imbue attendees with the improvised walks and figure-eight step of Argentine tango, salsa's turn patterns, and the sultry hip motions of bachata, a style widely practiced in the Dominican Republic. The company also lends its boogieing craft to outreach programs, public demonstrations, and charity events.
1925 W National Ave.
Milwaukee
Wisconsin
608-445-0089
Every year, a crew of landscapers draws on a palate of bricks, wood, and water, as well as foliage and flowers, to fashion sweeping terraces and murmuring aquatic features. This year, in its 88th iteration, The Realtors Home & Garden Show explores the hours of the day through designs focused on facilitating morning meditation, afternoon cookouts, and evening film screenings. One installation rises from the work of international chalk artist Julie Kirk Purcell, who teases the eye with mural of a chalk garden that seems to leap in three dimensions from the floor of the convention hall.
Chatter drifts to the model patios and gardens from more than 250 exhibitors and vendors, who showcase home-improvement and landscaping techniques alongside designers of windows, cabinetry, fences, and saunas. A culinary area stands out from the rows of home wares with daily demonstrations from five chefs, including some nominated for James Beard awards. The sessions focus on topics including plating, raw food, and French dishes, all using organic ingredients from local farms. Nearby, a market bustles with guests toting potting supplies, gardening tools, and makeup kits for vain scarecrows. Outdoor furniture begs to perch on patios alongside lawn ornamentations that hint at European and Asian art traditions or highlight work by local artisans.
8200 W Greenfield Ave.
West Allis
Wisconsin
414-727-8860
---