Massage in Short Pump
---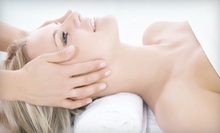 Therapists promote full-body relaxation with an aromatherapy massage, foot treatment, and back scrub
---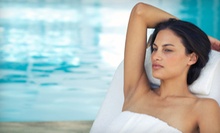 Spa packages focus on relaxation or beautification, and pamper bodies with paraffin hand treatments, massage, and body wraps
---
Recommended Massage by Groupon Customers
---
There is a box at the door of Renewal Massage. Inside, the worries of previous guests wilt, discarded. Each was symbolically dropped in and left behind, an act that began many clients' journeys toward relaxation and balance. Past the box, within Renewal Massage, licensed therapists facilitate this voyage. They employ more than 10 modalities and more than five decades of combined experience to combat stress, confident that massage treatments are not an indulgence but a remedial step toward total wellness. Thus, they strive to evict tension from both muscles and thoughts, pushing their patrons toward a holistic vision of health.
Every therapist on staff boasts his or her own specialties. Christie Jones, for example, has mastered the classic Swedish, deep-tissue, and hot-stone kneading styles and Will Jett focuses on helping his clients understand the importance of regular massage. Often, a massage will address specific or chronic concerns; pregnancy massages aim to relieve weight-bearing pains, and migraine massages target the facial muscles and shrinking sweatbands that can cause headaches.
10708 Ballantraye Drive, Suite 206
Fredericksburg
Virginia
540-693-1401
The certified therapists behind Escape Massage knead away curmudgeonly knots seven days a week inside 10 private and two couples massage rooms. Three-inch high-density foam massage tables cushion bodies while warm waves of heat fend off goose bumps as they disperse through fitted cotton-flannel sheets and quiet heaters. After therapists dim the wall sconces, they manipulate sinews with Swedish, deep-tissue, aromatherapeutic, and hot-stone techniques, concluding each session with hot towels upon request. Escape Massage also provides prenatal massage tables, which come with specially designed padding and pillows that allow moms-to-be to lay face-down and solicit parenting advice from Mother Earth.
3430 Pump Rd.
Richmond
Virginia
804-270-2051
Certified massage therapists help clients relax and lose lingering aches, pains, and bodily stress with a range of specialized massages. Hot stones penetrate waves of heat into muscles for greater relaxation, whereas cold stones aim to reduce swelling and inflammation in localized areas. Deep-tissue and sports massages work to relieve embedded tension and tennis balls in joints and muscles, and additions such as aromatherapy seek to deepen states of relaxation.
In addition to specialty massages, EveN Baby Massage offers beautification and relaxation services such as organic facials, foot scrubs, and paraffin dips. Such services push clients toward more pristine complexions while ridding the body of excess oil, dead skin, acne, and only the toxins least likely to lead to superhuman powers.
356 Mclaws Cir., Suite 2
Williamsburg
Virginia
757-358-1361
More than a decade of professional massage experience flows from Monica Newton's fingers, which have mastered the therapeutic strokes of deep-tissue and trigger-point techniques. At Massage Therapy On Iron Bridge Road, she marshals this magic to ease the pain that stems from chronic health conditions such as arthritis, sciatica, and carpal tunnel syndrome. During deep-tissue massages, focused pressure melts knots buried deep in the muscle tissue, helping sinews recover. Swedish massages melt everyday stress by combining gentle taps, circular friction, and strokes as long and flowing as Rapunzel's dreadlocks. Newton also performs prenatal massages, which promote circulation and encourage moms-to-be to relax as their due dates approach.
6520 Iron Bridge Rd., Suite E
North Chesterfield
Virginia
804-869-0146
Most massages relax the muscles in the back, neck, and shoulders. Pamperific's massage therapist takes it to another level with the Pamperific Platinum massage treatment, which covers the entire body, including the face, feet, and antennae. She incorporates gentle Swedish strokes and firm deep-tissue kneads to both relax the body and relieve muscular tension. Warm essential oils and soothing body butter accompany each stroke, but it's the hot towels, cucumber water, berries, and chocolate-covered pomegranates that elevate the treatment above the standard massage session. Elements of the Platinum massage treatment iterate in the Pamperific Plus and Premium services. Exclusively for the lower extremities, the Pampered Feet treatment consists of a foot massage with soothing essential oils and heated towels.
602 England St., Suite C
Ashland
Virginia
804-334-1787
On her path to becoming a massage therapist, Kim Hayes learned how to take control of her health and better understand her own body. Today, this knowledge of the human anatomy reveals itself through her massage work and aids her in helping others improve their own health. As a member of the American Massage Therapy Association, Hayes has mastered a whole host of massage-therapy services ranging from Swedish, hot-stone, and deep-tissue massage to reflexology, lymphatic drainage, and myofascial release. Hayes likes to use heat to induce deeper states of relaxation, employing heated beds, warm towels, and grilled cucumbers to ease aches and pains buried deep in the body.
11923 Centre St., Suite B
Chester
Virginia
804-914-0181
---