Things to Do in Shreveport
---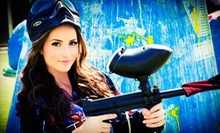 Equipped with rental paintball guns and masks, groups vie for supremacy over the outdoor field
---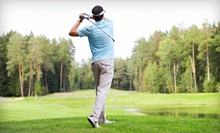 This 18-hole, 6,805-yard course keeps golfers on their toes with water directly in play on 10 holes
---
Recommended Things to Do by Groupon Customers
---
In 1976, busy California mother Joan Barnes wanted nothing more than to find a play place where she and her kids could enjoy age-appropriate, educational activities. Finding none, she developed her own innovative play environment within a developmental-based program structure now known as Gymboree Play & Music. Today, kids tumble and learn in more than 650 locations in 33 countries around the world, engaging in open play and classes designed to build cognitive and motor skills. As parents participate in their child's development, their kids learn to paint, play music, and interact socially outside of their preschool knitting circles.
5800 Line Ave.
Shreveport
Louisiana
318-869-4769
With more than 13,000 divers certified under their tutelage since 1975, Scuba Ventures' instructors, dive-control specialists, and dive masters guide pupils through the three steps toward scuba certification. Students first learn diving and safety fundamentals during classroom training and practice sessions in Scuba Ventures' heated indoor pool. Then teachers whisk them away on two-day open-water training trips to locales such as the Caribbean or Lake Ouachita where, upon successful completion, they earn an open-water certification card and a free back scratch from a puffer fish.
Instructors also teach an array of training courses ranging from spearfishing sessions to lessons in underwater photography. Scuba Ventures also sponsors dive trips throughout the year, which guests can stock up for by renting or purchasing brand-name gear from the shop.
1817 Texas Ave.
Shreveport
Louisiana
318-222-3483
BeFit
BeFit founder Haley Young started her own personal-fitness path in high school when she joined her first gym. The thrill of running took root in her and inspired her to complete two full marathons and an ultra-marathon relay. Her drive for fitness only increased through the years as she earned certifications in yoga instruction, Zumba fitness, nutrition coaching, and personal training. Now at the head of her own fitness group, she leads yoga and Zumba classes that help students work toward well-being through practiced breathing exercises and calorie-burning dance steps. She also hosts personal-training sessions for one-on-one exercising, and wellness counseling gives clients information about losing weight and an excuse to stop trying to fit a huge party sub through their front door.
9400 Ellerbe Rd.
Shreveport
Louisiana
A nominee for Gulf States Teacher of the Year four years in a row, Class A PGA member Pete Lockwood brings more than 12 years of teaching experience to each and every lesson. Pete came to the United States to play college golf at age 19, leaving behind his native Australian landscape and its score-crushing inverted gravity. After spending years in the States, he's learned to eschew trendy swing theories in favor of providing lessons tailored to the golfer's physique and real-world habits. Potential lesson-takers can schedule their instruction time at Querbes Park Golf Course driving range on Monday–Saturday.
2812 Benton Rd.
Bossier City
Louisiana
318-934-3313
Each of the Junior League Market's events help the Junior League of Shreveport-Bossier carry out projects that serve at-risk women and children, from playing bingo with hospitalized kids to increasing community awareness about domestic violence. The community especially rallies together during the Shopping for a Cause events at the Shreveport Convention Center, where up to 140 merchants—including new faces and favorite sellers from years past—gather to sell their wares in one place. At the Girls' Night Out event, Mike's Light & Sound plays music to set the mood as ladies sip drinks or nibble hors d'oeuvres and desserts, including treats from Woo Hoo Whoopies and Bistro Byronz. The event also includes door prizes and shopping at the market.
Kids can get involved through the Breakfast with the Bunnies event, where Barnes Portraiture snaps shots of children forging telepathic connections with live bunnies. Meanwhile, families can sit down to breakfast from Monsour's before they head into the market to peruse the booths.
620 Benton Rd.
Bossier City
Louisiana
318-221-6144
The students at Movement Revolution Center are as comfortable in swings as schoolchildren. That's because they practice yoga poses and Pilates exercises while balancing midair in fabric swings suspended from the ceiling. This practice helps them strengthen their core muscles, relieve muscular tension, increase flexibility, and sleep in hammocks even in the middle of an asteroid strike. The center's instructors also lead 30-minute preschool movement classes, during which youngsters aged 2–4 safely burn energy with an assortment of amusing exercises.
6105 Youree Dr., Suite A
Shreveport
Louisiana
318-347-2608
---