Shrewsbury Automotive
---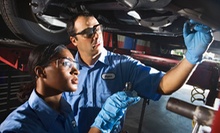 ASE-certified technicians pour up to 5 quarts of conventional motor oil into parched engines and rotate tires to prolong tread traction
Use Tuesday 7:00am - 5:30pm
---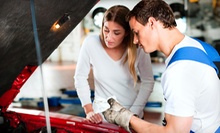 ASE-certified technicians keep engines roaring with new oil, new filters, chassis lubes, and 14-point inspections
Use Tuesday 8:00am - 5:00pm
---
Recommended Automotive by Groupon Customers
---
For 34 years, The Clean Machine's facility has been snatching unsuspecting autos right off the road, infusing them with liquid lifeblood, and scrubbing their sullied frames and interiors until they shine. Customers can steer their cars, SUVs, or vans into the car-care center and listen to the satisfied slurping sounds as their trusty steeds guzzle as much Exxon conventional oil as they need (synthetic oil is available for an extra fee). During the exterior car wash, the staff scans the car from bumper to bumper, using water and soap to wash away dirt and road debris. Drivers then choose to smother either the rugs or seats with shampoo, which helps clean out splotches from spilled soda, shoe muck, and backseat psychologists administering homemade Rorschach tests.
1181 Worcester Rd.
Framingham
Massachusetts
508-872-1441
At locations throughout the northeast, ScrubaDub Auto Wash Centers' computerized wash tunnels and detailing pros spiff up cars with advanced technology and minimal environmental impact. The robotic wash systems and photoelectric sensors not only clean finishes with a gentle, soft-cloth technique, but they can target white walls, wheels, and chrome with site-specific formulas. The eco-savvy automated systems also consume less water than home washing and recycle the water used to clean the wheels and undercarriage. Biodegradable SuperGlo soap keeps the run-off free of harmful compounds before it is funneled down the proper treatment channels, where it can't pollute neighborhood storm drains or be used to test the resiliency of carnival goldfish.
The centers' innovative equipment and Earth-friendly practices have earned them the title of Best Car Wash from CityVoter for three years running. Some locations also boast separate interior cleaning bays to address filthy dashboards and seats.
216 Maple St.
Marlboro
Massachusetts
Drawing on half a century of automotive service, the family owned and operated Midas helps drivers to prolong vehicle vigor with factory-recommended maintenance services. Mechanics pop car hoods to perform oil changes with standard and temperature-durable synthetic solutions, taking time to inspect belts, hoses, fluids, and the air conditioner's resident penguin. Armed with efficient catalytic converters built to US EPA standards, the staff helps to shrink harmful emissions during muffler and exhaust-system checks. Trained technicians augment brake services with lifetime guarantees and curate healthy, evenly worn tires with rotations or replacements from Goodyear, Michelin, Firestone, and Bridgestone.
1 Coes Sq.
Worcester
Massachusetts
508-752-2888
The team behind Luxury Details is so passionate about cars that they decided to make them their livelihood. They opened Luxury Details in 2005, and since then it's become a local hub for vehicle detailing and customization. Wielding products from brands such as Alpine, JL Audio, Escort Radar, and Python, Luxury Details customizes cars with electronics installations, window tinting, and custom interiors for all makes—including Bentley, BMW, and Range Rover. Beyond tricking out rides, its detailing services run the gamut from deep cleans to paintless dent repair to removal of bumper dings and scratches. The team can also bring rides into the 21st century with sales and installation of tech upgrades such as GPS, iPod integration, and back-up cameras.
280 Worcester Rd., Suite 111
Framingham
Massachusetts
508-620-7321
Rides shine and shimmer after leaving Premier Auto Styling, where customers can deck out their rides with custom installations and meticulous detail jobs. Well versed in car anatomy, the company's technicians can integrate iPods, tint windows, and add parking-ticket shredders to all types of vehicles, including SUVs and trucks. Premier Auto Styling also specializes in state-of-the-art, built-in OEM navigation systems and security devices from Viper, Python, and Ultra Start.
143 Hamilton St.
Worcester
Massachusetts
508-459-2155
Originally founded in 1959 by Kurt Ziebart as Ziebart International Corporation, Ziebart has morphed from an auto-rust-prevention outfit into a full-service auto-accessory-and-detail shop that has cropped up at some 400 locations across 30 countries. Performing everything from window tinting and professional detailing, the Shrewsbury outpost enlists an experienced staff to care for cars with high-end products, including seasonal paint protectant and the company's renowned rust inhibitors. Protecting cars inside and out, technicians also install accessories, such as remote car starters-alarm systems, window tint, trailer hitches, rhino-linings sprayed on truck bed-liners, and more.
19 Boston Tpke.
Shrewsbury
Massachusetts
508-756-3400
---