Shrewsbury Gyms and Fitness
---
Gym, Exercise, Weightloss Deals
---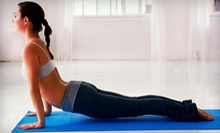 Students of all fitness levels stretch and strengthen muscles through a variety of classes, including power yoga and Yogalates
---
Recommended Gym, Exercise, Weightloss by Groupon Customers
---
Golfers across the handicap spectrum practice bogey-thwarting skills at Natick Golf Learning Center, where PGA- and LPGA-certified pros preside over a multifaceted outdoor practice facility. The center's outdoor driving range offers 75 artificial and natural-grass hitting mats; two chipping greens, a putting green, and a practice bunker let players practice their finesse shots. During daily lessons, the pros enlist video analysis and other teaching aids to help pupils tackle new skills or correct recent on-course weaknesses.
218 Speen St.
Natick
Massachusetts
508-651-0426
Climbers cling to a large steel building, strategizing their way up the side of the rock-like cliff. They have come to conquer Central Rock Climbing's 14,000 square feet of indoor mountains, climbing walls reaching 15–40 feet in height. Resident instructors and staff members stand by to offer guidance and expertise to novices as they strive to master the basics of belaying. The gym's members enjoy unlimited climbing as well as 3,500 square feet of bouldering and more than 60 climbing stations. Guests also hone their physiques with free weights, yoga, and Pilates classes. The staff furnishes gear rentals for those who don't have their own. To get to the top of the climbing walls, climbers are required to carry, at minimum, a harness, climbing ropes, and a clear yodeling voice.
299 Barber Ave.
Worcester
Massachusetts
In Robby Blanchard's biography photo on his website, he prepares to lift a heavily stacked barbell. The determination is clear on his face—the same determination that carried him through a bachelors of science in exercise, an MBA in Business Management, and three CrossFit-training certifications in varying styles. Today he shares his determination and all his fitness knowledge with at his training camp, CrossFit Reach.
During workouts, Robby and two other resident coaches push students through an array of exercises that change every session to boost the body's ability to perform in the 10 domains of fitness, which include power, speed, flexibility, and agility. To do so, students might perform exercises requiring them to run, jump, weightlift, and eventually perform all of those elements at once, immediately qualifying them for a life in the circus.
930 Main St.
Acton
Massachusetts
On a recent birthday, Shawn Shaw reflected on her life. There had been lessons learned about love, happiness, and the inherent beauty of life that is present even amid disappointment. For Shawn, a dedicated practice of yoga and meditation was the wellspring for many of the lessons learned. The teenage Shawn kept fit as a distance runner, first picking up yoga as a supplementary form of exercise and stretching. It wasn't until a few years later, amid a storm of personal struggles, that she discovered the healing properties of daily practice. Today she credits yoga with transforming her physical and emotional health and cultivating a peaceful attitude. Moreover, her newfound clarity and mental presence become something Shawn had to share. She opened her own studio, Metrowest Yoga, in 2005. Now with two locations in Westborough and Worcester, the curriculum includes Shawn's own invention, Myoga Hot Hatha, which is grounded in stillness and allows students to hold poses longer than usual as they make peace between breath and body.
Metrowest Yoga's studio focuses on building a strong healthy body and cultivating a calm, peaceful mind. The styles offered are mostly vigorous in a heated room but some gentle restorative classes are offered too. Regularly scheduled classes include Vinyasa or Flow, Hatha and Ashtanga styles. Beginner's classes or a 6 week Brand New Beginner's course are also offered.
69 Milk St., Suite 100
Westborough
Massachusetts
508-366-5025
---