Restaurants in Sierra Vista
---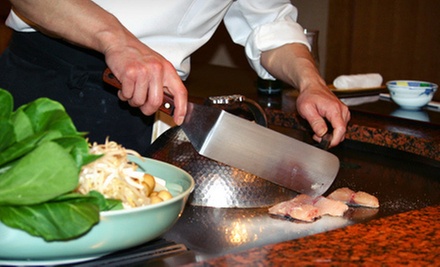 ---
Recommended Restaurants by Groupon Customers
---
Monkey Burger's menu boasts a variety of two-handed nibbles. Burgers crafted from 100% natural Angus-beef patties sleep between soft, fresh rolls from Tucson's own Viro's Bakery and snuggle with heaps of toppings. Chef Mattie's Monkey ($9.50) comes packed with roasted poblano peppers, sautéed mushrooms and onions, lettuce and tomato, bacon, and a bi-cheese blend of cheddar and swiss, and the Plymouth ($8.50) is made with turkey, smoked mozzarella cheese, sundried tomato, shredded lettuce, and avocado pesto. Vegetarians appreciate the portobello-based patty on the VegHead burger ($7.50). Salad options include baby spinach dressed with honey dijon ($6.50), grilled chicken and Granny Smith apples ($8.50), and mixed greens with goat-cheese crumbles and heavily buttered croutons ($6.50).
5350 E Broadway Blvd
Tucson
Arizona
The Hungry Fox is a cozy breakfast and lunch destination serving up an extensive menu of sweets, savories, and other sinfully succulent creature comforts. To tame an early-morning stomach's jowly mammalian growl before it turns to expletive-laden tirades, bite into a breakfast burrito (stuffed with egg, cheese, sausage, onion, and salsa and served with hash browns, $7.89), an order of homemade biscuits and gravy ($5.79 for a full order), or a vegetable omelette (sautéed mushrooms, onions, green peppers, and tomatoes, served with potatoes and toast, $7.99). A homemade jumbo cinnamon roll ($2.99), a Belgian waffle ($5.29), or a healthily sugar-kissed stack of multigrain pancakes ($5.59) will satisfy the sweetest-toothed incisors. The Hungry Fox's lunch offerings include french-fry-friendly foods such as the green-chili cheeseburger ($6.99) and the deli fox sandwich (hard salami, ham, turkey, lettuce, tomato, onion, and Swiss cheese, $7.29), as well as healthier options such as the spinach salad (topped with egg, cheddar, bacon, black olives, tomatoes, and onions, $6.99) and the seasonally offered stuffed tomato (filled with tuna, chicken, or egg salad and served with fruit, $6.59). If it's your first time dining at The Hungry Fox and the restaurant's bounty of tasty temptations overwhelm, try a declared "foxy favorite" such as the honey-stung chicken (four pieces of golden fried chicken, whipped potatoes, gravy, and a fresh vegetable, $8.99).
4637 E. Broadway Blvd.
Tucson
Arizona
Elegant, internationally inspired dinners at the Arizona Inn's main dining room offer the discerning diner a rich beginning to any meal with an order of seared foie gras ($18) before quelling carnivorous cravings with the filet mignon ($42), topped with lobster relish and truffle-infused mashed potatoes. Plant-poppers can direct forks toward the butternut-squash and sweet-corn cannelloni ($30) before dunking into desserts such as the crème brûlée trio (vanilla-bean, chai-spice, and lemon versions of the crystalloid crème classic, $8) and the pomegranate cheesecake ($8) with pistachio crisps, both of which are sure to end any dinner or economic-policy debate on a sweet note.
2200 E Elm St.
Tucson
Arizona
Remaining true to its name, Eclectic Cafe introduces taste buds to an array of fresh offerings from both contemporary American and Mexican cuisines. Chefs sizzle up double havarti cheeseburgers and albacore melts alongside international dishes such as sonoran black-bean torta and the carne asada tostada. They offer gluten-free options, as well as catering services to accommodate those hosting special events or congressional summits in their home or office.
7053 E Tanque Verde Rd.
Tucson
Arizona
Every pizza on Eclectic Pizza's menu is prepared with fresh ingredients, has hand-tossed dough made from organic flour, and is cooked in a fiery-hot oven until its cheese is gooey enough to serve as earplugs. Try a Thai-curry pizza (with house-made spicy red-curry sauce, mozzarella, parmesan, sliced chicken breast, red peppers, zucchini, onions, and fresh basil) or a creamy chicken and chorizo pie ($18 for a 12"). Topping options are crafted from local farm produce such as tomatoes, spinach, peppers, and basil. Eclectic Pizza also offers organic gluten-free crusts to satisfy wheat-wary eaters; try a 10" gluten-free cheese creation for $16. A bevy of appetizers, specialty salads ($8–$13.50), pasta creations ($10 average), and made-from-scratch desserts ($2.50–$5) round out the menu into a rolling wheel more delicious than an old hubcap or manhole lid.
7065 E Tanque Verde Rd.
Tucson
Arizona
Papagayo's dinner menu and pared-down lunch menu offer traditional south-of-the-border treats and elegant chef-created entrees. Pass around a plate of the chimichiquitas (a combination of mini chimichangas, $10.25) to your hungry synchronized hurdling team before leaping simultaneously into the main course. Tamale traditionalists will take heart in Papagayo's wide selection of familiar house specialties, such as the fresh, green chiles rellenos ($13.95) or cabbage-topped shrimp tacos ($15.95). The culinarily curious will want to explore Executive Chef Maria Mazon's creative creations: Milanesas de puerco ($16) boasts a plate of boneless, breaded pork chops lightly fried and served alongside an eggroll stuffed with chipotle mashed spuds, and the pollo en salsa de chile morron ($16) features a spice-rubbed chicken breast grilled and cozily blanketed in a decadent red-pepper cream sauce.
4717 East Sunrise Dr.
Tucson
Arizona
---
---
Restaurant Deals - Recently Expired
---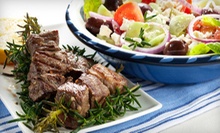 Chefs whisk hearts to the Greek islands with every morsel of authentic Greek cuisine such as gyros, falafel, hummus, and nine gluten-free pl
---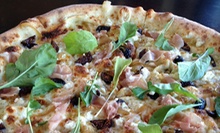 Hand-tossed dough, a pecan-wood fire, and an old-fashioned cooking stone lend a special flavor to Time Market's specialty pizzas
---
---