Hair Salons in Silver Spring
---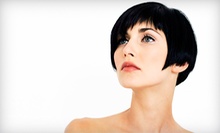 A keratin treatment from a salon helmed by an internationally trained stylist keeps hair smooth and frizz-free
Use Tuesday 10:00am - 6:00pm
---
Recommended Hair Salon by Groupon Customers
---
Roche's menu of services runs the gamut from haircuts (85+ women, $45+ men) to facials ($65–$130/hr). In the bright, minimalist setting of one of Roche's salons, you can consult with an expert stylist before issuing follicle fiats and dermis decrees. A single Groupon will cover a variety of tubular combos: a classic manicure ($20) and bikini wax ($30); a spa manicure ($35) and a feet paraffin treatment ($15); or a Brazilian wax ($50) and access to free-floating nitrogen ($0). Two Groupons will cover a French manicure ($25), a French pedicure ($50), and a brow wax ($20); or a French pedicure and any Kerastase treatment ($50). Massage services are also within your grasp; a Swedish or an aromatherapy massage clocks in at $100/hour, and a deep-tissue massage at $55 for a half-hour.
3000 K Street NW
Washington D.C.
Washington D.C.
Suissa Salon has been crafting individual head fashions for more than 20 years through the skilled hands of talented stylists. Just as ceilings grow bored staring at the same drab floor all day, fedoras and foam cheese-wedge hats become irate when faced with the same follicles day in and day out; trick them with hair coloring and a creative new 'do. Start off your transformation with the luxurious lathering of a warm shampoo treatment. Then a series of fancy maneuvers motivated by your own unique follicle vision fancify mere hair into a slick 'do for any occasion on the town, in the town, or casually circumnavigating the town before the admiring eyes of others.
7933-L Chain Bridge Rd.
McLean
Virginia
As a photographer and stylist whose clients have appeared in Allure and Bazaar magazines, Hugo of Hugo Salon and Spa understands that his work doesn't just involve making his clients look good when they leave his chair. His cuts, colors, and styles must have longevity so they can look just as stunning when the cameras are rolling, a service that he and his team can provide as well, including the impeccable styling and makeup. To that end, he staffs a knowledgeable team of stylists who remain on the cutting edge of beauty through continuing education. They follow Hugo's lead in beautifying clients with sleek cuts, root and full colors, and highlights. They also provide Brazilian blowouts and Japanese thermal straightening treatments, making hair look as relaxed and shiny as Mr. Clean lounging in a sauna.
2901 University Blvd. W
Kensington
Maryland
At any given time, AVA Salon and Spa might be occupied by a mix of political figures, celebrities, and locals. This diverse clientele could easily be ascribed to the studio's location on Capitol Hill, just two blocks from the Library of Congress and the filming location of "I'm Just a Bill." The more likely reason, though, rests in the approach of AVA's stylists, skin therapists, and makeup artists.
With careers that have included work for fashion shows, photo shoots, and the big screen, AVA's beauty gurus bring a wealth of experience to each guest. This expertise extends into services such as hairstyling and coloring, facials, mani-pedis, and waxing. The team also uses only high-end product such as Aquage, Dermalogica, and Spa Ritual, which guests can purchase for at-home care.
225 Pennsylvania Ave. SE
Washington
Washington D.C.
---