Restaurants in Simi Valley
---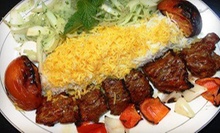 Marinated kabobs of filet mignon, fresh hummus, and Persian ice cream headline a menu of savory Middle Eastern offerings
---
Recommended Restaurants by Groupon Customers
---
american cafe with mexican, italian and deli comfort food with a old fashion bakery
1610 Montana Ave.
Santa Monica
California
Let the warm red and gold hues of La Finestra's décor pique your light lunchtime appetite for a Caesar panino with chicken breast, romaine, Caesar dressing, and parmesan cheese ($10) or a cup of handmade pomodore tomato soup with lemon and garlic ($6). La Finestra, Italian for "The Finestra," really excels at dinner fare. As the evening lights of LA simmer, whet your palate with antipasto La Finestra, a platter of imported meats with cheeses, roasted red bell peppers, and marinated calamari ($12, $18 large); or decorate your date-charming chompers with a rustica salad of radicchio, arugula, endive, mushrooms, and shaved parmesan ($7, $10 large). The veal scaloppini marsala comes basted in wine with fresh-chopped tomatoes and mushrooms ($22)—and is hard not to refuse to refuse if you haven't yet refused concurrent offers from the ravioli aurora (stuffed with ricotta cheese and spinach and drizzled with pink sauce, $15) and the thin-crusted pizza portofino (with mozzarella, gorgonzola, and caramelized onions, $15). La Finestra's friendly, accommodating staff will do their best to prepare your pizza any way you wish.
19647 Ventura Blvd.
Tarzana
California
Executive Chef Junior Perez draws on traditional French and Italian cuisine as inspiration for the upscale menus of pasta, steaks, and seafood, which have garnered an impressive number of features on local food blogs. At the Culver City location, brunch lures palates and sentient flatware with dishes such as pork-belly hash, bedecked with tuscan potatoes and mustard sauce ($10). House-made agnolotti pouches enclose wild mushroom and mascarpone under a wave of truffle butter ($16). Cap off the epicurean experience with mascarpone cheesecake accompanied by cranberry sorbet and exotic coulis or the chocolate purse, which totes candied hazelnuts, vanilla ice cream, and a caramelized day planner. A fleet of flickering candles perches on walls and tables inside the Santa Monica locale's dining area, casting a dim orange glow on dark hardwood floors.
312 Wilshire Boulevard
Santa Monica
California
310-451-7482
Entice appetites with starters such as chicken livers in peri-peri sauce and tomato-onion gravy ($6.99), or more-conventional bite-sizers such as samosas ($7.99) or Hout Bay calamari served with homemade garlic mayonnaise ($7.99). Under the protection of divey décor (plastic fish, Christmas lights, and sports-tuned televisions), mine heaps of heartier fare such as Guinness stew, rich with the dark brew and chunks of filet mignon ladled over a pile of mashed potatoes ($14.99). The South African favorites on Springbok's menu are "refined, with more attention to detail than the atmosphere would suggest," according to the Los Angeles Times. Rudder hard to starboard and encircle Durban-style curry of the day with sambals and pappadum ($13.99), or a South African sausage sandwich ($8.99).
16153 Victory Blvd.
Van Nuys
California
The chefs at California Mediterranean Grill flavor Middle Eastern fare according to generations-old recipes the owners brought with them from Israel 26 years ago. After passing under crimson umbrellas into the café, patrons inhale the scent of thick laffa bread baking in a clay oven and hear the sizzle of juicy burgers and falafel balls frying atop grills. More than 14 salads fill plates with doctor-recommended amounts of vegetables, and kebabs culled from lean cuts of beef and garlic-marinated morsels of chicken supply bodies with healthy sources of vital proteins. For moderately sized meals, diners can thoughtfully share portions of tabouleh, hummus, baba ghanouj and other mezzes.
17334 Ventura Blvd.
Encino
California
The Stand's menu of chili dogs, burgers, and tuna melts evokes classic Americana images of diners and ball games. The eats may be casual, but the staff strives to give them modern style, earning a spot on Gayot's 2012 list of Top 10 LA Hot Dog Restaurants. Upon request, the staff will wrap burgers in whole-wheat buns or lettuce wraps instead of classic buns, and diners also have their choice of beef, turkey, or housemade veggie patties. Gourmet hot-dog and sausage toppings such as garlic mushrooms and corn salsa join traditional fixings such as mustard, sweet pickle relish, and tears from a recently defeated baseball team. To wash it all down, servers blend up 20-ounce chocolate and vanilla milkshakes and tap a rotating menu of draft beers, as well as root beer.
17000 Ventura Blvd.
Encino
California
---