Restaurants in Simi Valley
---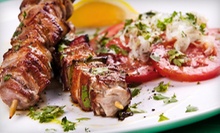 Ground turkey and egg whites lighten power omelets, and cucumbers and bean sprouts add crunch to goat-cheese sandwiches.
Use Today 10:00am - 11:45pm
---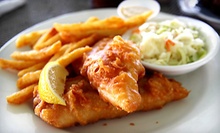 Signature Smithwick's beer batter sheathes tender white cod, which sails onto salvers accompanied by homemade chips & Remoulade sauce
Use Wednesday 11:30am - 2:30pm
---
Recommended Restaurants by Groupon Customers
---
american cafe with mexican, italian and deli comfort food with a old fashion bakery
1610 Montana Ave.
Santa Monica
California
Let the warm red and gold hues of La Finestra's décor pique your light lunchtime appetite for a Caesar panino with chicken breast, romaine, Caesar dressing, and parmesan cheese ($10) or a cup of handmade pomodore tomato soup with lemon and garlic ($6). La Finestra, Italian for "The Finestra," really excels at dinner fare. As the evening lights of LA simmer, whet your palate with antipasto La Finestra, a platter of imported meats with cheeses, roasted red bell peppers, and marinated calamari ($12, $18 large); or decorate your date-charming chompers with a rustica salad of radicchio, arugula, endive, mushrooms, and shaved parmesan ($7, $10 large). The veal scaloppini marsala comes basted in wine with fresh-chopped tomatoes and mushrooms ($22)—and is hard not to refuse to refuse if you haven't yet refused concurrent offers from the ravioli aurora (stuffed with ricotta cheese and spinach and drizzled with pink sauce, $15) and the thin-crusted pizza portofino (with mozzarella, gorgonzola, and caramelized onions, $15). La Finestra's friendly, accommodating staff will do their best to prepare your pizza any way you wish.
19647 Ventura Blvd.
Tarzana
California
Executive Chef Junior Perez draws on traditional French and Italian cuisine as inspiration for the upscale menus of pasta, steaks, and seafood, which have garnered an impressive number of features on local food blogs. At the Culver City location, brunch lures palates and sentient flatware with dishes such as pork-belly hash, bedecked with tuscan potatoes and mustard sauce ($10). House-made agnolotti pouches enclose wild mushroom and mascarpone under a wave of truffle butter ($16). Cap off the epicurean experience with mascarpone cheesecake accompanied by cranberry sorbet and exotic coulis or the chocolate purse, which totes candied hazelnuts, vanilla ice cream, and a caramelized day planner. A fleet of flickering candles perches on walls and tables inside the Santa Monica locale's dining area, casting a dim orange glow on dark hardwood floors.
312 Wilshire Boulevard
Santa Monica
California
310-451-7482
---