Schools & Tutors in Simi Valley
---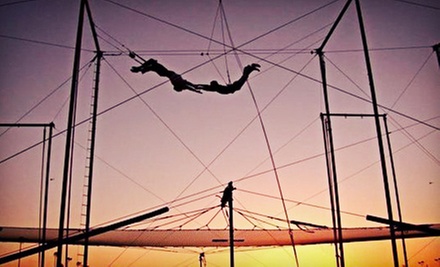 ---
Recommended Schools & Tutors by Groupon Customers
---
Traditional Equitation School's experienced trainers introduce bipeds to equine-style movement with a teaching method approved by the prestigious British Horse Society. The team guides students toward saddled proficiency with three riding programs that include hunting and jumping, dressage, or English and Western riding styles. Private and semiprivate classes allow budding equestrians to experience one-on-one instruction, and group classes let them constructively critique the way other students ride into the sunset. Instructors also focus on younger riders with toddler classes and day camps, where they illuminate horse breeds and general horse handling.
Lessons take place at a 72-acre equestrian show-and-boarding facility, stretched across small and large grass fields surrounded by oaks and pines. Riders rest on an outdoor patio, practice skills on weather-resistant footing, and ride late into the evening under powerful floodlights. In order to mount one of the school's horses, students must be in good health, don a helmet, riding boots, and jeans or breeches, and resist the temptation to wear a horse costume and befriend the steeds. While the school strives to accommodate riders of all experience levels, its facilities are not equipped to accommodate riders with physical, sensory, or cognitive disabilities.
480 Riverside Dr.
Burbank
California
US
818-569-3666
From its humble beginnings as a one-van commercial transportation service for photographers, Quixote has grown into a full-service production studio in two short decades. Founded and nurtured by LA natives and UCLA grads Mikel Elliott and Jordan Kitaen, Quixote now supplies the entertainment and advertising industries with facilities, equipment, vehicles, and whatever else they may need to get the job done. They recently pumped $1 million into their production-supplies department, allowing them to supply jobs with crucial gear such as iPhones and 4G WiFi boxes so that directors need not summon starlets from their trailers via tin-can phone.
1011 N Fuller Ave.
West Hollywood
California
818-386-1228
Feathered fans, fluffy stoles, beaded tassels—costume designer, producer, and dancer Lola LaBelle wants to give every woman the chance to dig into the decadent textures of the burlesque tradition. In classes that range from lighthearted introductions to the form through advanced act development, Lola and her instructors emphasize empowerment as much as sensuality. Private parties let women learn to strut their stuff in the supportive company of friends, though no one in the regular small-group courses will bat an eye if someone embarrassingly ties her corset with a sheepshank knot instead of a half hitch.
6755 Hollywood Blvd., Floor 2
Los Angeles
California
415-866-5412
The native French speakers at French in Mind teach beginning to advanced communicators how to master the French language during small-group classes. By focusing on the four fundamental language skills—listening, speaking, reading, and writing—each student leaves with a grasp of French culture and conversational dialogue. After completing class activities including interactive discussions, listening exercises, and film viewing, students feel more comfortable conversing freely in French and can correctly pronounce "croissant."
1274 S Beverly Glen Blvd.
Los Angeles
California
818-437-9909
Lauren Bruns began singing in an oldies cover band in her early teens before branching out in college as a solo artist on Austin's Sixth Street. After four years in Los Angeles—during which she won V05's Red Hot Rising Star contest and signed a deal with Sony—Lauren decided to focus on working with children. She realized that kids had no access to music programs with songwriting components, so she spent three years teaching youngsters at in-home lessons and schools, all the while shaping a curriculum that encouraged kids to express themselves with original lyrics, finely tuned eyebrow raises, and music.
In 2011, Lauren opened her kids-only songwriting studio where expert teachers imbue children aged 4 and up with sight-reading, improvisation, and music-recording fundamentals. Music makers can learn basic guitar chords at private or group lessons, record an original song in the recording booth, belt out a tune on the performance stage, and practice for life on the road in the hotel-room trashing simulator. Youngsters can also experiment with different rhythms and vocal effects at GarageBand tutorials and learn a new instrument or write a new song at one-week summer-camp sessions.
1739 Berkeley St., Suite 101
Santa Monica
California
310-828-8909
---