Restaurants in Simpsonville
---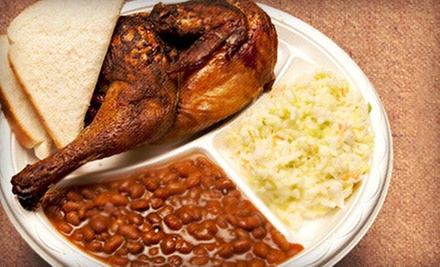 ---
Recommended Restaurants by Groupon Customers
---
The notion of "fast and casual" isn't new—most chain restaurants adhere to the concept, as do many conversations with abandoned sock puppets. However, at Brioso Fresh Pasta, efficient service merges with local and organic ingredients to bump "fast and casual" into the glow of a new spotlight. Italian dishes range from house-made pasta to fork-free paninis, all of which arrive at tables on the arms of friendly servers. Brioso's culinary team also respects special dietary needs with gluten-free pastas and vegan menu options.
2537 N Pleasantburg Dr.
Greenville
South Carolina
Owner Lazaro Montoto maintains a healthy diet, and doesn't believe in sacrificing flavor to do so. That's why he opened Tropical Grille as an alternative to the nation's preponderance of greasy fast-food dives. Natural light pours from wall-length windows onto his steaming grill, where the smell of sizzling chicken and steamed veggies mingle with the aromatic release of Lazaro's flavor-packed spice rubs. He puts those blends to good use; in addition to spicing up the grill, they also infuse his signature pork, which marinates for 12 hours before taking a trip to the slow-roaster for inclusion in thick sandwiches and hearty wraps.
215 Pelham Rd.
Greenville
South Carolina
The Cazbah serves up traditional American and Asian-inspired small plates along with a carefully curated list of wines. Housed in a former feed-and-seed store, it features a chic industrial design with tin ceilings, exposed brick walls, and a rooftop bar that allows guests to enjoy dinner with a view. The Cazbah furnishes those dinners with a menu of between 30 and 35 rotating tapas, including grilled seafood, veggie dips, and comfort-food staples. The wine list is equally varied, making it easy to find pairings for all types of cuisine.
308 Trade St.
Greer
South Carolina
Lee Cummings, the founder of Lee's Famous Recipe Chicken, learned the ropes from one of the country's foremost poultry experts: his uncle, Colonel Harland Sanders. Together, he and the colonel opened more than 800 KFC stores selling fried chicken prepared in pressure cookers and battered with the duo's famous blend of spices. It wasn't until after his uncle sold KFC in 1962 that Lee began developing his own secret recipe, a development that would lead to the creation of the Lee's Famous franchise in 1966.
Today, the franchise sells the fruits of his labor, Lee's "Famous Recipe" chicken, plus buttermilk biscuits and house-made sides from locations in 14 states and four countries. Each piece of never-frozen chicken is hand-breaded and dipped into honey before being transferred to pressure cookers that crisp the exterior while maintaining a juicy interior. Though the original recipe remains untouched, Lee's Famous has expanded its offerings over the years to include healthier oven-roasted and lava-charred options. :m]]
738 Cherry Rd.
Rock Hill
South Carolina
803-366-5337
Everyday Organic's culinary wizards seek out chemical-, hormone-, and preservative-free ingredients from local farms to healthify mealtime with an organic menu that features light and fast eats alongside hearty sandwiches and salads. Starters encourage pre-entree nibbling on roasted-veggie dip, which perches atop pita wedges like a proud, amorphous bird of prey. Grilled, marinated tofu tumbles over tabbouleh salad, whereas provolone, muenster, and baby-swiss cheeses melt in unison inside a gourmet grilled cheese. Guests can wash down big bites with gulps of milk massaged from mature soybeans.
At the restaurant, a small service counter welcomes guests inside the cozy eatery, where chalkboards announce daily specials and sage-colored tables hover over cherry-wood chairs. White and beige walls soak up the sunlight that pours through a large storefront window, where budding local vegetables can watch their future careers unfold.
3225 N Pleasantburg Dr., Suite C
Greenville
South Carolina
The kitchen at Nirvana II cooks up south Indian specialties, from tandoor chicken tikka to cottage cheese simmered in spicy sauce.
15025 Lancaster Highway
Pineville
North Carolina
---