Things to Do in Skokie
---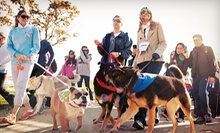 PAWS Chicago-sponsored 8K race and 4K dog-friendly walk supports canines across the city; participants get a T-shirt and enjoy onsite events
---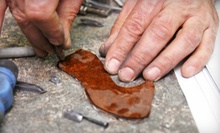 Instructors help pupils harness colorful baubles of scrap glass to craft stained-glass panels or fuse heart-shaped glass pendants
---
Recommended Things to Do by Groupon Customers
---
Before becoming a health coach, Jessica Marie was in the same boat as most office workers—plagued by exhaustion, persistent aches, and a poor diet. After studying at the Institute for Integrative Nutrition and transitioning to holistic living, she and athletic husband Joe founded CHEW, short for Complete Health Education and Wellness. The duo transforms lifestyles without asking clients to count calories or burn their stock of Twinkies in a backyard bonfire. Instead, they expound moderation and balance of two food groups: primary—the actual food you consume—and secondary—other forms of nourishment, including relationships, spirituality, career, and physical activity.
Using this unique approach, Jessica Marie designs three-month programs that begin with reworking diets to achieve individual goals. Her plans often incorporate in-home coaching, healthy-food walking tours, or extra services, such as one-on-one grocery shopping and revamping favorite entree and Play-Doh recipes with nutritious ingredients. She transitions health from home to workplace with workshops that teach coworkers how to eat for energy or craft nutritious appetizers.
1760 N Clark St.
Chicago
Illinois
Members of the Chicago Academy of Sciences first met in 1857, gathering at the original Peggy Notebaert Nature Museum to share their passion for education and the natural world. Though their meetingplace and library was burnt down in the Great Chicago Fire, their commitment to natural science stood strong. By 1894, the Academy had regrouped and rebuilt their collection in Lincoln Park, using dioramas filled with flora and fauna to create an interactive learning experience.
Today, the museum welcomes guests on a 6.35-acre campus opened in 1999 and filled with exhibits that expand the relationship between the public and nature. In addition to more than 15,000 plant specimens and 22,000 amphibians and reptiles, a wilderness walk takes guests through Midwestern environments, including praries, savannahs, and dunes, all filled with living and preserved animals. Visitors can touch live wildlife from Illinois wetlands and stand in a swirl of 1,000 exotic butterflies and birds in the Judy Istock Butterfly Haven and tropical greenhouse. Outdoor exhibits demonstrate the power of energy-efficient technology with 17,000 square feet of green roofs, the compost coral, rain-barrel ranch, and the restored native prairie made completely out of recycled soda cans.
2430 North Cannon Drive
Chicago
Illinois
US
773-755-5100
The T-6 Texan isn't like most of the airplanes you see on the runway. For starters, it only has two seats. Then there's the US Military aircraft crest stamped on the side of its mustard-yellow frame—a reminder of the warplane's years of service, from the 1930s to the '50s, when it carried three 30-caliber machine guns and a 400-pound bomb-load. A 1944 T-6 Texan is part of the fleet of fliers at Gauntlet Warbirds, a flight-instruction center that specializes in warplanes and aerobatic aircraft.
Chief pilot Greg Morris has been flying for more than 15 years and teaching for 10. He has a degree in aerospace engineering from USC and was awarded Master CFI-Aerobatic by the National Association of Flight Instructors. He continues to teach the T-6 to aspiring Air Force test pilots and flight-test engineers at test-pilot school as part of the Qualitative Evaulation program. Morris and his team of seasoned instructors copilot joyrides and offer training programs for mastering each aircraft in their fleet, which, in addition to the aforementioned T-6 Texan, includes the 1942 Boeing N2S Stearman, the L-39 Eastern block military jet, as well as aerobatic stunt planes such as the Yak-52, Extra 300L, Bellanca Decathlon, and Super Decathlon, all of which credit their thrill-seeking ways to strict upbringings.
1071 S Wolf Rd., Suite 10
Wheeling
Illinois
630-999-2044
Bike and Roll Chicago's staff dispatches clients on wheel-based expeditions throughout Chicago. Guides—several of whom are Chicagoland natives—can lead informative and entertaining tours in Spanish, Mandarin Chinese, and semaphores.
1603 North Lake Shore Drive
Chicago
Illinois
312-729-1000
3627 N Sheffield Ave.
Chicago
Illinois
US
Marvel in a theme park-esque world dedicated to plastic blocks. See the city of Chicago made entirely out of LEGOs at Miniland. Take the factory tour and learn how LEGO bricks are made (you get one LEGO factory brick to take home). Ride on the back of a green dragon through a medieval castle full of moving characters made entirely of LEGOs, and continue the adventure through a jungle trail. Build your own LEGO cars and buildings, then test them to see if they can withstand earthquakes or set speed records on LEGO roadways. After you take in a movie at the 4-D cinema, or let your little ones spend their energy in physical play before it's time to load up the car.
601 N Martingale Rd.
Schaumburg
Illinois
US
---