Massage in Smithfield
---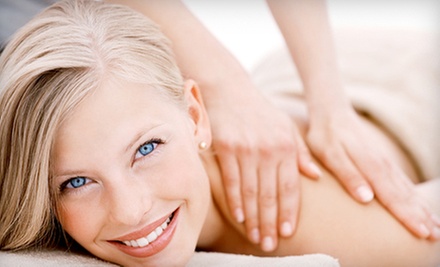 ---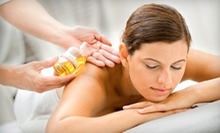 Use Friday 10:00am - 4:00pm
---
Recommended Massage by Groupon Customers
---
Whether she's soothing muscles with the gliding strokes of a Swedish massage, laying warm stones on the skin, or applying pressure to trigger points, Christella Gonsorcik adapts her kneading to meet the needs of each stressed or aching client she sees. In addition to her hands-on massages, Christella balances energy with reiki, a relaxing polarity treatment that rejuvenates clients while they are still dressed in their clothes or astronaut suits. Her skill with rejuvenation also extends into the body's more superficial layers. Herbal body wraps are available to oust toxins and tone skin, and facials, like a manatee's birthday cake, incorporate sugar, salt, and seaweed mud.
325 Thompson Rd.
Webster
Massachusetts
508-942-7154
In high school, Hillary Adams stumbled upon a PBS TV special about massage therapy that inspired her to experiment with massage techniques on her friends and family. After graduating from college with degrees in English literature and anthropology, she reignited her teenage passion by enrolling at Bancroft School for Massage Therapy. Since completing massage school in 1999, Hillary has become a nationally certified and Rhode Island–licensed massage therapist who uses 100% natural oils and various modalities to treat clients ranging from pain-stricken weekend warriors to an 11-year-old girl receiving her first-ever massage.
Located inside a century-old Victorian home next to the historic Ladd Observatory, Hillary's Providence office reverberates with soothing new-age tunes by Dean Evenson. She also works out of Glow Face & Body Spa, which houses a massage room furnished with modern decor and artwork. Both of Hillary's locations offer ample parking, so guests don't have to worry about finding a place to park their car or stable their griffin.
475 Hope St.
Providence
Rhode Island
Retreat to Spadyssey's beautiful, relaxing sanctuary and feel the pressures of the outside world dissolve off your soon-to-be tension-free shoulders. The Swedish massage (an $85 value) remains a classic stress slayer, alleviating long-standing musculo-political tensions through five flowing pressure techniques. Bodies blighted by cavernous deposits of sepulchral trauma can have them swiftly exhumed via the deep-tissue massage (a $95 value), which targets problem areas and shoos out their bothersome spirits using slow strokes and deep pressure. The healing scented oils of the aromatherapy massage (a $95 value) will make you forget the smell of your own burning hair, as does the cocoa-rific scent of the all-natural chocolate facial, which benefits all skin types with a cooling Vitamin C mask followed by a thermal chocolate mask.
75 Dorrance St.
Providence
Rhode Island
At Body Kneads, RI licensed, certified massage therapists gradually teach muscles to release tension with custom treatments that incorporate traditional massage techniques. Over the past 13 years, Body Kneads has built a foundation in taking a proactive approach to wellness that helps their clients maintain a healthy connection between the mind and body. Every body is different so they tailor a comprehensive treatment plan to fit the client's needs, often drawing on such techniques as deep tissue, Swedish, trigger-point release, shiatsu, and acupressure. Their in-office massages invite employees to lie down on a table of wrinkled memos as therapists work out the knots and paper clips lodged in their backs.
251 Waterman St.
Providence
Rhode Island
---