Things to Do in Smithtown
---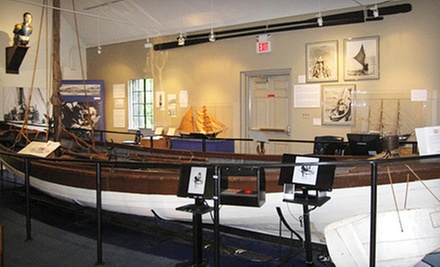 ---
Recommended Things to Do by Groupon Customers
---
In two separate jump rooms furnished with up to four huge inflatables each, kids bound off bounce-house walls, slip down air-filled slides, and navigate energy-burning obstacle courses. When taking breaks from bouncing, they challenge each other to games of skee-ball, Dance Dance Revolution, and pinball in the game room, replete with a Wii lounge and ball blaster. Kids can invade the activity-filled fun house during open-play times or birthday parties, which include private party-room space, game tokens, and DVD slide shows of the festivities.
151 Dominion Blvd.
Ronkonkoma
New York
With a shared exuberance for the sport of rowing, Yan and Olga Vengerovskiy founded the Maritime Rowing Club in 1996. Yan honed his skills with the Ukrainian National Rowing Team, and Olga sharpened her oars with the Russian National Team, where she won a championship. After achieving their individual and team goals in the sport, Yan took to coaching the Soviet Union Junior Women's National Team from 1973 to 1991 and Olga shared her knowledge with students at the Specialized School of Olympic Reserves in the Ukraine. To bring the Maritime Rowing Club to fruition, the couple gathered a team of experienced rowers to help them share the experience of recreational and competitive rowing with their new community in Norwalk. The squad trains interested parties of all ages through programs covering both rowing styles of sweep and sculling along the dark blue waters of the Norwalk River. In recognition of their excellence in promoting the sport, USRowing honored Yan and Olga with the John J. Carlin service award in December of 2011.
11 Goldstein Pl.
Norwalk
Connecticut
203-854-5492
Bikram Choudhury arrived in America in 1972, bearing a series of 26 poses that he was able to prove promote healing within the labs of University of Tokyo Hospital. Within a room of up to 105 degrees, he performed postures that stretched soft tissues, awakened joints, and set off floods of detoxifying sweat. This style caught on and eventually washed over American yogis like a heat wave, ultimately leading to the opening of Bikram Yoga Bayport.
Within the studio, instructors host 24 classes a week. They tailor certain classes for beginner through advanced students, offering pose modifications to suit each student's current skill level. The intense exercises can improve blood circulation and lung capacity, restore joint pliability, and impart the skills necessary to sneak up on your own toes by surprise.
889 Montauk Highway
Bayport
New York
631-472-9642
Manning a fleet of boats that range in size from 24 to 42 feet, CharterMySeaRay's staff of Coast Guard–certified skippers and first mates usher guests across the glittering waters of Norwalk Harbor and beyond. Onboard crafts equipped with running water, bathrooms, and iPod docks blasting hits off of The Little Mermaid soundtrack, passengers kick back and enjoy bottles of champagne and complimentary hors d'oeuvres. Charters lasting anywhere from one hour to a full day travel along aquatic arteries past Ziegler's Cove, Pecks Ledge Lighthouse, or voyage to Manhattan to see the Empire State Lighthouse.
144 Water St.
Norwalk
Connecticut
203-943-6946
The man's smile stretches almost as wide as the giant striped bass in his right hand. A novice fisherman, he's snagged his very first catch aboard one of Celtic Quest Fishing's group boats. A crew member snaps a photograph of the triumphant moment. Although it depicts only a moment in time, that photo recounts a much larger story. The man can point to it when he tells friends how he grabbed hold of rod and reel, cast a line, and wrestled with a resilient foe—ultimately pulling the fish up onto the dock.
This sort of experience happens frequently aboard Celtic Quest Fishing's group-fishing boats, which can carry 70–100 people at a time. The company, founded by Port Jefferson native Captain Des O'Sullivan, maintains two of the giant vessels. They carry groups out in search of black fish, fluke, porgies, or any other species Poseidon sends out to defend his honor. Regardless of the targeted catch, Celtic Quest Fishing's expert crew members supply all necessary gear, and they happily teach newbies fishing basics.
118 W Broadway
Port Jefferson
New York
631-928-3926
Inline 1 Sports Center's 3,600-square-foot fun park is divided into four dynamic zones—a bounce house, an extreme skate park, a mini-golf course, and an indoor sports center—giving kids a chance to try their hand at a variety of activities and play. The safety-minded staff keeps eagle eyes trained on little ones and teenagers as they flit through the facility.
Inline 1 Sports Center's locally inspired mini-golf course sends players of all ages through a nine-hole labyrinth, in which they must putt past the yellow plane at MacArthur Airport, through Mount Sinai High School, and under the Stony Brook Post Office. The skate park's 11-foot vertical ramp and rails invite adrenaline junkies to test their skateboarding and inline-skating skills. Meanwhile, the facility's bounce house engages little ones with air-filled slides and obstacle courses, and the sports center houses volleyball courts, soccer fields, and field hockey to inspire friendly competition.
In between challenging kick flips and exhilarating volleyball games, the staff welcomes players to refuel at the onsite Cuzzin's Smoothie Cafe and Grill. Inline 1 Sports Center also opens its doors to kids' parties, tournaments, field trips, and summer camps, in addition to open play.
269 Rte. 25A
Mt. Sinai
New York
631-474-2900
---