Restaurants in Smyrna
---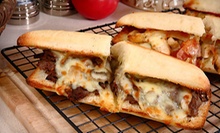 Massive, multilayer sandwiches sport in-house roasted pork, fresh egg salad, or top-sirloin beef betwixt mayo, veggies, and bread.
Use Today 7:00am - 11:00am
---
Recommended Restaurants by Groupon Customers
---
Grandma had a saying: Pick an apple from a tree—you've got a delicious apple; order an apple from the Internet—get your identity stolen. With today's Groupon, you can eat locally and avoid identity fraud entirely. For $10, you get $25 worth of healthy, locally sourced food for dine-in or carryout at Urban pL8, a trendy new restaurant in Atlanta's burgeoning and well-liked Westside.
1082 Huff Rd. NW
Atlanta
Georgia
US
After failed pizza exchange programs to Salt Lake City and unproductive partnerships with Orlando pies, Hotlanta's latest cultural pizza exchange reveals a heretofore unknown force in pizza pie excellence: the New York–style slice. Today's deal gives you a chance to fold it in half for yourself: for $10, you get $25 worth of hand-tossed, homemade pizza pies topped with savory sauces and succulent toppings at New York Pizza Exchange. Atlanta Magazine named this Vinings pie parlor in its Best of Atlanta awards in 2009.
2810 Paces Ferry Rd. NW
Atlanta
Georgia
US
Painted with numbers and flanked by windows with blue shutters, the doors that line the interior of Mykonos Taverna resemble a charming view that one might stumble upon while visiting the restaurant's eponymous Greek island. Owner and chef Christos Poulias wanted to give his guests an authentic experience, so he designed the interior of his restaurant to resemble an actual street in Mykonos. The effort to re-create the atmosphere of the island was so earnest that most of the decorations were packed up and, with Poseidon's consent, shipped over from Mykonos itself.
The decor is not the only thing imported from Greece; a trunk of ancient family recipes made its way into Mykonos Taverna's kitchen, and the chefs promptly revamped each dish to suit the restaurant's modern, upscale feel. Among these are chicken souvlaki, gyros, spanakopita, and a recipe for lamb shanks directly from Athens. On Friday and Saturday nights, professional belly dancers complete the experience as they swivel their torsos, pop their hips left and right, and flash their legs through skirts made of warm pita.
2901 Clairmont Rd.
Atlanta
Georgia
Show the ocean who's boss by gulping down large quantities of its delicious denizens. With today's Groupon, $10 gets you $25 worth of seafood and spirits at Steamhouse Lounge, the popular Midtown seafood restaurant owned by Nightcap Food & Spirits, the group that brought you Vickery's, Fontaine's, Gene's Haufbrau, and Highland Tap.
1051 W Peachtree St. NE
Atlanta
Georgia
Istanblue's glowing aquamarine interior and billowing sheer drapes surround patrons browsing a menu crafted by head chef Gabriel Panama, who brings expertise gained while working in such renowned Buckhead kitchens as BluePointe and Chops Lobster Bar. House specialties such as stuffed cabbage rolls and the smoked eggplant of hunkar begendi overflow with savory lamb, beef, or chicken, much like the muskets of most 18th century Janissaries. The richly spiced rib-stickers are available for catering, and the restaurant welcomes digital communication for event planning.
262 Pharr Rd. NE
Atlanta
Georgia
US
404-214-5404
Belly dancers wend sinuously through Imperial Fez's dimly lit main dining room. On Wednesday, the belly dancers give over the floor to the searing showmanship of fire dancers. Diners gaze at the spectacle through burbles of sweetly scented smoke from table-top hookahs, which they can order in a flavor of their choice to compliment meals.
While nightly entertainment draws diners' attentions, the main attraction at Imperial Fez is chef Rafih Benjelloun's native Moroccan cuisine, which guests devour by the fingerful. Benjelloun seals the flavors of cumin and cilantro into baked legs of lamb and infuses mountains of couscous with the flavors of apricot, raisin, and sweet onions. Embroidered cushions for seating complete the authenticity of guests' Moroccan dining experience, preventing them from having to build an indoor campfire to justify sitting on the floor.
2285 Peachtree Rd. NE, Ste. 102
Atlanta
Georgia
US
404-351-0870
---