Things to Do in Smyrna
---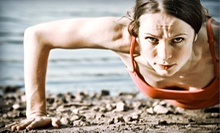 Nashville-Davidson metropolitan government (balance)
Expert trainers lead students of all fitness levels through intense cardio and strength training drills on impact-absorbing floors
---
Recommended Things to Do by Groupon Customers
---
Located in the former main post office of Nashville, the Frist Center is an architectural feast of classicism and Art Deco style containing more than 24,000 square feet of gallery space. The non-profit museum hosts an ever-changing array of exhibits that pop in and out of its halls each 10-12 weeks, so commitmentphobes and the easily bored will always have something new and fresh to run their eyeballs across. Fashionistas frustrated by their failure to institute Really Formal Fridays at the office will want to flee to the Frist Center's current Golden Age of Couture exhibition (June 18–September 12, 2010), with its collection high-glamour vintage wares, while fans of ornate glass sculptures can check out the Chihuly at the Frist exhibition (May 9–January 2, 2011).
919 Broadway
Nashville
Tennessee
US
The always-active atmosphere at Cabana in Hillsboro Village/West End creates the perfect backdrop for a swanky sampling. For $12, today's side deal gets you two hours of private wine tasting and hors d'œuvres, a $25 value. Between 6 p.m. and 8 p.m. on January 12, you'll have the opportunity to fulfill your new year's resolution of trying new things.
1910 Belcourt Ave
Nashville
Tennessee
US
The Adventure Science Center is located just outside downtown Nashville and features many interactive exhibits for budding cosmonauts. Boldly go where thousands have gone before with exhibits such as the astronaut-training simulation, known to earthlings as Space Chase, or the Adventure Tower, which is a series of activities aimed at stimulating minds and sparking creativity. Spend some time poking around the center, finding wonderment around every bend, and possibly a penny on the floor. Keep an eye on your cosmo-watch and get discounted general admission to the Sudekum Planetarium or to one of the planetarium's laser shows with your family membership.
800 Fort Negley Blvd.
Nashville
Tennessee
Crafting your way into someone's cupboard is the craftiest way into his or her heart. For $15, today's deal gets you $30 worth of studio time and pottery to paint at Brushfire Pottery Studio in Green Hills. Brushfire is a roomy, comfortable studio where friends and family can paint, stencil, and sponge pottery that's wildly innovative, beautiful, or beautifully tells the tale of a cat and its adventures with its best friend, an old car.
4004 Hillsboro Pike, Suite 150
Nashville
Tennessee
US
---