Things to Do in Snoqualmie
---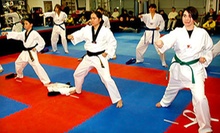 Under tutelage of seasoned black belts, pupils perfect punches & kicks or memorize sequences to forge fit cores & work towards sparring
Use Wednesday 10:00am - 5:00pm
---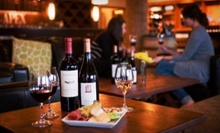 Taste wines made with grapes hand selected by head winemaker Peter Devison and take home two bottles from the vineyard's 2008 collection
Use Today 10:00am - 7:00pm
---
Recommended Things to Do by Groupon Customers
---
With hands gripped to the wheels of karts capable of cresting 45 miles per hour, up to 12 racers hum around the hairpin turns and straightaways of K1 Speed's indoor track during adrenaline-spiking sprints toward the podium. This brand of excitement can be found at all 15 locations, where racers eschew the fumes and inflammatory skywriting of gas kart exhaust for European, eco-friendly electric karts designed to instantly accelerate out of curves, which are bordered by safety barriers that absorb impacts. To keep everyone in the chase, dialed-down junior karts (available at select locations) safely carry tiny drivers between the height of 48" and 58".
2207 NE Bel-Red Rd.
Redmond
Washington
Ice skating facility located in the Renton Highlands/Newcastle area. We offer public skating, skating lessons, birthday parties and private events. We also host a youth and adult hockey association as well as a figure skating club.
12620 164th Ave. SE
Renton
Washington
US
425-254-8750
Onlookers gasp as the graceful figure tumbles to earth in a slow-motion plunge. Her strong legs twist and spin down a billowing swath of deep-red fabric like a spider expanding its web. It is awe rather than fear, however, that draws the crowd's gasps, as the elegant descent is performed as a demonstration by one of Emerald City Trapeze Arts' skilled instructors during a silks class. A dedication to teaching students of all ages and abilities the skills necessary to capture both the beauty and athleticism of the circus arts is the studio's main mission, upheld by a cadre of circus-grade instructors and a friendly staff.
Below the soaring ceiling of exposed old-growth beams of Seattle's indoor venue or amid the warm breezes of Maui's outdoor trapeze, students leap and balance on well-maintained circus apparatuses as their instructors correct their form and ensure their safety. The staff welcomes aerial enthusiasts to experience the sky-splitting thrills of all manner of circus specialty, from the flying trapeze to acrobalance to Hatha yoga performed on the top of an elephant's stiletto. Along with high-flying classes, Emerald City Trapeze Arts' crew celebrates the circus arts via dances and parties held within the whimsical-yet-rustic Seattle venue, from merriment-packed Halloween festivities to energetic performances by staff and students.
10106 422nd Ln. SE
North Bend
Washington
425-888-9830
Opened in Kirkland on Valentine's Day 2011, Palettes and Pairings celebrates the romantic interplay between art and wine. At each evening class, instructors offer tips on brushing life into a 15"x20" canvas while painters nibble appetizers and sip wine, beer, or nonalcoholic beverages. The studio also offers private parties for up to 75 guests, which can be completely customized from painting subject to dietary needs, and include smocks as well as plentiful opportunities to use the word smock.
Serving as a pensive counterpoint to the Kirkland location's parties, the newer Issaquah studio holds open-house time for all ages four times a week.
317 NW Gilman Blvd., Suite 3
Issaquah
Washington
425-270-8598
In 1987, indoor climbing was as unpopular in the Seattle area as breeding labradoodles. But Vertical World––a pioneer indoor climbing gym––introduced the city to the up-and-coming sport of rock climbing in a controlled environment. Since its inception, the gym has expanded to three other locations in Everett, Tacoma, and Redmond, the latter hosting eastside climbers for more than 20 years.
A team of experienced route creators challenges climbers with more than 200 bouldering, lead, or top-rope routes in a wide variety of difficulty levels. The gym hosts competitive youth teams that have gone on to national or world tournaments. The gym's staff of climbers and guides also leads outdoor excursions that build confidence and teach novices how to identify a rock wall in the wild.
15036 NE 95th St., Suite B
Redmond
Washington
425-881-8826
At Redwood Golf Center, club-swinging cadets send range balls flying from personal mats housed within their cozy, covered stalls. After first selecting a bucket size – large buckets contain 85 balls while small buckets have 34 – golfers then set to practicing their 2-iron stingers, wedge game accuracy, and triple pump-fake drives off the tee. Frequent visitors can also take advantage of the per-bucket discounts found within the center's punch cards, which are redeemable for 9, 25, or 50 buckets over the course of a year.
13029 Woodinville-Redmond Rd. NE
Redmond
Washington
---