Things to Do in Snyder
---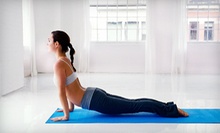 Certified teachers practice classic yoga styles at classes seven days a week; organic, fair-trade coffee onsite supplies a postclass boost
---
Recommended Things to Do by Groupon Customers
---
Three years after founding Louise Hopkins Underwood Center for the Arts in 1997, Louise Hopkins Underwood's operation finally found a permanent home in the city's vacated Fire Department Administration Building. These days, her vision for a thriving contemporary-arts community has grown into a four-block campus with nine buildings spread across 64,000 square feet. The LHUCA team repurposed those structures—warehouses and former municipal buildings among them—into arts spaces that include an exhibition hall and four galleries whose nearly 5,000 square feet display local, national, and international artists. The renovated Icehouse accommodates rehearsals and performances of dance, music, and performance art, and the 159-seat Firehouse Theatre's 5.1-surround-sound mix brings films to life more effectively than hiring Dr. Frankenstein as a projectionist. Along with showcasing the work of prominent figures, the center's teachers nurture up-and-coming artists with classes in disciplines such as oil painting, bagpiping, and creative writing.
511 Ave. K
Lubbock
Texas
806-762-8606
In 1973, Jimmy and Katie Dean signed the papers to purchase Joyland Amusement Park, which had fallen into neglect after first opening in the 1940s. They thoroughly revamped the 13 attractions the park had then, and Katie still helps manage the more than 30 kiddie, thrill, family, and water rides that send guests rolling, spinning, and splashing today. From the Skyride's gondolas that sail high overhead, families take in scenic vistas of an antique carousel, the speedy Galaxi coaster, and a log flume powered by Old Faithful's underachieving brother. Joyland opens its gates from mid-March until early fall, closing in the winter months for rollercoaster-hibernation season.
600 Broadway
Lubbock
Texas
A plethora of water hazards designed by course architect Walter Denzer challenges golfers as they swing through Stone Gate Golf Course's 18 holes. Denzer crafted the front nine to form a regulation par 36 course, and made the back nine into an executive par 3 course. Across both nines, he peppered a glut of ponds to test players' aptitude at launching dimpled orbs safely over the rippling water. Denzer outfitted hole three's fairway with a trio of sand traps and mammoth Venus flytraps, and designed holes two and eight as par 5s to up the challenge. The back nine is equipped with lights so games can continue until midnight on warm nights.
Lights also illuminate the driving range, where golfers hone their form at 22 hitting stations. The practice area's new target greens challenge short and long irons or ball-launching crossbows. For additional game improvement, swingers of all levels can join golf professional Jimmy Saenz—NPGIA's 2011 Teacher of the Year, a featured guest on KFYO 790 AM, and an instructor with more than 16 years of teaching experience—for personalized lessons. To prepare for their day on the course, guests can drop into the recently renovated clubhouse to consult a club fitter or order equipment from Titleist and Pinnacle. And, after swinging in the sun, players can unwind by sipping a beer at the Stone Gate Grill.
11010 Indiana Ave.
Lubbock
Texas
806-748-1448
US Open champ Mike Scroggins gazed anxiously at the fallen pin as it rolled slowly across the waxed wood, inching its way toward the frame's only survivor, the seven pin. Finally, the rolling pin tapped the seven, which wobbled to one side, then the other—and finally teetered over, giving Scroggins a strike and clearing the way for him to win his 45th career PBA victory.
The chronicler of this triumph was the Lubbock Avalanche-Journal, and the site of it was South Plains Lanes. For nearly two decades, the alley's 40 polished lanes have set the stage for dramatic showdowns such as that one. It is little wonder then that bowlers would be tempted to vie for strikes until three in the morning on weekends, when the lanes are briefly used as shortcuts for trucking routes. Automatic scoring tracks the competition, and a snack bar fuels the bowlers. Between games, bowlers can fling darts or head to the billiards tables.
5150 69th St., Lubbock
Lubbock
Texas
At the Lil Jungle within South Plains Mall, sock-clad kids aged 9 and younger bound about on open-air cushions, race their friends down inflatable slides, and hop around in a jungle-themed bounce house with inflatable palm trees. The family-owned Jump N Jungle entertains kids at its second indoor locale, the 10,500-square-foot Big Jungle. Along with a selection of slides similar to Lil Jungle's, the climate-controlled Big Jungle enthralls youngsters with climbing structures, an inflatable shaped like a playful tiger lying on its back, and a bounce castle where kids learn to leap and play the lute simultaneously. In the summer, Big Jungle also hosts four-day camps where attendees play games, enjoy bouncer time, and work on crafts and coloring projects.
12209 Geneva Ave.
Lubbock
Texas
Dave's Need 4 Speed revs entertainment engines with a trio of attractions that send adrenaline juices coursing through thrill seekers of all ages. Laser-tag combatants equipped with light-blasting carbines sprint, crawl, and conga dance through a pirate-ship-themed battleground where glowing barrels and wooden bridges conceal camouflaged warriors and deflect misfires back into the darkness. The illuminated fairways of a cosmic mini-golf course unfurl amid radiating urban backdrops, challenging putters to sink holes in one beneath the shadows of the Statue of Liberty and other American landmarks. Guests who share Dave's disdain for sluggish steering can hop into a go-kart and whip around one of the center's age-appropriate tracks, which foster high-speed excitement with a fresh slathering of melted butter prior to each race.
2769 N Frankford Ave.
Lubbock
Texas
806-797-7223
---