Socastee, SC Outdoor Activities
---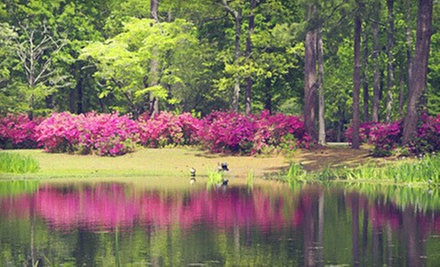 ---
Recommended Outdoor Activities by Groupon Customers
---
Designed to look like an island retreat, Whirlin' Waters Adventure Waterpark is more than just a place to beat the heat. It's a fun-filled playground complete with slides, squirt guns, and a wave pool. The Big Splash Tree House is outfitted with 66 interactive features, including a giant bucket that drenches visitors with more than 1,000 gallons of water. The Tubular Twister sends riders shooting down a trio of 300-foot slides, while the Big Kahuna recreates the ocean's waves in a 27,000-square foot pool. Little ones can play in gentler areas such as Lily Pad Lagoon and Otter Bay, which has a six-lane racer slide. In between aquatic activities, you can relax in the lazy river or stop by the concession stands for a quick bite.
871 Riverland Dr.
Charleston
South Carolina
When children begin to explore their surroundings, they usually stick to the backyards and winding streets of their own neighborhoods. For Captain Addison Rupert, growing up in South Carolina's Lowcountry meant exploring a seemingly endless system of rivers, creeks, and marshlands. His passion for the local landscape has led to a career guiding others through the beautiful and rugged wilderness.
Captain Rupert wields a certification from the US Coast Guard and leads guests on tours aboard a 17-foot Maverick Master Angler Flats boat. On each fishing expedition, he works with guests to track down species such as red drum, speckled trout, flounder, sheapshead, and tarpon. Captain Rupert's fishing and sightseeing tours are tailored to meet the needs of each customer, typically providing all of the necessary gear and mermaid traps.
526 Mill St.
Mt. Pleasant
South Carolina
Anne Middleton Herron can trace her family's time in Charleston back 13 generations. In some ways, the city is like a family member itself, but fortunately for everyone else, she's more than willing to share its secrets through Colonial Walking Tours' history-filled excursions. On each two-hour tour, she leads groups through the walled city's historic streets, ambling past picturesque 300-year-old buildings that were really designed to impress time travelers. As they walk, she traces local history from colonial times to the present day with stories of political intrigue, bloody conflicts, triumphs, and the real people who made them possible. For a personal touch, she also discusses memories from her own childhood, and ends each tour in the private garden of her family home.
Colonial Walking Tours also explores the city's darker side with Ghost Hunt tours. By the flickering light of a candle-filled lantern, other experienced guides lead visitors through nighttime streets to locations such as the Provost Dungeon and St. Philip's Graveyard. There, they relate tales of untimely deaths tied to murders, suicides, duels, and executions, as well as voodoo curses that doomed many to spend eternity searching for their house keys.
200 E Bay St.
Charleston
South Carolina
843-813-5055
Captain John Ward Jr. presides over Affinity Charters' trio of seaworthy vessels, which slice through Charleston Harbor's surging whitecaps during boat tours, charters, and fishing trips. Ward Jr. holds a 100-ton Masters License from the U.S. Coast Guard, and his overarching goal is to provide guests with experiences that are safe, exciting, and productive.
During fishing trips, Captain Ward Jr. taps his more than 25 years of experience navigating Charleston's aquatic arteries to usher fisherpeople through the nutrient-rich ecosystem. Attendees cast their lines for numerous seasonal species, including sea bass, Spanish mackerel, and the increasingly rare leather boot.
Dolphin-encounters tours put seafarers face-to-bottlenose with an undulating army of slick-skinned mammals splashing through their natural habitat. Alternatively, information-hungry patrons can climb on board for an eco tour, where Captain Ward Jr. imparts facts about the harbor's ecological ebb and flow, as well as its vibrant panoply of blacktip sharks, barracudas, and mer-senators. The harbor and sunset cruise allows drifting duos to observe the sun's incandescent descent into a kaleidoscopic loch of rippling reds, oranges, and yellows, which glint off of downtown Charleston.
1407 Shrimp Boat Ln.
Charleston
South Carolina
843-693-2460
Joe Lotts and most of his staff graduated from Brevard College with a degree in wilderness leadership and experiential education. At Charleston Outdoor Adventures, they put their schooling to work by educating people about the coastline's saltwater estuaries. Their classrooms are their kayaks, paddleboards, and 23-foot bay boat, and their coursework combines environmentalism with photo opportunism. For instance, the tour route to Morris Island Lighthouse and Fort Sumter flows past scenic marshland, local birds, and pick-up games of dolphin basketball. If guests prefer to explore alone, Lotts and crew also rent out its paddleboards and kayaks.
1871 Bowens Island Rd.
Charleston
South Carolina
843-795-0330
For more than 30 years, Johnny Spitzmiller has been hunting the secretive and quick-flippered fish of South Carolina's waters. At Ambush Inshore Charters, Captain Johnny imparts his aquatic acumen during full- and half-day charter trips on a 19-foot Scout Costa flats boat. The vessel prowls up the waters of the Wando River as guests soak up rays and suss out a strike from the redfish, trout, and sheepshead swimming by underneath. Captain Johnny also leads oyster- and clam-harvesting expeditions, and is always quick to offer advice on the finer points of casting or finders-keepers laws as they apply to gold doubloons.
72 Queen Street
Charleston
South Carolina
US
---