Shopping in Socastee
---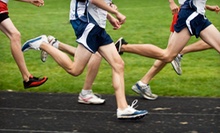 Athletic shoes and socks from brands such as Adidas and Swiftwick, plus yoga, swimming, and biking accessories
---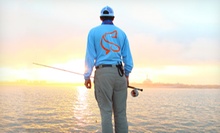 Seasoned anglers advise on the best gear suited to South Carolina waters, from fly fishing on coastal flats to bass fishing in the swamps
---
Recommended Shopping by Groupon Customers
---
While artwork may gain immortality by challenging traditional aesthetics, the life of a painting or photograph is only as secure as the frame that contains it. This dedication to preservation is what inspired Michael and Ellen Mintz to open Frames Unlimited in 1979. That same spirit extended to their business itself: when Hurricane Hugo took its toll on their original shop, they gutted it and reopened, this time with more square footage for a gallery and design space. They remain in that space today, helping their staff members create custom frames and matting. In addition to paintings and photography, the staff helps customers guard heirlooms and specialty items such as sports jerseys or athletes still wearing their sports jerseys. Their services also extend to museum-quality archival framing, with special UV-filtering glass to protect art from light's harmful rays. No matter the job, their shop stocks the materials to match it. Thousands of mouldings run the style gamut from very traditional to ultracontemporary, and colorful frames include hand-finished Italian designs and water-gilded gold leaf.
26 Windermere Blvd.
Charleston
South Carolina
843-571-7942
Her windswept tresses are still golden, and the turquoise surf still roils beneath her feet, but this Venus isn't breathing or made of Botticelli's brushstrokes. Her upturned face and ruby lips are made of beads, peyote-stitched together by Jennifer Lowe to create an award-winning sculpture that traveled to museums with a Beadwork Magazine exhibit. The Venus followed Lowe to her namesake store, where the masterpiece now stands in all her glory among a wealth of czech-pressed glass, natural seeds and pods from the Amazon, and vintage glass beads.
Visitors can gather up this glimmering bounty and take it to the store's play table, where tools await to help them turn the seed beads and gems into necklaces or use them to jazz up their formal retainer. Helpful staff members hover nearby to give tips on wiring earrings or attaching fasteners, as well as teach a full schedule of classes that covers both basic and advanced techniques. They also impart their wisdom during parties to celebrate birthdays or a successful Crown Jewels heist.
1232 Chuck Dawley Blvd.
Mount Pleasant
South Carolina
During the mid-1970s, two touring musicians named Ed Blanton Jr. and Bubba Willis opened the original Encore Music to share their vast knowledge with aspiring tunesmiths and to stock a variety of quality instruments that would rival the inventory of a large franchise store. Though successful, the partners eventually went their separate ways in 1986. Ed Blanton Jr.'s son, Ed Blanton III, revived Encore Music two decades later with the same goals in mind, calling upon his experiences in the East Coast punk-rock scene to motivate young musicians and mohawks to reach for the sky. In its current incarnation, Encore Music now offers music lessons in guitar, bass, piano, and drums, and stocks all the equipment necessary to create an at-home recording studio.
1233 Ben Sawyer Blvd., Suite 800
Mount Pleasant
South Carolina
843-971-0774
Betty Lilly opened Frame Up in 1977 to preserve the cherished photos and artwork of her clientele. Three years later, she handed over ownership to her daughter Denise Mosimann, who has held the custom-framed reigns of the family business ever since. Today, the framing professional and her staff will meet one-on-one with customers to customize jobs and update already framed items, selecting from the troves of mats and multicolored mouldings housed within the onsite framing facility. The preservation pros take as little as one day (depending on availability) to protect photos, diplomas, and the promo posters of successful home movies behind museum-quality glass. Frame Up also specializes in selling local and wildlife artwork, including prints from John James Audubon's Birds of America.
1712 Old Towne Rd.
Charleston
South Carolina
843-571-2605
Baby Genius's award-winning children's products teach babies and toddlers essential skills through the power of music. Based on a bounty of research, the company's DVDs enrich the learning experience by merging classical pieces and familiar songs with vibrant images, keeping kids entertained for hours. Parents can sit back while animated animal educators teach pocket-size pupils better motor skills, dictionary-defying vocabularies, vampire-free counting, and nap-inducing dance moves that ready little ones for kindergarten and beyond.
1481 N Hwy 17
Mount Pleasant
South Carolina
US
Within a carpeted storefront flanked with mannequins rocking the latest looks, David's Tuxedos's ace personnel fits clientele with dapper threads, hats, and footwear for formal events and special occasions. Replete with accessories such as bow ties, cummerbunds, and studs, tuxedos embrace bodies with suits and vest styles tailored to wedding ceremonies, proms, or other school functions. A special selection of brightly colored tuxedos in 10 different shades is also available for purchase or rental in sizes up to 2X and in tall varieties.
320 W Coleman Blvd.
Mount Pleasant
South Carolina
843-763-3296
---