Restaurants in Soddy-Daisy
---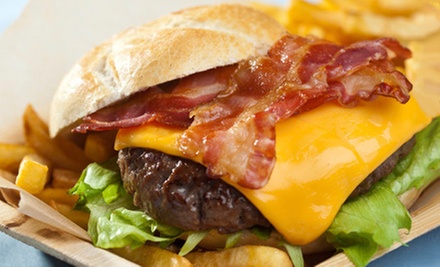 Riverview - Stuart Heights
---
Recommended Restaurants by Groupon Customers
---
The chefs at Terra Nostra Tapas and Wine mix European, American, Asian, and Caribbean cuisines on a small-plates menu that changes daily, ensuring consistently fresh tastes. Within the bustling kitchen, they can be found architecting shareable servings of tender meats, fresh vegetables, and market fresh seafood. Servers keep diners hydrated as they pour out 80 wines by the glass and 90 wines by the bottle, offering palate-tickling quaffs that both sate grape thirsts and wash away tablemates' memories of conversational gaffes. For cocktail lovers, $5 martinis are offered every Wednesday night.
Terra Nostra's space comes to life with international art and nautical murals depicting schools of fish. Outdoor seating is available in a festive patio area, and indoor diners are arranged at spacious dining bars designed to foster sharing of food, conversation, and bootlegged films. Along with bringing the local community together over shared meals, Terra Nostra's staffers remain committed to serving the global community via work with charitable organizations. In 2010 and 2011, they took part in medical-relief mission trips to Ecuador.
105 Frazier Ave.
Chattanooga
Tennessee
423-634-0238
The patty sculptors at Your Burger hand-form locally raised beef, Alaskan salmon, and vegan-friendly veggies into juicy patties crowned with a farmers' market's worth of local produce. Available at a buffet, toppings such as crisp onions, cool lettuce, and plump tomatoes hide and enhance certified Angus or grass-fed patties, just as footie pajamas both hide and enhance the existence of a person's flippers. Sides of sweet-potato fries and onion rings round out casual American meals, as staffers blend up creamy hand-dipped shakes and scoops of Edy's ice cream, providing a more pleasantly frosty epilogue than a cryogenically frozen narrator.
Just as Your Burger's patties outpace stereotypical burgers, its decor transcends typical quick-service eateries. An exposed stone divider cordons off the open kitchen, allowing guests to watch their meals being flipped as they recline near the purple-and-orange Edy's counter.
206 N Thompson Ln.
Murfreesboro
Tennessee
615-890-8883
Inside a restored Colonial Revival mansion a stone's throw from the Tennessee River, chefs blend American and international dishes. Classic southern recipes take on worldly flavors, such as fried green tomatoes crowned with prosciutto and herbed goat cheese and southern-fried frog legs served with marinated cabbage slaw, buttermilk dressing, and an edible passport. Local ingredients star in dishes such as the new york strip steak rubbed with espresso from nearby Rembrandt's Roasting Co and flanked by truffle-infused potatoes. Chefs also meet unique dietary needs with their gluten-safe menu.
A terrace overlooking the river, two naturally lit sunrooms, and an intimate library create a romantic atmosphere wherever guests choose to dine.
412 E 2nd St.
Chattanooga
Tennessee
423-265-5033 x1
Peruvian-born chef Pilar Albernas and her family opened Ají Peruvian Restaurant in 2011, naming the eatery after the Peruvian word for "pepper." True to their name, Ají imports many varieties of peppers to flavor its authentic cuisine. Maize tamales steamed in banana leaves, Peruvian rotisserie chicken, and Andean corn salad with fresh cheese and an herb dressing are among the kitchen's specialties. Many dishes can be made vegetarian or vegan, and at the end of meals, diners can sweeten palates with desserts such as picarones—Peruvian donuts made with Andean squash and sweet potato.
9413 Apison Pike, Suite 106
Ooltewah
Tennessee
Gee whiz, Skip, is it true that Cheeburger Cheeburger's been voted Best Burger in 29 Cities? Yup. This is a real 1950s-style hot spot. This is a place that takes pride in serving additive-free, 100% all-natural Angus beef and frothy milk shakes in thousands of possible flavors. Amidst vintage-inspired decor, cooks fry freshly cut Idaho potatoes and onion rings in cholesterol-free peanut oil and top American-bred, vegetarian-fed beef with more than 25 toppings. Modern day soda jerks also add one of more than a dozen syrups to flavored sodas and scoop ice cream into floats fizzing with cola, root beer, Dr. Pepper, or the lesser-known Pepper sibling, Gary, who forever lives in the shadow of his brother's medical degree.
138 Market St., Suite A
Chattanooga
Tennessee
423-265-4108
---