Things to Do in Soddy-Daisy
---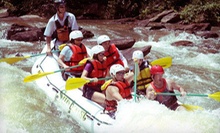 Guides lead rafts down Ocoee River on half-day adventures; rapids up to Class IV provide options for first-time and skilled rafters alike
---
Recommended Things to Do by Groupon Customers
---
As calendars flip from February to March, Chattanooga Ducks' fleet of amphibious transports growls to life in preparation for a new season of tours by land and water. Originally designed in 1942, the DUKW military vehicles ushered soldiers through hostile battlefields and harsh weather conditions during WWII operations. Some cruisers, now referred to as Ducks, have since retired to more calm careers as tourist transports. Recalling their training as ducklings in overflowing bathtubs, the Ducks prowl both rocky terrain and aquatic areas to provide passengers with scenic tours. Duckfuls of passengers trek to points around Maclellan Island and awe-inducing spots throughout the Chattanooga riverfront during narrated tours that edify both minds and eyes.
503 Market St.
Chattanooga
Tennessee
423-756-3825
Somewhere in the mountains of Chattanooga in 1928, Garnet Carter patented the first miniature golf course, inciting a nationwide pastime that brought families and friends together around pintsized putting surfaces.
Inspired by the local history and an indoor golf course visited while on vacation, Nathan Brown and his friends began fantasizing about their own miniature golf course, either building one in their hometown or patenting the first ever zero-gravity moon course. After tireless efforts and multiple failed rocket launches later, Scenic City Mini Golf opened its indoor greens in November 2010.
Dimpled balls roll along verdant turf that simulates real grass, while beige and blue turf mimic sand and water traps, adding strokes to scorecards for errant shots. Hole 14 requires golfers to double back and hit golf balls around, then beneath the hole's rough and toll troll, while hole 17's two-tier design draws shots into one of two preliminary holes before they can approach the green below. Pre- or postrounds, golfers can cool off with Blue Bell ice cream from the snack area, enjoying their frozen treats in a cone or as a milkshake, malt, or float.
21 E 7th St.
Chattanooga
Tennessee
423-402-8174
The retreating sun paints the waters of the Tennessee River with golden streaks of light, beckoning the _Southern Belle_'s passengers onto her breezy decks to take in the resplendent evening. Making daily jaunts along the Tennessee Valley, the three-story riverboat evokes the majesty of days gone by with her snowy white exterior and elegantly appointed interior that includes a dining room, dance floor, and a crew of old-timey ghost captains. Staffed by friendly crew members, the boat regularly pushes off from Pier 2 for a daily lineup of lunch, dinner, and sightseeing cruises. Along with everyday tours, the majestic vessel also plays host to a variety of special events, from festive Thanksgiving cruises to elegant weddings and exciting school trips. Back on the dock, Pier 2, a stationary boat that functions as the _Southern Belle_'s docking facility, bustles with events ranging from teas to high-school reunions, while chefs in the 3rd Deck Burger Bar grill up succulent patties for hungry visitors.
201 Riverfront Pkwy., Pier 2
Chattanooga
Tennessee
423-266-4488
The certified instructors at Creek Bend Stables have groomed world-champion horses and riders. With their expert guidance, beginner, intermediate, and advanced riders can polish their technique and avoid common blunders such as mounting the horse by climbing up its face. Lessons progress in length and depth of instruction as students age and develop skills.
469 Arabian Dr.
Tunnel Hill
Georgia
423-314-4916
---