Solana Beach, CA Outdoor Activities
---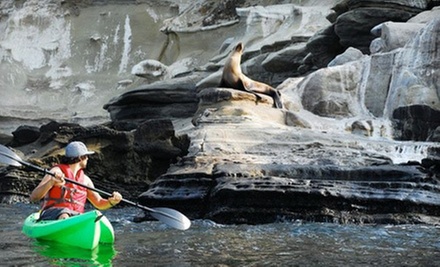 ---
Recommended Outdoor Activities by Groupon Customers
---
When Brian McInerney reflects on the humble beginnings of Wheel Fun Rentals, he points to his childhood passion for bikes. "As far back as I can remember, I had a real love affair with bicycles," he recalls. During a trip to Italy in 1987, Brian's affinity for cycling blossomed into a full-fledged obsession when he spotted locals' transporter of choice, the surrey. Inspired, he began importing the Italian four-wheelers to a rental business in the U.S. that eventually expanded into Wheel Fun Rentals, now a nationwide web of shops that also loans out bikes, electric cars and mopeds, and man-powered watercraft. Atop bicycles and surreys built for solo riders or entire families, patrons embark on self-guided tours of major U.S. cities. Led by maps and lists of nearby sites of historical or cultural significance, riders zoom down bike paths and safe, lightly trafficked streets. Adventuresome athletes can also compete in activities such as surrey scavenger hunts and blindfold obstacle courses navigated via shouted instructions from a seeing teammate or exceptionally long rounds of trial and error.
300 The Strand N
Oceanside
California
760-828-0166
Chairs and tables beware: SoCal Pro Wrestling's muscled warriors will soon invade the Boys & Girls Club in Oceanside to battle it out in the ring. The evening's bouts feature a gravity-defying tables and ladders match that pits "Mr. Mega Star" Tommy Wilson and Ricky Mandel against the rough-and-tumble duo known as Anchors Away. Before the dust settles, Big Daddy Destro and Chris Kadillak will charge the ring to determine SoCal Pro Wrestling's heavyweight champion. Champion Andre Machievski then goes uniformed-toe-to-toe with challenger Big Duke to retain his Golden State belt, the only device capable of holding up his golden jeans.
401 Country Club Lane
Oceanside
California
760-845-6978
When drivers are whipping around the four hairpin turns at Miramar Speed Circuit and accelerating up to 40 miles per hour down the straightaways, it suddenly seems obvious that professional racers designed the layout. Both the quarter-mile, indoor, asphalt track and the soft tires of the go-karts wear a specialized sealant that helps eliminate the need for brakes when drivers are taking corners at high speeds. The mini vehicles also feature 6.5-horsepower, gas-powered Honda engines and electronic lap timers that allow drivers to survey their personal bests and determine how long it would take to drive to Australia. Safety is of the utmost concern, which is why a track manager and several marshals monitor each race, and why the course boasts bright blue and yellow protection barriers.
After races, patrons can refuel with sandwiches or snacks in the lobby's Monaco Cafe. The facility also hosts parties and corporate events, hones skills with private lessons and camps, and gives back to many charitable organizations within the community.
8123 Miralani Dr.
San Diego
California
CKO Kickboxing's Joseph Andreula opened up his first gym in Hoboken, New Jersey back in 1997. In that humble location, the fitness guru helped his clients shed their spare pounds and ratchet up their self-esteem with intense kickboxing workouts. Once word got out that Joseph's program of punching and kicking weighted bags got you more ripped than stay-at-home programs of punching and kicking ghosts, the gym caught on. CKO Kickboxing locations began to pop up throughout the country, where the newly expanded company's commitment to delivering heart-pumping workouts even earned a mention on NBC's Today.
7094 Miramar Road, Suite 115-116
San Diego
California
858-695-8427
With hands gripped to the wheels of karts capable of cresting 45 miles per hour, up to 12 racers hum around the hairpin turns and straightaways of K1 Speed's indoor track during adrenaline-spiking sprints toward the podium. This brand of excitement can be found at all 15 locations, where racers eschew the fumes and inflammatory skywriting of gas kart exhaust for European, eco-friendly electric karts designed to instantly accelerate out of curves, which are bordered by safety barriers that absorb impacts. To keep everyone in the chase, dialed-down junior karts (available at select locations) safely carry tiny drivers between the height of 48" and 58".
6212 Corte Del Abeto
Carlsbad
California
She Runs coordinates ladies-only races across the country, and provides weekend getaways that strike a healthy balance between fitness and relaxation. The organization's events send participants galloping across scenic courses, helping women from all walks of life unite whether or not they sing the bunny song when lacing up their running shoes. More than just a one-time endurance test, She Runs folds relaxing vacations inside retreats that are combined with group fitness classes, lectures from experts, and personalized coaching leading up to race day. A portion of each event's proceeds get poured into She Runs' mission of snuffing out diabetes.
18448 W Bernardo Dr.
San Diego
California
---