Theme & Amusement Parks in Solana Beach
---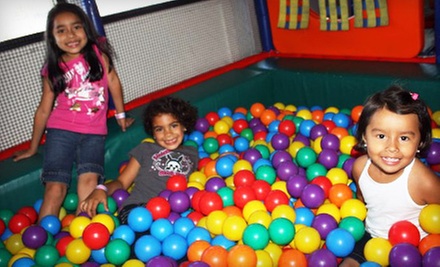 ---
Theme & Amusement Park Deals
---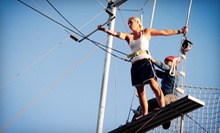 Trained instructors teach students of all ages and skill levels to swing, fly, and catch with the help of lines and harnesses
---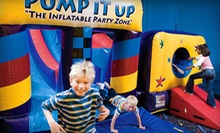 Lauded by Parents magazine, giant, soft inflatables beckon shoeless kids to romp freely during pop-in sessions
---
Recommended Theme & Amusement Parks by Groupon Customers
---
With hands gripped to the wheels of karts capable of cresting 45 miles per hour, up to 12 racers hum around the hairpin turns and straightaways of K1 Speed's indoor track during adrenaline-spiking sprints toward the podium. This brand of excitement can be found at all 15 locations, where racers eschew the fumes and inflammatory skywriting of gas kart exhaust for European, eco-friendly electric karts designed to instantly accelerate out of curves, which are bordered by safety barriers that absorb impacts. To keep everyone in the chase, dialed-down junior karts (available at select locations) safely carry tiny drivers between the height of 48" and 58".
17221 Von Karman Ave.
Irvine
California
When drivers are whipping around the four hairpin turns at Miramar Speed Circuit and accelerating up to 40 miles per hour down the straightaways, it suddenly seems obvious that professional racers designed the layout. Both the quarter-mile, indoor, asphalt track and the soft tires of the go-karts wear a specialized sealant that helps eliminate the need for brakes when drivers are taking corners at high speeds. The mini vehicles also feature 6.5-horsepower, gas-powered Honda engines and electronic lap timers that allow drivers to survey their personal bests and determine how long it would take to drive to Australia. Safety is of the utmost concern, which is why a track manager and several marshals monitor each race, and why the course boasts bright blue and yellow protection barriers.
After races, patrons can refuel with sandwiches or snacks in the lobby's Monaco Cafe. The facility also hosts parties and corporate events, hones skills with private lessons and camps, and gives back to many charitable organizations within the community.
8123 Miralani Dr.
San Diego
California
Since 1925, shrieks of delight have sounded from the pinnacle of Belmont Park's Giant Dipper Roller Coaster as it inches toward its 73-foot drop. Closer to the ground, the Vertical Plunge drops riders three stories, the Tilt-A-Whirl spins at a furious clip, and the carousel makes its leisurely rounds. Like the waves breaking on the shores of Mission Beach—located just steps from the park—sheet waves generated by FlowRider and FlowBarrel technology carry boarders across a wave pool's padded surface.
No waves find their way into Belmont Park's indoor swimming pool, the Plunge, where an artificial grass deck surrounding the shallow end hosts a bounce house and Slip 'N Slide. That idyllic environment is a far cry from the Rush Laser Tag arena, a post-apocalyptic atmosphere of makeshift fallout shelters and computers stuck with dial-up internet. An adjacent arcade returns players to civilization with new and old classics such as Guitar Hero and skeeball. In between rides and games, guests take breaks to snack at Belmont Park's myriad boardwalk eateries or browse the goods of nearby shops.
3190 Mission Blvd.
San Diego
California
858-488-1549
In 2005, Jason Williams and Ken Faught assembled a team of experienced racers and designers to create the driving experience at Pole Position Raceway. Williams, a motocross racer since 1984, and Faught, a three-time land-speed record holder at the Bonneville Salt Flats, recruited professional drivers Kurt Busch and Jeremy McGrath to help their engineers. They reimagined every detail of the track from the ground up, creating indoor courses that balance the grip of asphalt with the swervy fun of polished, concrete slick tracks. Pole Position's Formula EK20 Pro Karts rumble over the track powered by 18-horsepower motors (nearly triple that of average gas karts), which reach speeds up to 45 miles per hour without filling the temperature-controlled arenas with fumes.
After the first Pole Position Raceway opened in Corona, California, it soon spawned eight locations stretching to the Atlantic. Technicians maintain the fleet via handheld computers, and top drivers are regularly sent out to evaluate karts' handling and reading comprehension. During races, up to 12 guests compete in contests that last about 10 minutes.
41810 McAlby Ct.
Murrieta
California
951-461-1600
Mulligan Family Fun Center's three locations surround parents and kids with sprawling smorgasbords of kinetic entertainment. Outside, each park's sunny grounds encourage healthy activity with putt-testing miniature-golf courses and the hairpin turns of go-kart tracks. In the batting cages, aspiring sluggers test their swing while recognized major-league sluggers test their disguise against the park's do-not-admit posters. Back inside, climbers scale the rock wall's vertical challenges and friends battle friends in laser tag's intense light-based combat.
Each location also has its own signature activities. The Torrance location's rookie go-karts, for example, enable younger drivers to take a turn down the track, whereas the Palmdale location boasts a longer, 1,500-foot track for children and adults alike. At the Murrieta location, mini-bowling offers bumpers and kid-size balls, letting the whole family angle for strikes, and warm weather opens water slides so that wee ones can prevent their engines from overheating.
24950 Madison Ave.
Murrieta
California
For 30 years, Zoomars's fuzzy and feathered fleet has tickled the fancy of more than 3 million tykes and critter enthusiasts with 16 varieties of animals on hand, ready for petting, riding, and cavorting. The USDA–approved, clean farm facility houses a host of friendly species suited to affectionate coddling, such as sheep, bunnies, and guinea pigs. Zoo staffers supervise kids as they climb into goat pens, or drop snacks into the mouths of zedonks, zebus, and staff members working through lunch.
Additionally, a child-size miniature train chugs a whistling ride around a circular track, and gentle ponies trot along on hand-led trail rides as parents canter along behind. At a re-created Gold Rush–era mine, staffers help small visitors to pan and sift for gemstones, arrowheads, dinosaur fossils, fool's gold, and long-lost arcade tokens. During dinosaur fossil digs, guests can unearth pre-historic treasures.
Park staff can also connect visitors to the earth and American history through camps led by the camp director, a member of California's Acjachemen tribe who grew up on the grounds. Campers explore the grounds and Pioneer Town through crafts, free creative play, storytelling, and special activities ranging from Native American dances to soapstone carving to reading excerpts from Lewis and Clark's middle-school diaries.
31791 Los Rios St.
San Juan Capistrano
California
---