Solon, OH Health and Fitness
---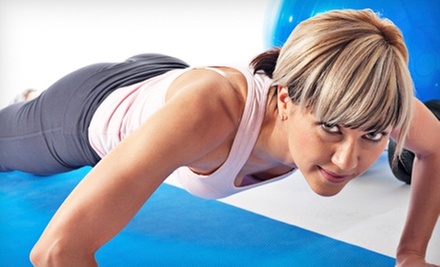 ---
Recommended Health & Fitness by Groupon Customers
---
When chiropractic physician Dr. Vincent Simokovich, DC, was 19 years old, he suffered a sports injury that would change his life forever. He was told he needed surgery on his lower back, but after watching both of his parents endure a lifetime of pain following their own back surgeries, Simokovich decided to forgo the invasive procedure. A relative introduced him to chiropractic care, which not only resolved his discomfort but also inspired a more-than-two-decade career helping others achieve similar relief. Simokovich is currently working on the completion of a diplomate in chiropractic neurology and metabolic function and directs Procare Wellness Center, where he and chiropractic physician Dr. Sam Galati, DC, take a multipronged approach to alleviating chronic health conditions.
Chiropractic physicians Simokovich and Galati—a former Air Force avionics specialist who is also currently pursuing further training in functional and metabolic medicine—maintain a multifaceted treatment philosophy that aims to unveil the underlying causes of illness. They combine neurological treatments such as spinal-decompression treatments, vibration therapy, olfactory stimulation, and adjustments to correct subluxation with lab testing designed to develop strategies based on a client's metabolism. The duo also uses an innovative, laser-based technique to combat allergic responses commonly triggered by food, pet dander, or prolonged exposure to homework.
7393 Broadview Rd.
Seven Hills
Ohio
When Dr. John Neary isn't editing textbooks, publishing articles, or lecturing worldwide, he's performing restorative oral procedures at his medical center. He and fellow dental surgeon Dr. Matthew Pavlick helm a range of surgical operations, from corrective jaw surgery to wisdom-teeth removal to stuck-on wax-lip removal. The surgery center also houses a cosmetic branch, where doctors perform rhinoplasties, face lifts, and Botox injections as well as laser hair-removal and other non-invasive procedures.
571 Boston Mills Rd., Suite 100
Hudson
Ohio
330-678-6564
Dr. Iranpour and his staff of hygienists and assistants at Today's Dentistry understand that going to the dentist can be a stressful experience for some. To help ease anxiety, they've installed a soothing waterfall in the office, filled the air with therapeutic scents, and keep warm paraffin wax onsite, into which patients can dip their hands or unpaid parking tickets. During procedures, such as bonding, root canals, or whitening treatments, patients can watch their favorite film through virtual glasses while lounging atop massaging chairs.
4370 Ridge Rd.
Brooklyn
Ohio
216-749-0747
The three facilities that comprise Cleveland Sports Institute—Parisi Speed School, Cuyahoga CrossFit, and L.E.A.N. Nutrition-Weight Loss—form a fitness triumvirate that produces athletes well versed in agility and nutrition education. Helmed by training director John Collis, Ph.D., the institute's staff leads CrossFit classes designed to build strength and endurance through a philosophy of constantly changing motion. The team also conducts athlete-specific, small-group training and programs that work to develop skills such as linear speed, change of direction, and flexibility. The L.E.A.N. Nutrition-Weight Loss program supplements training sessions with custom meal plans suited to each individual's goals and ability to digest freshly pumped iron.
1 Eagle Valley Ct.
Broadview Heights
Ohio
When Dr. Naeemah Lewis looks at teeth, she sees the entire face. In her eyes, teeth are more than just appliances for chewing food. They are support structures that hold up the lower part of the face, contributing significantly to a person's overall appearance. With this outside-in approach to orthodontia, Dr. Lewis is able to carefully consider facial aesthetics, shape, and balance before designing an orthodontic plan. This first step in designing an orthodontia plan is crucial because the results of orthodontic treatment, like the highest-quality haircuts, can last a lifetime.
Dr. Lewis outfits her warm purple-and-blue office with advanced orthodontic technology. Digital x-rays reveal the hidden positions of roots while reducing radiation, and fully digital displays looks out for the environment by eliminating the need for paper.
1437 Richmond Rd.
Lyndhurst
Ohio
US
216-297-9835
Looking at his datebook, you would think Dr. Kent S. Lamoreux never gets tired. When he's not working at his dental practice, he's teaching as an adjunct professor at the Case School of Dental Medicine. When he's not teaching, he donates his time and dental expertise to the Free Medical Clinic of Greater Cleveland. After more than 30 years as a dentist, he tried to give retirement a shot, but quickly found that he enjoyed his work even more than gardening, airplane-model building, beekeeping, or the other hobbies retired people are legally required to take up.
Happily back at work, Dr. Lamoreux's dental practice benefits from his boundless energy and zeal. When he found he wasn't content with standard extractions and root canals, Dr. Lamoreux learned to cover the full range of dental services, from general dentistry to cosmetic and restorative types. His comprehensive knowledge base means that he can treat patients himself, which is the leading cause of the thick layer of dust on his rolodex of dental specialists.
1440 Rockside Rd., Suite 212
Parma
Ohio
216-749-1242
---