Somerset, KY Outdoor Activities
---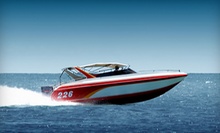 Boaters pilot a speedy ski-boat for up to 10 hours across Lake Norris's tree-lined waters
---
Recommended Outdoor Activities by Groupon Customers
---
In 2011, WBIR-TV reported that local racecar driver Trevor Bayne dropped by Oakes Farm to see his face carved into the corn. The farm had adopted Bayne as that year's maze theme, plotting its pathways to shape the corn into his portrait and an image of his racecar when viewed from above. On the ground, however, the maze was a tangle of curves and dead ends that often took guests up to 90 minutes to traverse on foot, or 10 minutes on the warpath.
This year, the corn maze has chosen to celebrate Extreme Makeover Home Edition. The farm updates its agricultural labyrinth annually to reflect a new motif but never fails to entertain explorers with its routes and their interactive games. Just as entertaining are the hayrides that ferry visitors to and from the pumpkin patch, the smell of autumnal sweets from the Cornfections stand, and the echoes of laughter from inside the Mine Shaft—a giant slide in the farm's Back 40 entertainment area. These attractions, alongside animal exhibits, pedal karts, and open zones for freeform play, draw families and reporters alike to the seasonal hotspot. In the days approaching Halloween, however, the farm endeavors to make patrons flee.
8240 Corryton Rd.
Corryton
Tennessee
Meadows of wildflowers and towering trees border the Caney Fork River on both sides, providing a refuge for deer, herons, turkeys, and hundreds of other bird species. With a fleet of canoes and kayaks as well as shuttle service straight to the riverbanks, Canoe the Caney makes it easy to explore this river's natural beauty. Though the current bustles along at a slow and steady pace and the banks are usually 30 yards apart, Canoe the Caney staff still holds safety as its highest priority. The staff provides everyone with life jackets and review safety guidelines before giving paddlers permission to depart.
In addition to 6-mile and 9-mile trips down the river, Canoe the Caney also facilitates more playful adventures, including romantic picnic outings and a pirate adventure that invites paddlers to hunt for Captain JaBez's long lost contact lens.
17055 Smithville Hwy.
Silver Point
Tennessee
931-858-2628
Sheltowee Trace Outfitters' founder, Rick Egedi, has navigated Kentucky's waters since 1981. At his adventure center, he and his staff lead guided trips on area rivers, such as the Big South Fork of the Cumberland River. Canoers, whitewater rafters, and tubers can float through placid, sun-dappled segments or conquer frothing rapids; alternatively, shorter trips ferry adventurers straight to the foot of the Cumberland Falls, where they can feel the waterfall's spray and see that, despite conspiracy theories, it is not just water descending an escalator.
For landlubbers, the center's activities range from trips up a climbing wall to geocaching excursions, on which visitors prowl through the surrounding greenery on a tech-savvy scavenger hunt using GPS tracking to turn up hidden caches of trinkets. During multiday outdoor trips, visitors can spend the night in nearby lodgings, such as quaint cabins and campgrounds, rather than sleeping atop nature's waterbed—the puddle.
2001 Hwy. 90
Corbin
Kentucky
800-541-7238
Jon boats and pontoons putter across the calm waters of Wilgreen Lake Marina, while just beneath the surface, bass and bluegill flit past fishing lines. Founded by passionate bass angler Randy Nunley, the idle-speed marina strives to serve as a fisherman's oasis. In addition to the rental fleet, a bait shop peddles live bait, tackle, and waterproof love notes for luring in fish. Nunley also fires up competitive spirits with annual bass tournaments.
520 Wilgreen Lake Rd.
Richmond
Kentucky
859-623-1881
The paintball player stops to think, his marker poised for battle. He planned his strategy perfectly, but he hadn't counted on the leaves. Crunching beneath his feet, they threatened to betray him at any moment. If he could just make it to the fort, he would be safe enough to come up with a new plan. At 50 yards away, there's no sign of the enemy. At 25 yards, he's still good. But at 5 yards, a nearby tree rustles. Mere steps away from the fort, he hears a twig break—a shout erupts, and a swarm of paintballs fills the air.
Spread across 80 acres, Conder's Paintball's fields set the stage for just such scenario games, tournaments, and parties that put players right into the action. At the facility's urban-city field, nearby trees cast shadows over 50 buildings where players hide behind walls and prepare to attack. Two woods-ball fields take games deep into the forest, whereas an indoor arena blankets its dirt floor with inflated triangles and cylinders. Before these games, players can stop by the heated pro shop and gear up for battle with camouflaged clothing, goggles, and paintball markers or reenergize with burgers, hot dogs, and sports drinks.
193 Ford Hwy.
Elizabethtown
Kentucky
270-765-4517
Stearns Coal & Lumber Company, which controlled more than 200 square miles of land in Kentucky and Tennessee, built the K&T Railway to navigate and export its vast mountain resources. Now owned by a nonprofit organization, the K&T Railway still chugs along the same scenic pathways, importing sightseers and history buffs to glimpse the area's coal, lumber, and railroading past. Trips down into the gorge of the Big South Fork River drop almost 600 feet of elevation in 5 miles, with the train's sturdy engine conquering the steep mountain descent and ascent. In addition to traditional trips, the railway also offers specialty excursions that include hiking trips, twilight Halloween-themed rides, and a Santa Express fueled by the burning presents of disobedient children.
100 Henderson St.
Stearns
Kentucky
606-376-5330
---