Beauty & Spas in Somerset
---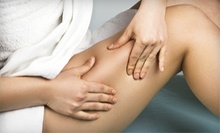 The noninvasive body-contouring treatment targets fat cells through ultrasonic cavitation
---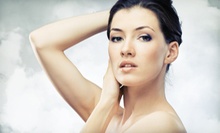 All-natural ingredients, extractions, and massage combine to help soothe the face and repair damaged skin
---
Recommended Beauty & Spas by Groupon Customers
---
If the large capital letters spelling out the word "SPA" on Pure Nature Day Spa's front desk don't convince guests of its tranquil environs, the rose-colored walls, poised greenery, and shelf displays of professional skincare products will make it abundantly clear. If clients still need convincing, the attentive and focused convoy of deep cleanses, detoxifying steams, organic moisturizers, and cold masks will demonstrate that this is a place where blemishes go to retire and healthy skin comes back for a victorious fourth sequel. The spa's buffet of facials, microdermabrasions, and photo-rejuvenation treatments merge their advanced technology with the nourishment of G.M. Collin products in order to cater to all types of skin. Standing by to dole out further pampering are massage therapists—who offer Swedish, deep-tissue, and hot-stone treatments—body waxing technicians, and therapists, who revive sapped skin with herbal wraps and polishes.
338 South Ave. E
Westfield
New Jersey
US
"I've had a pair of clippers in my hand since I was 16," says the eponymous Ray, whose passion for snipping locks drove him to found his own barbershop after years of working in others' hair studios. Now, he runs his own team of barbers, each of whom he trains personally. L'Oréal, Joico, and Paul Mitchell furnish the salon's services, allowing stylists to revamp manes of all hair textures and conditions, ranging from silken tresses to the hissing snakes of a gorgon. The staff enjoys challenges, from recreating classic styles to incorporating custom designs. Ray describes the microphone he once carved into a rapper's hairscape before a photo shoot. "I like a challenge," he explains. The design was challenging indeed—the mic's cord twined around his client's head, down a sideburn, and across his face.
550 North Avenue
Union
New Jersey
908-994-1100
As its name suggests, the staff at Paradise Nails & Spa specializes in high-quality nail care. Along with traditional manicures and pedicures, nail technicians perform luxurious spa mani-pedis and french mani-pedis enhanced by commentary from Parisian film critics. For skincare, the staff removes unwanted hair with waxing services and nourishes complexions with a variety of facials, including an organic peel and treatments designed specifically for dry or sensitive skin. Reflexology-massage sessions help to promote health and wellness throughout the body via pressure points in the feet.
197 Rte. 202-206
Bedminster
New Jersey
908-781-1939
---