Somerville Automotive
---
Recommended Automotive by Groupon Customers
---
Drop off your horsepowered horseless carriage at Glenville Terrace Auto Body, where experienced professionals stand at the ready to remix your oily fluids and filters, allowing your ride to run smoother, longer, and with significantly less sweating. It's recommended to stop in for a change every 3,000 miles or, if you're one to spend your days off rolling back the odometer before your friend's dad finds out, every six months. After all, oil changes are an important part of routine car maintenance and can help you avoid interstate breakdowns and awkward silences in the cab or the tow truck. Glenville's friendly automotive masters will swap out your vehicle's black-liquid soul two separate times, ensuring effortless rides for 6,000 miles.
10 Glenville Terrace
Allston
Massachusetts
At locations throughout the northeast, ScrubaDub Auto Wash Centers' computerized wash tunnels and detailing pros spiff up cars with advanced technology and minimal environmental impact. The robotic wash systems and photoelectric sensors not only clean finishes with a gentle, soft-cloth technique, but they can target white walls, wheels, and chrome with site-specific formulas. The eco-savvy automated systems also consume less water than home washing and recycle the water used to clean the wheels and undercarriage. Biodegradable SuperGlo soap keeps the run-off free of harmful compounds before it is funneled down the proper treatment channels, where it can't pollute neighborhood storm drains or be used to test the resiliency of carnival goldfish.
The centers' innovative equipment and Earth-friendly practices have earned them the title of Best Car Wash from CityVoter for three years running. Some locations also boast separate interior cleaning bays to address filthy dashboards and seats.
172 Worcester Rd.
Natick
Massachusetts
Owner Chris Meara and his staff at Meara Image Auto Detailing treat every vehicle equally. From the sleek luxury sedans to dented-up hatchbacks, the detailing pros pamper every vehicle with thorough care. In fact, they prefer to use the term bathe to describe how they delicately buff cars and send each ride home with a rubber duckie tied around their rearview mirror. The crew applies that same level of care to everything they do, be that tinting windows, removing small dents, or installing sound systems or remote starters. Clients who use the nearby commuter boats are encouraged to drop their vehicles off in the morning, and Meara will pick them up from the dock when they return from work. In addition to the convenient location, the shop offers one night of free heated garage parking when space is available.
315 Lincoln St.
Hingham
Massachusetts
781-740-2122
Cars may have been made for speed, but caring for them properly takes time. Such is the credo underlining Gemstone Auto Detail's exhaustive cleaning packages, which incorporate everything from human hands to clay bars and air guns in order to keep cars as clean as the day they crawled out of Henry Ford's soup. Detailers wash away dirt with foam guns, pH-balanced water, and shampoos; however, cleaning is only the beginning. Once vehicles have been stripped of grime and filth, the staff carefully wipes them down with liquid waxes and polish. Still, a shiny car is susceptible to damage, which is why they take it a step further and condition leather seats, lather the paint in sealant, and fabric-guard the carpets, building an armor around the vehicle that maintains its like-new shine and protects it from hazards such as weather, grease, and spillage.
26 Sylvia Rd.
Peabody
Massachusetts
978-580-8216
---
---
Automotive Deals - Recently Expired
---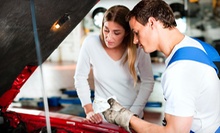 ASE-certified technicians care for cars with new oil and filter, a chassis lube, and a 14-point inspection
---
---