Somerville, MA Outdoor Activities
---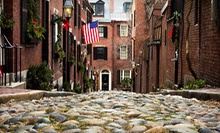 Tours follow in the footsteps of abolitionists and soldiers who fought for a more perfect union, visiting landmarks from their lifetimes
Use Today 11:30am - 2:30pm
---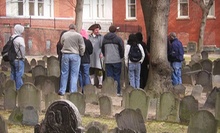 Follow a guide in a tricorn hat on a 90-minute exploration of colonial Boston through the uprisings that led to American independence.
Use Today 8:30am - 11:30am
---
Recommended Outdoor Activities by Groupon Customers
---
Experienced captains guide passengers through the city's wide harbor avenues and more intimate waterways on a range of tours and themed cruises. Passengers can hop on or off each excursion at six designated docks such as Atlantic Wharf and Fairmont Battery Wharf. When disembarking, they may stop at waterside eateries such as the Barking Crab and Tavern on the Water to sip, dine, and heed Paul Revere's legendary warning about eating too many burgers. While most cruises beckon customers to board the Precious Time, Sadie, or White Pearl, captains also conduct mini cruises aboard unique vessels such as a turn-of-the-century fantail launch boat.
1 Pier 6, 8th St.
Boston
Massachusetts
617-922-8475
Seacoast Sailing presents sweeping skyline views to guests on New York Harbor tours aboard the spacious New Horizons, a 60-foot custom-designed and Coast Guard–certified Tortola motorsailer. During public voyages, the ocean craft ferries groups of up to 47 toward some of New York's most iconic landmarks. Passengers ogle at Manhattan's lively waterfront, and take in the twin grandeur of Governors and Ellis Islands.
Guests also sip on complimentary soft drinks and nibble on snacks as they marvel at the Statue of Liberty's majestic torch, and read the fine print on the "For Sale" sign hung atop the Brooklyn Bridge. Passengers aboard nighttime sails witness the dazzling lights of the New York skyline or fading amber glow of the sun as it sets or burns out.
256 Marginal St.
East Boston
Massachusetts
877-899-9696
As the sun makes its retreat into the horizon, the whales of Stellwagen Bank National Marine Sanctuary come out to play. Their elephantine fins slap the waters with such zeal that the pod seems to be putting on a performance for the catamaran of whale watchers in their midst. This end-of-day nature show experienced by passengers aboard Boston's Best Cruises' New England Aquarium Whale Watch is hardly a rarity, as the ship's crews guarantee sightings of these gentle giants with each excursion.
Champions of the natural beauty of Boston Harbor and the area's rich maritime history, Boston's Best Cruises' expert crew sets sail on cruises to suit all manner of interest. Along with their whale watches, Boston's Best Cruises whisks passengers away on Harbor Cruises that grant unimpeded views of the Boston skyline and the King Kongs pumping fists within its skyscrapers. The Salem Ferry facilitates leisurely cruises between Boston and the historic city, and aquatic outings to the Boston Harbor Islands National Recreation Area enable activities such as sunset clambakes, hiking, and fishing.
1 Central Wharf
Boston
Massachusetts
617-973-5206
Visitors to Mel's Funway Park can try their hand at two 18-hole mini-golf courses before speeding and swinging their way through the go-kart track and batting cages, which feature a replica of Fenway's Green Monster and slow- and fast-pitch machines that can reach speeds of up to 85 mph. Inside, a laser plex hosts games of laser tag, while other visitors attempt the laser maze, a web of 36 lasers that participants must avoid to keep from triggering the alarm and receive their cat-burglar certification. Funway Park has also partnered with Woodman's Restaurant to recharge empty body batteries with fare from a renowned and award-winning eatery.
4 Yawkey Way
Boston
Massachusetts
Cindy Ross was an unlikely person to found a scuba-diving school. Told by a commercial diving instructor at 19 that she was too small to scuba, Ross didn't begin to explore the sport until she was in her 30s. Earning certification was a trial, and she spent her first four dives lugging 80-pound gear in the snow up and down a massive hill—and, adding insult to injury, the men's equipment didn't even fit properly. But the fifth dive changed everything. Held in Puget Sound, Ross felt a calling to the location's green waters and white anemones, and since then, the aquanaut has frolicked with such neighbors as a 1,200-pound sea lion, hundreds of Canadian seals, and a giant Pacific octopus.
Today, she and her team of sea-loving instructors grant students innumerable ways to get in the water. Discover Scuba courses get feet wet as beginners learn how to use their equipment and enjoy the freedom beneath the waves. Meanwhile, those determined to spend a life amid the reefs can earn their Open Water certification virtually anywhere—after preliminary classroom and pool sessions, the center's connections with Scuba Schools International allows students to finish their certifications in a number of locations, from the Puget Sound waters so beloved by the company's founder to oceans halfway across the world. GirlDiver also leads vacations to tropical destinations, ensuring that tourists are strong swimmers whether they're gliding with dolphins or fighting the currents in the resort's communal hot tub.
379 Cambridge St.
Allston
Massachusetts
US
Apartments, offices, restaurants, and shops occupy Kendall Square's 10 acres, which also host a variety of seasonal events. In winter, an 8,400-square-foot ice rink welcomes skaters seven days a week, and Broad Canal is lined with farmers' market vendors slinging local produce, honey, cheese, and flowers during warmer months. Free summer concerts, cosponsored by the Berklee College of Music, take place in the square's open-air plaza, and canoe and kayak rentals are easily available through Charles River Recreation. A dedication to green living guides all the action at Kendall Square, which is easily accessible by train, bike, Zipcar, and pogo stick.
300 Athenaeum St.
Cambridge
Massachusetts
US
---