Sonoma, CA Health and Fitness
---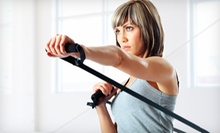 TRX classes boost strength, flexibility, and balance with suspension training; boot camp tones the full body with weights and cardio work
---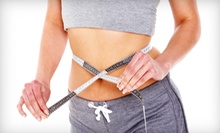 A noninvasive, FDA-approved laser helps slim inches from areas such as the waistline, hips, and thighs with little to no downtime
---
Recommended Health & Fitness by Groupon Customers
---
Though motherhood and Chinese medicine may seem to be two disparate specialties, Sydney Bebb-Walker embodies their common thread: listening. An acupuncturist and massage therapist with more than 25 years of training, Sydney still prides herself most on her ability to simply listen to patients before mapping out a treatment plan that will bring them a long-term sense of well-being.
Her treatments generally blend a range of therapies from a list that includes Chinese herbal medicine, detoxifying infrared sauna sessions, allergy testing, and acupuncture, which she studied at the San Francisco College of Acupuncture. Under Sydney's care, past patients with issues ranging from the stresses of young adulthood to menopause and aging have found effective therapies for treating their ailments.
1580 E Washington St., Suite 102
Petaluma
California
707-217-5777
As the chief clinical hypnotherapist at Napa Hypnosis, Christine Hannah uses interview techniques, discussions, and hypnotic methods to help clients access the power of the subconscious mind. Christine, the founder and owner of the center, received her diploma in hypnotherapy from the American Council of Hypnotists Examiners and graduated from the Hypnosis Motivation Institute. She conducts customized hypnotherapy sessions designed to promote weight loss, curb smoking, or improve public speaking abilities. Christine can even specialize visits to help people enhance their golf game by visualizing success or building a desktop course with Pixy Stix–filled sandpits and Sixlets golf balls.
2325 Georgia St.
Napa
California
707-257-6000
After a day of antique shopping in historic downtown Petaluma, you find yourself in a tranquil space where scented candles and the sound of a trickling water fountain lull the senses. "Is this a spa?" you ask yourself. "Am I here for a massage?" As dentist Jurina Smida greets you, you realize you've arrived at Dental Care of Petaluma, maybe for a high-tech procedure such as laser gum therapy or a smile-straightening Invisalign treatment. You can't remember—and, quite frankly, you don't care—as you help yourself to a steaming cup from the exotic-tea center, don a pair of DVD-playing glasses, and position a therapeutic pillow beneath your neck. "That was an excellent facial," you think as a staff member hands you a lavender-scented hot towel after your treatment. "Or was that a root canal?"
Jurina Smida has both a DMD degree from the Komesky School of Dentistry and a DDS degree from the University of the Pacific Arthur A. Dugoni School of Dentistry, where her son, Dr. Branko Smida, also earned his dental degree. The duo focuses not only on patient comfort but also on seeking out the latest dental technology. They employ an advanced KaVo system to track down cavities and use Cerec software to design and fabricate ceramic crowns or tiny Statues of Liberty in only one visit.
26 4th St.
Petaluma
California
707-789-9151
---