Shopping in South Bend
---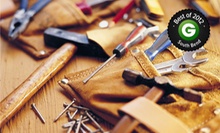 Dedicated handypeople equip homeowners with tools and supplies for protecting homes against seasonal changes
---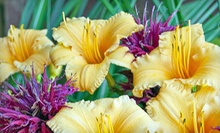 Gardeners cultivate bare-root hostas, daylilies, Japanese maples & ornamental plants to buy online or at nursery in Walkerton
---
Recommended Shopping by Groupon Customers
---
At Northside Galleries, $90 worth of services goes a long way, approximately furnishing a black-framed single mat for an 11"x14" diploma ($95), a single floated mat and mounting for a framed 10"x12" piece of art ($89), or a double-matted glossy 8"x10" ($99) for a portrait of a cow balancing a papaya on its nose. Northside has more framing options than even Teddy Roosevelt can shake a stick at, though 30 framing profiles are handy for quick project solutions. Standard and acid-free mountings are available, along with stretching for jerseys and glass with reflection control and UV reduction. Frames range from plain to museum quality in a variety of styles ($3.50/foot to $70/foot), so take your time while perusing the chevrons of potential style.
335 E. State Blvd
Fort Wayne
Indiana
The staff at Wisman's Appliance Service has kept kitchens running smoothly with appliance sales, repairs, and parts since 1952. The shop carries a fleet of fridges, microwaves, and freezers by name brands such as Frigidaire, Maytag, GE, Amana, Whirlpool, and KitchenAid. In addition to new and used machines, they carry discounted "Scratch and Dent" models that garnered minor bruises while being shipped or accidentally used as a piñata.
242 Fernhill Ave.
Fort Wayne
Indiana
The Hills True Value family calls upon more than 38 years of home-improvement expertise to provide customers with the proper tools and services for residential projects and regular upkeep. While exploring the menagerie of homecare necessities, customers can become inspired to tackle lawn and garden projects or get started on indoor renovations for the kitchen and bathroom. Patrons may also enlist help from the knowledgeable staffers, who can perform common maintenance services such as sharpening chainsaws, cutting keys, or memory-wiping protocol droids.
52295 St. Rd. 933
South Bend
Indiana
574-277-1155
Wedding parties. Families. Graduating seniors. These are just a few of the subjects that attract the lenses of Classic Image Photography's resident artists. After free consultations, photographer Nicole Waldron and videographer Mike Trentacosti capture still and moving images with a combination of photojournalistic, traditional, and artistic styles. They then edit video and transform images into everything from custom storybook albums to metal prints.
When not at the studio, Ms. Waldron and Mr. Trentacosti hone their skills by snapping photos all over the country. In fact, customers can purchase some of Ms. Waldron's favorite images from her travels, such as the back roads of Utah or the spaghetti mountains of Colorado.
311 Florence Ave.
Granger
Indiana
574-855-1435
MustHaveShoes.com's interactive site pairs feet with stylish new friends, crunching metrics that include size, price range, and style before suggesting pairs that match your ultra-specific criteria. Enter in a keyword or characteristic such as "sexy" or "Paleolithic," then page through options such as Madeline Gabean's glam sidewalk stompers in chili-pepper red ($59). Typing in brands such as Poetic Licence brings up more than 100 different styles of heels, flats, and sandals, and keying in cryptic words such as "weird" returns a mishmash of ocular delights, including Electrica Love in silver pink ($146). MustHaveShoes.com speeds its carefully packaged cargo via domestic UPS ground shipping free of charge or passive-aggressive Post-it notes.
1501 South Clinton Street
Fort Wayne
Indiana
US
Gardeners Bruce and Aimee Johnson channel their shared passion for landscaping into Woodland Gardens' verdant acreage, which abounds with beautiful flora selected to appeal to both the avid collector and casual gardener. The thriving nursery ships out a stunning array of hostas and charming daylilies bred to ensure a uniformly brilliant color that only enhances nature's subtle variations. The plants' reliable blooms often last long into the autumn months, and their excellent table manners make them ideal for bouquet centerpieces. Though the online store features a vast selection of hostas and daylilies, a visit to the nursery—where Japanese maple trees grow alongside a host of rare and interesting plants—is a gift in its own right. Selections appeal to avid hosta and japanese maple collectors, as well as casual gardeners.
9309 E 750 N
Walkerton
Indiana
574-249-0231
---