South Boston Automotive
---
Recommended Automotive by Groupon Customers
---
With each cleaning, Bubbles Car Wash's staff strives to leave cars thoroughly polished and shining. Customers choose a Single, Double, or Triple Bubble wash, with options that range from a basic bath and towel dry to a luxurious scrub that involves triple-foam polish and protective coats of Teflon. The auto experts and two-time finalists for CityVoter's Best Car Wash in 2011 and 2012 also venture into interiors during auto detailings, which evict grime and stains from seats and mats, and focus on their motto, "We don't sell car washes, we sell services." As car owners wait, they can surf the web on free WiFi.
90 Southampton St.
Boston
Massachusetts
At A-Z Auto Center, brothers Billy and Fredy run the detailing, auto-body, and mechanical-repair shop started by their dad more than 40 years ago, earning remarks for their "rare integrity" on sites such as Citysearch. As members of a AAA Approved Auto Repair service center, A-Z's automotive technicians uphold ASE standards during every repair, from replacing windshields to matching multilayer factory finishes as closely as possible through a sophisticated paint system. To simplify the repair process, team members can provide free estimates via uploaded vehicle images as well as quickly process insurance claims through their fleet of carrier pigeons. They can also give customers lifts home or help coordinate car rentals should their vehicles require extended service.
1686 Commonwealth Ave.
Brighton
Massachusetts
US
Though it has adopted advanced technology in its cleaning tunnels, Waves Car Wash still powers some of its services with the original drier: the sun. On the roof are 160 solar panels that soak up rays, fueling up to 20% of the facility's electrical output. The panels reflect Waves Car Wash's emphasis on green initiatives—others include biodegradable cleaning products and a recycling system for waste water. The shop also channels its vehicle-sprucing expertise to benefit charitable programs such as Wash for a Cause and Wash Away Thirst.
Meticulous treatments and a familial ambiance have enabled the wash spot to achieve its current level of altruism. Car washes ranked from Basic to Extreme glamorize vehicles with water, wax, and wheel pampering. Detailing, buffing, and headlight-restoration services leave cars looking so flashy that they'll begin attracting disco balls. Enamored patrons can even join the Always Clean Unlimited Wash Club, which grants them infinite cleanings in exchange for a monthly fee.
1680 VFW Parkway
West Roxbury
Massachusetts
Drop off your horsepowered horseless carriage at Glenville Terrace Auto Body, where experienced professionals stand at the ready to remix your oily fluids and filters, allowing your ride to run smoother, longer, and with significantly less sweating. It's recommended to stop in for a change every 3,000 miles or, if you're one to spend your days off rolling back the odometer before your friend's dad finds out, every six months. After all, oil changes are an important part of routine car maintenance and can help you avoid interstate breakdowns and awkward silences in the cab or the tow truck. Glenville's friendly automotive masters will swap out your vehicle's black-liquid soul two separate times, ensuring effortless rides for 6,000 miles.
10 Glenville Terrace
Allston
Massachusetts
At locations throughout the northeast, ScrubaDub Auto Wash Centers' computerized wash tunnels and detailing pros spiff up cars with advanced technology and minimal environmental impact. The robotic wash systems and photoelectric sensors not only clean finishes with a gentle, soft-cloth technique, but they can target white walls, wheels, and chrome with site-specific formulas. The eco-savvy automated systems also consume less water than home washing and recycle the water used to clean the wheels and undercarriage. Biodegradable SuperGlo soap keeps the run-off free of harmful compounds before it is funneled down the proper treatment channels, where it can't pollute neighborhood storm drains or be used to test the resiliency of carnival goldfish.
The centers' innovative equipment and Earth-friendly practices have earned them the title of Best Car Wash from CityVoter for three years running. Some locations also boast separate interior cleaning bays to address filthy dashboards and seats.
172 Worcester Rd.
Natick
Massachusetts
Owner Chris Meara and his staff at Meara Image Auto Detailing treat every vehicle equally. From the sleek luxury sedans to dented-up hatchbacks, the detailing pros pamper every vehicle with thorough care. In fact, they prefer to use the term bathe to describe how they delicately buff cars and send each ride home with a rubber duckie tied around their rearview mirror. The crew applies that same level of care to everything they do, be that tinting windows, removing small dents, or installing sound systems or remote starters. Clients who use the nearby commuter boats are encouraged to drop their vehicles off in the morning, and Meara will pick them up from the dock when they return from work. In addition to the convenient location, the shop offers one night of free heated garage parking when space is available.
315 Lincoln St.
Hingham
Massachusetts
781-740-2122
---
---
Automotive Deals - Recently Expired
---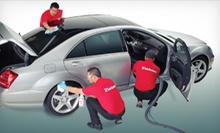 Technicians clean vehicles inside & out with polymer protectants, high-powered vacuums & streak-free window cleaner
---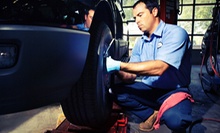 Techs inject engines with 5 quarts of Valvoline oil, insert a Federated brand filter, and rotate tires in 30–45 minutes.
---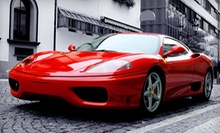 Techs hand clean autos and dress tires, or combine this cleanse with a wash and interior vacuum
---
---