South Boston Outdoor Activities
---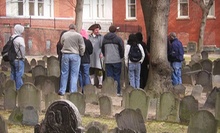 Follow a guide in a tricorn hat on a 90-minute exploration of colonial Boston through the uprisings that led to American independence.
Use Today 8:30am - 11:30am
---
Recommended Outdoor Activities by Groupon Customers
---
The Clubs at Charles River Park has been Boston's oasis of relaxation, fitness and wellness for nearly 50 years. Our health club boasts a full-size outdoor pool and children's outdoor wading pool, where unwinders can relish warm-weather relaxation in the summer, plus an indoor pool and fitness center open year-round.
10 Whittier Place
Boston
Massachusetts
Founded by Harvard alumni, Trademark Tours connects people with 400 years of the history and culture held in Boston and two of its most prestigious universities. Current undergraduates lead each of the themed, multilingual walking tours. They usher groups through Harvard's history and contemporary culture while shedding light on famous graduates and visiting campus locales such as the John Harvard statue and the Lowell House bell tower. They also lead visitors through MIT's campus, exploring its history, technology, and architecture with stops at the Stata Center, the Green Building, and the Great Dome.
Leaving collegiate culture behind, guides journey along the Freedom Trail, which passes 14 historic locales including the Old State House, the site of the Boston Massacre, and the building where the Boston Tea Party used to discuss steeping times. Trademark Tours also enhances many of its excursions with packages that combine tours with museum visits, boat rides, and workshops.
1374 Massachusetts Ave.
Boston
Massachusetts
Boarding begins at 3 p.m., with the cruise departing at 3:30 p.m. and returning at 6 p.m. Beach attire is optional for the cruise.
200 Seaport Blvd.
Boston
Massachusetts
Captain William Webb bellowed to his crewmen, "Ready cannons, bring her to starboard!" as they rounded on the English ship Concord. He wasn't born a soldier, but the English had press-ganged some of his closest friends into slavery on their warships, stolen his family's livelihood, and set his home of Salem, Massachusetts, on the path to financial ruin. Like many other merchants, fishermen, and ship owners, Webb and his crew outfitted whatever boats they could find to fight the English during the War of 1812, and the 70-foot Fame was no exception. The original Fame went on 11 more journeys before being wrecked in 1814 and now lives on as a luxurious home for the retired actors of The Little Mermaid.
The Fame seen around Salem today is a direct replica of that heroic ship, built exactly as the original was in the early 19th century. Passengers on the ship's daily public sails relive the experience of navigating the Atlantic in an traditional, wooden, gaff-rigged schooner. The boat also plays host to weeklong camps, during which kids learn how to sail, tie essential knots, and read charts and maps before camping out for an evening of dumping tea in the ocean.
55 Wharf St.
Salem
Massachusetts
978-729-7600
Licensed captains guide passengers through the city's wide harbor fairways and more intimate waterways on a range of tours and themed cruises. Passengers can hop on or off each excursion at six designated docks such as Liberty Wharf and Fairmont Battery Wharf. When disembarking, they may stop at waterside eateries such as Legal Seafood and Aragostas to sip, dine, and heed Paul Revere's legendary warning about eating too many burgers. Passengers can also stop at waterfront museums, such as the newly re-opened Boston Tea Party Ships, ICA, or the perennial favorite, The New England Aquarium. While most cruises beckon customers to board the Precious Time or White Pearl, captains also conduct mini cruises aboard unique vessels such as Sadie, a turn-of-the-century fantail launch boat.
1 8th St., Pier 6
Charlestown
Massachusetts
617-828-9005
From the hallowed field at Fenway Park to the educational havens of Harvard and M.I.T, Boston's history is written across its skyline. The area's nearby waterways allow for mostly unencumbered views of these sights, and guided boat tours let sightseers experience the city in a relaxing way. To this end, Charles Riverboat Company's vessels embark on journeys across the Charles River and Boston Harbor. Captains and crews point out historic sights such as famous architecture or the 100-story kettle used during the Boston Tea Party. Under the warm glow of a sunset, evening tours wind through the river as music plays. Charles Riverboat Company also charters their boats for groups of up to 150.
100 Cambridge Pl.
Cambridge
Massachusetts
617-621-3001
---