Education & Classes in South Daytona
---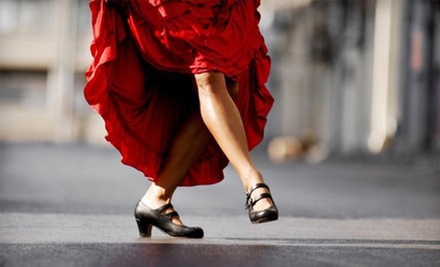 ---
Education & Classes Deals
---
Recommended Education & Classes by Groupon Customers
---
Lisa R. Kraut, Hidden Lark Farm's head trainer, first saddled up at age six, and has been riding and training horses ever since. She and a crew of seasoned instructors share their expertise at the 25-acre farm, which encompasses rolling meadows and an outdoor ring of sand and clay. In a private or group setting, they adapt lessons for all ability levels, molding them around English equestrian techniques as well as pupils' ambitions, such as showing or teaching a horse how to take off his own saddle. Teachers further nurture rapport between rider and steed during trail rides and at horsemanship camps.
4990 SW 7th Ave.
Ocala
Florida
352-854-5151
When discussing his teaching philosophy with reporters from Central Florida Lifestyle, the owner of Salsa Heat quipped, "if you can walk, you can dance." He himself didn't know much about dancing when he took his first salsa class in the early 90's, but he caught on after just a few sessions, falling in love with the dance's energetic spins and rhythmic movements.
Today, a team of professional dance instructors teach salsa spins and footwork to students of all experience levels. Zumba and bachata classes provide tutoring in other Latin dance styles, and salsa classes for kids teach youngsters dance fundamentals that hone coordination and motor skills. Throughout the year, the staff hosts special events on their spacious dance floors, such as salsa socials, salsa Christmas parties, and salsa-infused celebrations of Robert Heinlein's birthday.
10685 E Colonial Drive
Orlando
Florida
407-275-0943
The experienced wave-riders at Surf Lessons Florida teach the subtleties to the art of surfing within calm and safe conditions. Instructors focus their tunnel vision on novice boarders during private surf lessons that encompass basic techniques and safety fundamentals. The Atlantic's calm coastal waters greet riders with a wet embrace and small, manageable waves as instructors demonstrate the basics of body placement, foot positioning, and paddling. Students can also learn to cut across glassy waves during group lessons, which encourage surfers to travel in packs when confronting mermaids selfishly bogarting the best waves.
1500 N Atlantic Ave.
Cocoa Beach
Florida
863-661-3946
Teaching hips to swivel to new circumferences, dance instructors impart their masterful moves unto students in the respected tradition Arthur Murray schools have upheld since 1912. Students can bring a partner to their lessons or fly solo and dance with the instructor. Protégés may find their new moves applicable in a number of settings, such as when prepping for a wedding dance or when blending into an airport crowd that breaks out in the cha-cha. Embodying the three-count time of a stately waltz brings partners in close, and rumba moves or swing steps add vibrancy and playfulness to a repertoire.
The Orlando studio provides a warm, aesthetically sound environment for engaging in private and group dance lessons. The full class schedule is well suited to teaching feet to slice and dice a rug until it is no longer recognizable.
6700 Conroy-Windermere Rd., Suite 225
Orlando
Florida
407-290-5441
With 30 years of high-quality home cooking beneath her belt, owner and chef Deb Swartz crams studious brains with recipes for seasonal delights in succinct demonstration classes that pepper tongues with sample tastings of a complete meal's worth of recipes. Hosting 30 students each, the Cooking Essentials series fills Sunday afternoons with simple home recipes based around versatile techniques such as broth making, meat braising, or meat praising, which boosts protein self-esteem with compliments written in butter. Attendees can register for the January 15 session on winter soups to discover the secrets behind simplified gumbo or to craft a slurpable, sugary treat in the form of blueberry dessert soup. Alternatively, January 29's session on winter fish dishes explores the methodology of seameats such as crab bisque or fish baked three ways.
5770 W Irlo Bronson Memorial Hwy.
Kissimmee
Florida
USA
Before retiring in 1997, Todd Holland made the NSSA National Team and racked up Rookie of the Year, Coke Classic, and Pepsi Surf the Edge titles. Meanwhile, Lauren McLean Holland was riding the waves for University of Central Florida, claiming one East Coast championship after another. This impressive duo fits seamlessly into School of Surf's team of CPR-certified teachers, all current or former pro surfers.
During lessons, teachers drill pupils on skills ranging from pop-up fundamentals to more advanced techniques, such as staying atop a groundswell while dueling a swordfish. In addition, teachers offer daily recreational classes and summer day camps, as well as coaching for dedicated surfers looking to win competitions.
259 Minutemen Cswy
Cocoa Beach
Florida
US
---