Education & Classes in South Farmingdale
---
Education & Classes Deals
---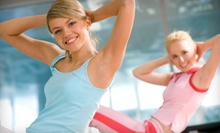 Patrons access treadmills, elliptical trainers, and other cardio equipment as well as free weights and Life Fitness machines
Use Today 6:00am - 8:00pm
---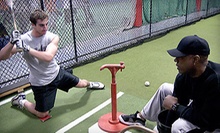 Within 33,000 sq. ft. training facility, players batter balls hurled between 35–80 m.p.h. by mechanical pitchers with adjustable height
Use Today 12:00pm - 10:00pm
---
Recommended Education & Classes by Groupon Customers
---
Fully licensed by the New York State Department of Education, Allstar Bartenders Training educates students in the art and science of mixed-drink pouring and presentation. Apprentice mixologists get acquainted with the functions of different bar tools while learning which cocktails should be shaken, stirred, or whisked using a handful of uncooked angel-hair pasta. Allstar's seasoned tenders aid students in memorizing the recipes, garnishes, and matching glassware of the most popular concoctions. The school's classrooms resemble mock cocktail lounges with ample shot glasses and jukeboxes, giving students a realistic setting to practice drink vending. Allstar treats its graduates to complimentary lifetime job-placement assistance and refresher courses.
2233 Rte. 110
Farmingdale
New York
800-227-8363
Focusing on smooth, rhythm, or specialty dance styles, Bet U Can Dance's instructors lead private and group classes amid 13-foot ceilings and 6,000 square feet of hardwood dance floor. As 60-minute group sessions unfold, students meet fellow dancers, trade partners, and learn to lead and follow better than a military horse chasing its own tail. Ushered by professional cabaret and ballroom gurus, one-on-one and couples sessions allow for more personalized lesson plans, helping rug cutters to master dance varieties such as the East Coast swing, waltzes, and the fox trot. Additionally, high-energy Zumba instructors teach calorie-burning moves during a vigorous dance party backed by Latin beats.
3032 Jericho Tpke.
East Northport
New York
631-623-6559
Built in 1883, the 40-foot oyster sloop Christeen proves that cats aren't the only ones with nine or more lives. After enduring 16 major hurricanes and two sinking incidents, Christeen floats atop the waters of Oyster Bay as a calm, unsuspecting classroom. The ship is the pride and joy of The WaterFront Center, a nonprofit U.S. Sailing–accredited facility that educates both youth and adult trainees. In addition to demonstrating the art of sailing and the importance of environmental responsibility, The WaterFront Center also rents sailboats and kayaks to veteran boaters or trustworthy gusts of wind.
1 West End Ave.
Oyster Bay
New York
516-922-7245
Peter Goldfarb sits watching his mother, who holds a textbook with one hand while churning cookie dough with the other. As she pulls double duty as a mom and graduate student, she unwittingly alters the course of her son's life. The young Peter will soon grow up, move to Los Angeles, and pursue a career in television production—but his friends won't care about his industry stories; they'll want to know where his shipments of ridiculously tasty cookies are coming from.
This true tale is what inspired Peter to eventually enroll in culinary school and coax his mom into cofounding Chip'n Dipped. Today, the duo and a crew of bakers make all-natural cookies, chocolates, and confections—including gluten- and dairy-free options—in full view of customers, as well as for impressed reporters from large publications such as the New York Times, Newsday, and the Candyland Gazette. Using kosher ingredients and minimally processed chocolates, the mom-and-son team creates treats loaded with bioflavonoids and free of hydrogenated oils and preservatives.
342 New York Ave.
Huntington
New York
631-470-2579
With high-tech, modern flight simulators and a fleet of advanced aircraft at their disposal, the instructors of Empire Flight Academy lead a host of trainings in the invigorating art of airborne transit. Authorized as a Cirrus, Diamond, Cessna, and Garmin G1000 education facility, Empire Flight holds courses that shuttle would-be cloud kickers toward their Private Pilot Certificate and Instrument Ratings through combined training on the ground, in the cockpit, and careful study of footage from Airplane!. Additionally, Empire Flight Academy's offshoots—Empire Airways and Skyline Tours—offer ride-along sight-seeing jaunts of New York, as well as privately chartered flights.
Republic Airport
Farmingdale
New York
631-777-5030
As the name suggests, Dany Holdstein's Two Worlds Dance & Fitness unites instructors from the realms of dance and exercise to help students meet their health goals. Before founding the studio, Holdstein studied with dance icons Martha Graham and Pearl Lang, taught master classes internationally, and served as an adjunct professor at C.W. Post College. He requires his dance instructors' credentials be no less impressive. Dance teachers include Andre Kisselev, a classically trained ballet dancer who has high-stepped it with Riverdance, and Lancelot Theobald, a former professional football player who has performed at the Metropolitan Opera and developed choreography for the Knicks City Dancers. Theobald's Momz-N-Da-Hood group—a breakdancing crew of mothers over 40—is a spinoff of one of his hip-hop exercise classes, and, as noted by the Long Island Press, has appeared on Good Morning America.
As the artistic director of an eponymous contemporary dance company, Holdstein has equipped his dance and workout studios with the same floating floors and Marley coverings found in professional facilities. The center's walls resound with music from spinning, Zumba, and belly-dancing classes as certified personal trainers help guests navigate the weights and cardio equipment in the gym area. The instructors also lead classes for children and teens, including Broadway-style theater-dance sessions and pointe classes that give kids the ability to overcome roller-coaster height requirements.
340 Wheatley Plaza
Greenvale
New York
516-484-6604
---