Things to Do in South Hill
---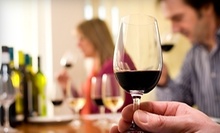 Series of five wines from winery's recent vintages swirl in glasses & upon tongues in tasting room
Use Saturday 12:00pm - 6:00pm
---
Recommended Things to Do by Groupon Customers
---
As winter departs for the year, western Washington begins to wake up. Trees start to bud, Mt. Rainier basks in the glow of gentle sunlight, and residents begin searching for ways to celebrate the coming of another glorious spring. Fortunately for them, they don't have to look very far: if it's April in Puyallup, there's bound to be a fair a-brewin'. Since 1990, The Spring Fair in Puyallup has celebrated the return of warmer weather with attractions designed to delight family members young and old. The sights of the season are most evident at Fair's Garden Show, where representatives from more than five dozen area nurseries, landscape firms, and garden shops honor the coming plant life with their wares and expertise.
Elsewhere, 4-H and FFA students show off stately sheep and prized pigs during the Northwest Junior Livestock Show. Porkers also get in on the act during the fair's pig races, outmaneuvering each other around the track in pursuit of a delicious Oreo cookie. More exotic members of the animal kingdom reside at the fair's brand-new Aussie Kingdom exhibit; there, a gaggle of kangaroos, kookaburras, and bearded dragons strut their stuff in true down-under fashion.
The fair's attractions extend far past farms and gardens. Motorsport Mayhem's demolition derbies, monster truck show, and classic car showcases treat guests to a shot of gas-powered excitement, and multiple performance stages fill the air with the sounds of festive live music. Two dedicated kids areas cater to the fair's youngest visitors; KidZone engages youngsters with everything from puzzles to reptile demonstrations, and KidZone, Too! treats them to refreshments from the root-beer garden and wearable art from professional face painters. As dusk falls on the fair's whirling midway rides, visitors are encouraged to look up: Friday and Saturday nights both end with the sizzling excitement of spectacular fireworks shows.
110 9th Ave. SW
Puyallup
Washington
253-845-1771
At Operation Paintball, Mother Nature provides the cover: massive tree roots bulge from the ground at the edge of a field, sheltering players from the gobs of paint whizzing past their ears. Beyond the natural bunkers, the six outdoor fields boast manmade obstacles—including barrels, old cars, and inflatables—behind which teammates strafe, dodge, and teleport their way to the safety of two-story towers. Play rotates among the fields throughout the day, presenting players with various scenarios such as Capture the Flag and Elimination.
20818 Jansky Rd. E
Graham
Washington
360-893-3440
During a desperate search for reprieve from the pain caused by a dance injury, professional dancer Lianne Gamble discovered the rehabilitating power of Pilates. A born teacher, she wanted to spread the good news, so she studied under Rael Isacowitz to earn certification in his strenuous Pilates program, Body Arts and Science International (BASI), which folds anatomy and physiology into traditional Pilates exercises.
Now, she and a team of certified instructors—among them a gymnast, several dancers, and a marketer—reshape the waistlines of Gig Harbor residents through Pilates, power yoga, and body barre classes. Focusing on BASI's scientific approach and proper breathing techniques, they pump up mind-body connections and core strength using state-of-the-art Power Plate machines, reformers, Decepticons that transform into chiropractors, and spine correctors from Balanced Body and Peak Pilates.
2225 N 30th St.
Tacoma
Washington
Colored paint pellets slice the air and splatter on the rough bark of large oaks and every once in a while on the back of an enemy. During paintball play, shouts and laughter reverberate through the forest canopy as the thudding of footsteps cuts through thick underbrush. Players on the 12 outdoor fields at Operation Paintball engage rival teams during bouts of capture the flag and last-man-standing shootouts, hoping to earn victory for their mates and impress Mom one more time. The Mother Earth field's tall trees stand between natural bunkers, the Speedball concept field boasts a circle of broken wooden picket fences surrounding a central bunker, and wooded slopes take over the Yellow, Blue, and Candy fields. Staffers prepare guests to safely skirmish by providing masks, secure goggles, and padded vests, each of which has helped to contribute to the facility's perfect safety record.
20818 Jansky Rd. E
Graham
Washington
USA
360-893-3440
One would expect Paul Morrison to be a little winded by now, if not too weary to consume his favorite, energizing treat from Starbucks. This is because the spry co-owner of the Tacoma City Marathon has been running for the past 31 years and cheering on peers through his company's eight endurance events since 2007. His affinity for the sport was fully developed by age 12, when he had a bout of early onset entrepreneurship that caused a fever dream of owning a running store. The dream came to fruition when he opened Fleet Feet Sports in Bonney Lake, but his appetite for adrenaline and sweat-bonded companionship remained, unsatisfied by regular sprints through the woods with fellow ultramarathoners and chats with customers about their pronation.
The missing piece was Tony Phillipi, the founder of the world's largest running club, Marathon Maniacs. The company's name accurately reflects Phillipi's zeal for running, which was ignited on a high-school track when the burning rubber footing accidentally set his soul on fire. When the two sportsmen crossed paths, they immediately commiserated over the lack of distance races in Tacoma and set out to fill the void with the sound of steady, strong footfalls.
S 17th St. and Commerce St.
Tacoma
Washington
A former competitive figure skater, certified instructor Ashleigh Rose started practicing Pilates in 2003 while recuperating from a car accident. After more than 900 hours of training, Rose received her first certification in 2007 from the Physical Mind Institute and her second in 2009 from Body Arts and Science International. Her dedication to Pilates has earned her teaching positions both nationally and internationally, from Mexico to South Carolina to Narnia.
The enthusiasm is palpable in Rose's studio, Pilates Plus Tacoma, where individuals and groups can learn to use Pilates equipment or eschew it in favor of Pilates mat, Zumba, barre, or TRX classes. The Pilates classes focus on six fundamental principles—centering, concentration, control, precision, breath, flow, and counting—and yield a bevy of benefits, including a reduction in stress and fat.
6405 Tacoma Mall Blvd., Suite 1
Tacoma
Washington
253-678-1005
---