South Houston Gyms and Fitness
---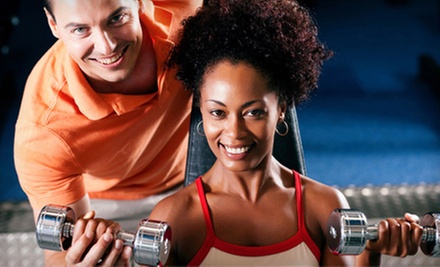 ---
Gym, Exercise, Weightloss Deals
---
Recommended Gym, Exercise, Weightloss by Groupon Customers
---
Experienced instructors fluent in a variety of yoga techniques guide students of all skill levels as they foster slim, flexible frames with body-bending poses drawn from Vinyasa, Forrest, and Jivamukti traditions. YogaOne's hot-yoga studio heats up to a toasty 105 degrees to intensify stretches and thoroughly cook over-easy eggs. During 60- and 90-minute hot-yoga sessions, participants alternate between gentle and vigorous poses as toxins flee their bodies through sweating pores.
3030 Travis St.
Houston
Texas
US
The Body3 Fitness Center experience kicks off with a personal fitness assessment and a goal-setting session to discuss your weight-loss or muscle-building dreams. Then, with a custom fitness and nutrition plan in your pocket, it's time to hit the studio for workouts with certified trainers. Group classes range from boot camps designed by studio founder and former US Marine Tom Jackobs—in which participants use their body weight as a fitness tool—to self-defense sessions and cardio dance classes. For a more intimate workout, athletes can opt for small group sessions capped at four or arrange for one-on-one training.
1987 W T C Jester Blvd.
Houston
Texas
US
281-667-3648
When champion long jumper Wayne Davis pulled a hamstring during the 2000 Olympic trials, he turned to Pilates to augment his recovery—and was instantly wooed by its therapeutic and athletic benefits. Today, together with fellow certified trainer Lauren Smith, Davis blends weight training, yoga, and traditional Pilates into classes at his studio, Hardcore Pilates. Each Pilates class of eleven students includes exercises on an Allegro Reformer, whose roller- and spring-propelled platform helps strengthen torsos and straighten students' posture. Rounding out its staff of all-star athletes, the studio also employs a former pro football player, who leads spin classes set to lively music and incisive play-by-play analysis. After class, one-on-one stretch therapy helps refresh muscles and connective tissues, relax joints, and expand range of motion.
3801 Kirby Dr., Suite 210
Houston
Texas
US
The trainers at SEAL PT draw on their military backgrounds to inspire clients to meet fitness goals through rigorous, extreme workouts in a motivational team environment. Taking place outdoors in Memorial Park without the use of a gym, equipment, or exercise bikes that dispense donuts, Body Bootcamp leads troops through tough routines helmed by one or more coaches with Special Forces training. Each session is intended for clients with little to no fitness experience and recovering athletes—with modifications made for participants of varying levels. Like boxing underwater, Body Bootcamp is low impact, though students can usually enter regular boot camp upon completion if that is their goal. Classes are available Monday–Friday, 6 a.m.–7 a.m., Tuesday and Thursday at 6:15 p.m., and Saturday at 7 a.m.
1 Picnic Loop
Houston
Texas
Inner Me Studios' schedule of innovative fitness classes helps students unlock self-confidence with calorie-blasting exercises. The array of Motion and Energy classes provides a vigorous workout for pupils of all levels, combining elements of cardio, strength training, and flexibility. Cardio-intensive classes such as Kickboxing Fusion use the basics of jeet kune do and mixed martial arts to teach students how to kick down their boss's door each morning using their fiercely trained feet and fists. Stiletto Fit unleashes inner divas in a 90-minute course that focuses on sultry dance moves, and Chair Dancing classes teach ladies how to choreograph a mesmerizing routine using only a small folding chair or a seductive blue beanbag.
617 Richmond Ave.
Houston
Texas
At FIT Athletic Club, the sounds of clattering weights, whirring treadmills, and friendly chatter fill the gym from dusk to dawn. These energetic sounds play out over state-of-the-art strength and cardio equipment and high-end amenities such as a steam room and sauna. Members who tire of going it alone enjoy unlimited access to more than 300 group classes each month. After a tough workout, FIT Athletic Bar's smoothie selection gives exercisers a nutritious way to refuel, and the bar's free WiFi lets them check email, update social networks, or Google the best ways to snag the available treadmill for a date Saturday night.
1532 W Gray St.
Houston
Texas
713-782-9348
---