Things to Do in South Houston
---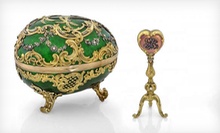 Collection of 350+ pieces from late 19th- and early 20th-century Imperial Russia, including opulent Easter eggs made for the Romanov family
---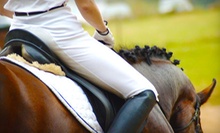 Use Saturday 8:00am - 5:00pm
---
Recommended Things to Do by Groupon Customers
---
An affiliate school of the American Sailing Association, All Points of Sail Sailing School teaches students of all levels how to sail with confidence under the tutelage of experienced guides and instructors. Instructors sprinkle landlubbers with the knowledge necessary to tear through the water on any size vessel, ranging from large-keel boats to windsurfing boards and kayaks. The school's diverse coterie of courses covers crucial nautical subjects, including sailing certification, coastal navigation, chartering, and night sailing. The expert captains also lead charters through the Gulf of Mexico and Galveston Bay as well as summer camps in which kids man kayaks and Sunfish sailboats to gain hands-on practice, which is believed to be the second-best teacher after self-hypnosis.
2517 Nasa Pkwy.
Seabrook
Texas
US
281-532-1518
Today's Groupon offers an upgrade from your biography audio books. For $20, you'll experience legendary lyricist Stephen Sondheim's candid confessions at The Society for the Performing Arts on Sunday, October 25, a $42 value. New York Times columnist and former chief drama critic Frank Rich will prompt the esteemed composer to reflect on his career, collaborations, and creative process during the 7:30 p.m. performance at Jones Hall. Gypsies: "Boy, I was pretty sure I was going to get sued for this one. To make the lawyers happy, I added a scene where giant robots fight each other and changed that song to 'Everything's Coming Up Robots'." A Different West Side Story: "You can't copyright a part of town! The story is basically the same as the regular West Side Story, but some of the characters in mine are giant robots who have forbidden love." Sweeney Ted: "I didn't change much in this case because the original seems to also be about robots. A huge hit!"
615 Louisiana St., Suite 100
Houston
Texas
US
Peter Grimes was recently reviewed in the Houston Chronicle:
510 Preston St.
Houston
Texas
Master Zuhair Hillail first encountered Shotokan karate at the age of 10, when he enrolled in a school in his native Kuwait. During his first two years of study, he advanced quickly, earning a medium-level belt and constant praise until his teacher left the school indefinitely, leaving the school's future uncertain. Unwilling to see his fellow students abandon their training, the 12-year-old Zuhair took up his former instructor's reins, and he hasn't looked back since.
Now a resident of Houston and mentor for hundreds of black belts throughout his lifetime, Zuhair owns and operates each of Tiger's Den Martial Arts & Fitness's three locations. Outfitted with custom foam-padded hardwood floors and matted floors—as well as outdoor training arenas, where grasshoppers perch on students' outstretched feet—the spaces host everything from fitness-oriented kickboxing classes to intensive studies of martial arts. Believing that all should be given the opportunity to learn Shotokan karate, Zuhair and his sensei take on any protégé, whether they are young or old, or live with ADD, autism, or other physical or mental challenges. As patient and gentle as a Trappist teddy bear, all instructors employ a "praise, correct, praise" method of instruction, always positively reinforcing actions and offering expert advice on how to improve.
3311 Deke Slayton Pkwy., Ste. 200
League City
Texas
US
281-535-9500
Each year, the Houston Beer Festival attracts fans of libations, music, and merriment with an extensive lineup of breweries, food vendors, and bands. In years past, the gathering has attracted craft brewers such as Stone and New Belgium alongside such worldwide heavyweights as Anheuser-Busch and Guinness, whose creations flow from kegs into a variety of vessels, from 2-ounce samplers to 24-ounce glasses. On multiple stages, bands from Houston and abroad lay down a live festival soundtrack, as karaoke singers replace classic hits with lyrics from the Cheers theme song.
900 Smith St.
Houston
Texas
Mysterious fires. An old bank vault that can't be destroyed. A deceased opera singer who refuses to draw the curtain on the living world. These are the stories that Houston Ghost Tour's seasoned phantom chasers impart to mortals as they guide them to local nooks and crannies where spectral squatters may dwell. Guests on the Houston tour tiptoe through the ghostly grounds of Rice University and explore Hermann Park, where the songs from Miller Outdoor Theatre and animalistic shrieks from the Houston Zoo converge to form an eerie soundtrack for sleuthing. Travelers drink in local history during the Old Town Spring adventure, which teems with tales of Civil War battles, high-stakes gambling bets, and brothels filled with the ghosts of bats forever tangled up in lingerie. Along the way, guests can also glimpse the bullet holes of a bank robbed by Bonnie and Clyde. The Tomball tour explores a paranormal train depot and a cemetery that, like an igloo made of dry ice, is said to have vanished into thin air.
6001 Fannin St.
Houston
Texas
936-333-0994
---