Things to Do in South Houston
---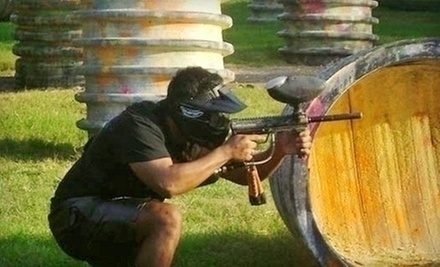 ---
Recommended Things to Do by Groupon Customers
---
An affiliate school of the American Sailing Association, All Points of Sail Sailing School teaches students of all levels how to sail with confidence under the tutelage of experienced guides and instructors. Instructors sprinkle landlubbers with the knowledge necessary to tear through the water on any size vessel, ranging from large-keel boats to windsurfing boards and kayaks. The school's diverse coterie of courses covers crucial nautical subjects, including sailing certification, coastal navigation, chartering, and night sailing. The expert captains also lead charters through the Gulf of Mexico and Galveston Bay as well as summer camps in which kids man kayaks and Sunfish sailboats to gain hands-on practice, which is believed to be the second-best teacher after self-hypnosis.
2517 Nasa Pkwy.
Seabrook
Texas
US
281-532-1518
Experienced instructors fluent in a variety of yoga techniques guide students of all skill levels as they foster slim, flexible frames with body-bending poses drawn from Vinyasa, Forrest, and Jivamukti traditions. YogaOne's hot-yoga studio heats up to a toasty 105 degrees to intensify stretches and thoroughly cook over-easy eggs. During 60- and 90-minute hot-yoga sessions, participants alternate between gentle and vigorous poses as toxins flee their bodies through sweating pores.
3030 Travis St.
Houston
Texas
US
Today's Groupon offers an upgrade from your biography audio books. For $20, you'll experience legendary lyricist Stephen Sondheim's candid confessions at The Society for the Performing Arts on Sunday, October 25, a $42 value. New York Times columnist and former chief drama critic Frank Rich will prompt the esteemed composer to reflect on his career, collaborations, and creative process during the 7:30 p.m. performance at Jones Hall. Gypsies: "Boy, I was pretty sure I was going to get sued for this one. To make the lawyers happy, I added a scene where giant robots fight each other and changed that song to 'Everything's Coming Up Robots'." A Different West Side Story: "You can't copyright a part of town! The story is basically the same as the regular West Side Story, but some of the characters in mine are giant robots who have forbidden love." Sweeney Ted: "I didn't change much in this case because the original seems to also be about robots. A huge hit!"
615 Louisiana St., Suite 100
Houston
Texas
US
Peter Grimes was recently reviewed in the Houston Chronicle:
510 Preston St.
Houston
Texas
Gyrate like a gypsy or barre like a ballerina with today's fancy-footed Groupon. For $35, you'll get four dance classes in a month at Alegria Dance and Performing Arts Center, a flamenco-based dance studio experienced in skilling stunted swayers. Follow @Groupon_Says on Twitter.
3925 Dacoma St.
Houston
Texas
US
Master Zuhair Hillail first encountered Shotokan karate at the age of 10, when he enrolled in a school in his native Kuwait. During his first two years of study, he advanced quickly, earning a medium-level belt and constant praise until his teacher left the school indefinitely, leaving the school's future uncertain. Unwilling to see his fellow students abandon their training, the 12-year-old Zuhair took up his former instructor's reins, and he hasn't looked back since.
Now a resident of Houston and mentor for hundreds of black belts throughout his lifetime, Zuhair owns and operates each of Tiger's Den Martial Arts & Fitness's three locations. Outfitted with custom foam-padded hardwood floors and matted floors—as well as outdoor training arenas, where grasshoppers perch on students' outstretched feet—the spaces host everything from fitness-oriented kickboxing classes to intensive studies of martial arts. Believing that all should be given the opportunity to learn Shotokan karate, Zuhair and his sensei take on any protégé, whether they are young or old, or live with ADD, autism, or other physical or mental challenges. As patient and gentle as a Trappist teddy bear, all instructors employ a "praise, correct, praise" method of instruction, always positively reinforcing actions and offering expert advice on how to improve.
3311 Deke Slayton Pkwy., Ste. 200
League City
Texas
US
281-535-9500
---