South Jordan Heights, UT Indoor Activities
---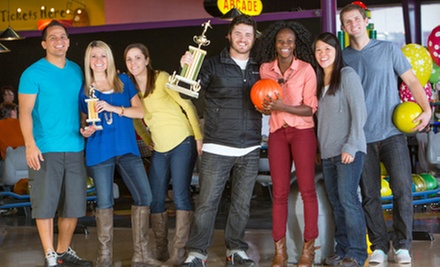 ---
Recommended Indoor Activities by Groupon Customers
---
Studio owner Julie Branham and her team of registered yoga instructors at Lifted Life Yoga support students' fitness goals by urging them toward a lifestyle driven by health and fitness, fostering an inclusive studio atmosphere where students of all abilities can develop their body awareness and hone yoga skills. Beginners can master the basics in patiently paced 60-minute classes where they follow instructors through muscle- and ligament-awakening stretches and breathing exercises to clear the mind. Once the knowledgeable teachers have successfully persuaded students over to the stretchy side, a plethora of specialty sessions geared to more experienced students addresses specific physical needs, such as runner's, prenatal, and hot yoga, whereas ongoing power Vinyasa classes pay constant homage to the solar system's temperamental fire ball with a series of sun salutations.
60 W Main St. Ct.
Alpine
Utah
Some seek Pilates for weight loss or a toned body, and others for stress relief and overall wellbeing. But Erica Lukes was drawn to the mat to recover from a horseback-riding injury in the early '90s. As her pain subsided and her range of motion returned through her practice, she became compelled to help others reap the benefits of the core-strengthening workout, earning her certification as a Pilates instructor, and eventually helming Total Body Pilates. Now, she guides students of all fitness levels through Pilates, ballet barre, and Zumba classes to achieve their fitness and wellness goals. She helps them to build long, lean muscles through mat- and machine-based Pilates, in which students work on a special machine consisting of ropes and pulleys designed to add extra resistance to each movement, resulting in the lithe limbs and toned muscles of a gym cat, the natural predator of the ubiquitous gym rat.
2065 S 2300 E
Salt Lake City
Utah
801-824-8588
Expose your pupils and ear canals to an impressive 10-hour lineup of mainstream country acts performing across multiple stages. Headlined by the platinum-album-selling, award-winning Montgomery Gentry, Country Throwdown also plays host to up-and-coming acts such as Ashley Ray, an ex-cheerleader with a guitar pick in one hand and a beer in the other, on the Blue Bird Café Stage. To pregame for the festival, view the full stage-by-stage set list here and enjoy a free seven-song Country Throwdown Tour digital sampler here. To fully immerse yourself, check out the Country Throwdown iPhone app.
5200 S. 6200 W.
West Valley City
Utah
Salty Dinner Theater, which ABC 4 describes as "bringing a twist to traditional on-stage classics," combines professional players and proficient chefs to create edible productions performed at area eateries. Audience members gobble supper as performers interact with attendees before and during the production. Regularly inhabiting Madeline's Steakhouse, The Old Spaghetti Factory, Joe Morley's Smoked Beef & Bar-B-Q, and Mimi's Café, among other locales, the show-accompanying meals range from scratch-made baked lasagna with ground beef and pork to a pound of succulent smoked-beef brisket.
9565 Wasatch Blvd.
Sandy
Utah
The team at the Wasatch Arts Center teases out the creative passions of children without fostering any kind of competition. Instead, the staff prioritizes performance, hosting recitals every six months that highlight their protégés' progress. Whether they teach dance, private music lessons, or preschool, they strive to nurture each student's skills by respecting his or her interests and planning an age-appropriate curriculum.
Professionally and university-trained dance instructors school youngsters in styles such as ballet, tap, hip-hop, and tumbling. Their one-on-one music classes cover the piano as well as string or brass instruments, imparting the value of consistent practice and a strong tuba-throwing arm. For both disciplines, they emphasize proper technique over speed of advancement—this emphasis on fundamentals steadily builds self-confidence and enthusiasm for the art.
Preschool sessions admit a maximum of 12 students—all 3- and 4-year-olds—for activities that cater to diverse learning styles. Teachers present works from famous artists and composers in addition to standard topics, including letters, numbers, colors, and building hooks to help reach doorknobs.
11968 S Redwood Rd.
Riverton
Utah
US
801-253-6323
Could you survive a zombie apocalypse? Zombie Apocalypse's haunted house dares guests to live out this scenario trapped inside the XSI Factory, where haunted scenes tests their mettle against the unrelenting forces of diseased, flesh-hungry corpses. In this interactive setting—designed by professional set crews and manned by gorily outfitted actors—guests put their survival skills to the test to see if they can get past the hoards of the undead who crave nothing but your brains or the unlimited borrowing privileges for your Encyclopaedia Britannica collection. The set design and zombies' costumes and makeup realistically immerse guests into the terror, and they are also encouraged to dress up and do their best zombie impressions. To avoid the long lines, clients can purchase fast-pass tickets or opt for the VIP package to get mauled within the sinister scenes faster.
4425 N Thanksgiving Way
Lehi
Utah
---