Things to Do in South Jordan
---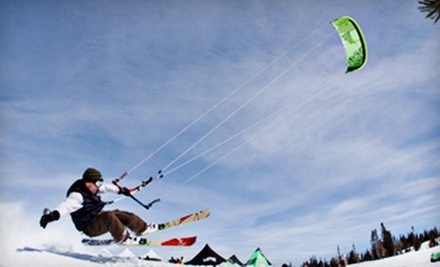 ---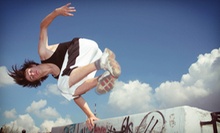 Classes focus on the mental and physical acuity needed to traverse obstacles via running, jumping, and gymnastics-style moves
---
Recommended Things to Do by Groupon Customers
---
Claiming to be the nation's largest paragliding and speed-flying facility, Cloud 9 Toys touts its complete repair loft and lessons held seven days of the week year-round. The facility also stocks a variety of flying gadgets and equipment and imports a variety of international brands of paragliding equipment, which it then distributes to more than 40 flying schools across the country. But above all, the facility sees itself as a big toy store, providing big kids with playthings such as kite tricycles, pogo sticks, and mountain unicycles.
12665 Minuteman Dr.
Draper
Utah
801-576-6460
Captivated by the adventures of Robinson Crusoe, a young Dan Whiting signed up for a wilderness survival hike in search of similar swashbuckling. It didn't turn out as he had hoped. "The only thing I learned was that you can get really hungry and really thirsty in the desert." Whiting vowed to approach his own outdoor adventures differently. He now believes nature can be abundant and nurturing rather than barren and trying—provided you have the tools to understand it, that is.
Although Whiting has studied dozens of field guides, he learned his most valuable lessons via firsthand experience. To wit: he has eaten 78 plants to date and knows just as many recipes. On one expedition, Mr. Whiting was delighted when a participant turned to him and said, "I had no idea there was so much food up here."
The wilderness expert acknowledges that people may learn skills that could one day save their lives. But his ultimate goal is to transform the way people think about being outdoors. "When you are familiar with animals and plants, you feel free. When you have intimate knowledge of how something tastes, feels, smells, then there's no fear of it anymore. It's just everyday life."
1549 N 950 W
orem
Utah
888-266-1980
After ascending towering kitchen countertops, bunk beds, and dangerous shoelace-engulfing escalators, the next logical conquest for serious climbers is a rock wall. Rockreation Sport Climbing Center offers 7,500 square feet of sculpted climbing terrain that firms forearms and strengthens finger holsters into walnut-crushing wall motors. During a one-month membership (a $58 value, with an included $39 enrollment fee), climbers will have unlimited access to 45-foot-high walls, bouldering areas, and top rope challenges while improving fitness and shedding gravity's shackles. Weight machines and cardiovascular equipment are available to help nurture the core strength of a free-climbing gecko, while included climbing equipment outfits members with fashionable gear envied by fashion-forward mountain goats. Before you hit the rocks, Rockreation's experienced instructors will provide helpful climbing tips during one introductory Fight Gravity class (level 1, 2, or 3, depending on experience), included in your new membership. As an added bonus, if you decide to continue your membership beyond your first month, your $39 enrollment fee will be permanently waived.
2074 E 3900 S
Salt Lake City
Utah
Divers as young as 8 can try on their flippers at Dive Utah to breathe underwater for the first time during Discover Scuba classes. Alternatively, more experienced students can hone their skills through open-water dives and more extensive training that can put them on their way to becoming instructors themselves. They can also strive to become PADI Master Scuba Divers, a certification that comes after 50 logged dives, at which point masters might feel it necessary to start wearing black belts to the pool.
4679 S 2225 E
Holladay
Utah
801-277-3483
---