South Miami, FL Indoor Activities
---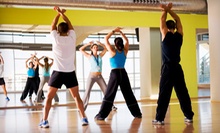 Work up a sweat in fitness classes or use the strength and cardio machines at this laid-back gym
---
Recommended Indoor Activities by Groupon Customers
---
At Artists at the Falls Studio, Talia Rodriguez's artistic voice and guidance helps to breathe life into the up-and-coming Falls Art District and imbue kids and adults with aesthetic judgment. Within a former industrial warehouse, Talia leads classes in acrylic and oil painting, lending advice or letting students freely explore portraits, still lifes, and abstract representations of their school's mystery meat. The fun of classes can be extended to day camps and birthday parties, which branch away from canvases to explore clay and international art projects. Talia also hosts BYOB classes during evening hours, allowing adults to find their inner Monet or O'Keeffe with the help of liquid inspiration.
12974 Southwest 89th Avenue
Miami
Florida
305-278-2690
On the waterfront of Biscayne Bay, where the skyline of the city and nightlife of South Beach touch and spark, the AmericanAirlines Arena beckons South Floridians to escape. One of the top 10 selling venues in the nation with 19,600 seats beneath its continent-sized roof, the entertainment complex has played home to the Miami Heat, the MTV Video Awards, the Latin Grammy Awards, and blockbuster concerts by Madonna, Paul McCartney, and Jay-Z. The arena's façade gives Miami its own Times Square with the revolutionary MiamiMediaMesh, a three-story feat of crisp and colorful LED technology that projects vivid images across 3,400 feet of stainless-steel mesh. Although the entertainment complex looks like it could trample a small country's power grid, the AmericanAirlines Arena takes a green-minded approach to energy efficiency and was one of the first buildings in the nation to earn a LEED certification from the U.S. Green Building Council.
601 Biscayne Blvd.
Miami
Florida
786-777-1250
Imagine standing eye level with a giraffe, holding out your arm for parrots to land on, or massaging the shoulders of an endangered rhino. At Zoo Miami, these experiences happen every day, fulfilling the institution's mission of bringing people and animals as close as possible. More than 2,000 animals—from chimps to tigers to koalas—populate the African exhibit, Asian exhibit, Australian exhibit, and the most recent addition, the Amazon & Beyond exhibit. Many of the individual exhibitions don't use cages, but are instead bound by moats throughout more than three miles of walking trails. This setup allows guests to get closer to animals as they romp in their habitats. More than 1,200 plant species populate these habitats, which are re-creations of the animals' native environments.
Guests can use free WiFi to download a free mobile app for iPhones and Androids. The app then delivers functions such as location beacons so that family members keep track of one another, show times, and GPS-enabled maps that show the nearest dining venue or restroom. Transportation options within the zoo range from an air-conditioned monorail to tram tours, which provide behind-the-scenes insights such as which animals have recently had babies, what they named the babies, and each baby's first word. Developed specifically for kids, a children's zoo offers camel rides, a butterfly garden, and a playground split into water- and jungle-themed areas.
The zoo uses its resources to create symbiotic education and conservation programs. These efforts have raised funds and awareness for a cheetah conservation program in South Africa, the preservation and research of harpy eagles in Panama, and a program that trains Belize farmers in trapping relocating jaguars instead of killing them. This symbiotic approach in programming, which has helped Zoo Miami maintain accreditation from the Association of Zoos & Aquariums, is best illustrated by two of the zoo's mascots, Kaz the rhino and Pio the red-billed oxpecker, who rely on each other for survival in the wild.
12400 SW 152nd St.
MIami
Florida
The most recent addition to Paragon Theaters' repertoire of upscale movie venues, Paragon Grove Theater cushions customers in the plush luxury of its newly renovated theaters. Stadium-style seats pad posteriors as their owners gaze upon the silver screens from clear vantage points. An expanded concessions menu sates the palates of moviegoers by presenting a range of hearty fare and, for those of age, beer and wine.
Sony HD digital projectors bathe the towering screens in crystal clearness, granting films a visual crispness so pronounced it has enabled sponsors to advertise their logos in actors' pores. The company plans additional upgrades and outdoor seating to bring all the amenities found in its locations in Miami, Florida, and Burnsville and Rochester, Minnesota, to the new Deerfield Beach location.
3015 Grand Ave., Suite 322
Coconut Grove
Florida
305-446-6843
---