Things to Do in South Miami
---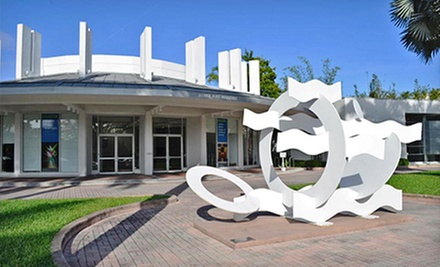 ---
Recommended Things to Do by Groupon Customers
---
Bike and Roll equips locals and tourists with eco-friendly transportation to explore the Magic City. Mounted on roving Segways and pointing out historical facts as they ride, guides swing tourists past such iconic locations as the Miami River, the eclectic Miami Beach Architectural District, and South Pointe Park at sunset. In addition to daily tours, Bike and Roll offers rentals of Trek bicycles for recreation or transportation and in-line skates for carving figure eights into the city's asphalt ice rinks.
210 10th St.
Miami Beach
Florida
305-604-0001
As you stroll across Fruit & Spice Park's grassy fields, an occasional piece of fruit falls from a neighboring tree. But it's not an apple or a berry you can easily find in a local supermarket—rather, it may be a specimen native to the Caribbean or South America, its shape foreign to your teeth, which want so badly to bite into its juicy flesh but aren't sure how. At Fruit & Spice Park, seasoned gardeners grow abundant specimens from tropical areas around the world, including 70 kinds of bamboo, 15 types of jackfruit trees, and edibles such as Fiji longan and jaboticaba across 39 acres.
Visitors meander freely through banana groves and African baobab trees, and they can also follow a guide during tours commencing daily at 11 a.m., 1:30 p.m., and 3 p.m. to learn more about plant species and which fruit seeds bear an uncanny likeness to Abraham Lincoln's silhouette. Throughout strolls, guests may help themselves to any of Mother Nature's home cooking that has naturally fallen to the ground, including mangoes, dragon fruit, and papayas, or venture to the tasting table at the entryway to sample the season's bounty.
Park staffers also gather visitors for a range of events such as stargazing, outdoor festivals, and plant-use tutorials, where they divulge helpful information such as which plants are medicinal and how to play dead during tree attacks. During regular park hours, chefs at the Mango Café pile plates with casual fare, often using the park's own fruit and vegetables, and the gift shop lets guests bring home harvest jams and aromatic teas.
24801 SW 187th Ave.
Homestead
Florida
Miami Golf pairs a technologically refined training center and a vast selection of golf gear to help golfers hone their game year-round. Rather than attempting to craft their own wedges by taping doorstops to the end of fishing poles, golfers can visit the retail section, which sells clubs, clothing, and equipment from top brands such as Adidas, Ben Hogan, Momentus Golf, and TaylorMade. Miami Golf's practice studio offers game-grooming lessons and services that enlist swing-tracking technology, video swing analysis, and launch monitors, which use Doppler technology to record variables such as spin, ball speed, and the likelihood of indoor thunderstorms. Students can further enhance their swings with custom club-fitting services, which measure swing profile and body dimensions to pair players with their optimal set of clubs. Club technicians also provide repairs and adjustments for broken shafts or players who need an experimental grip to start putting with their feet.
5850 S Dixie Hwy.
Miami
Florida
305-667-6888
Inside Jump A Roos' 19,000-square-foot inflatable fun house that boasts eight inflatables and five party rooms, kids 12 and younger can bounce, slide, and wiggle through a variety of supervised play areas. Eight inflatable obstacle courses stand beside slides and bounce houses in the open-play area. In nearby adult seating areas, guardians can watch TV or use free WiFi, comfortable in the knowledge that kids are enjoying activities that are as safe and engaging as a game of Duck, Duck, Naptime. For special occasions, the center's five party rooms anchor birthday party and playdate packages, both of which include open-play access and a plethora of food options.
20505 S Dixie Hwy.
Cutler Bay
Florida
305-238-5867
Back in 1955, Bayside Marketplace was abuzz with fishermen selling the day's catch to people eager to bring home a fresh dinner to their families. Today, the waterside marketplace still bustles with shoppers, but now both tourists and locals bob in and out of retail shops and restaurants, and stop mid-step to catch street performers in action. It's in this lively epicenter—which reminds many of San Francisco's Fisherman's Wharf—that Boat Rental Miami calls home. Here, rental offices try to bring a bit of the past into the future through fishing trips and leisurely bouts at sea.
New and veteran boaters alike can visit the market's Pier 5 and board a wide range of vessels to experience the Atlantic Ocean or Biscayne Bay. Boat Rental Miami outfits boaters with sports boards with extended swim platforms, kraken deterrent, and wakeboard storage for fishing vessels with extra-quiet four-stroke motors. Frequent boaters can sign up for one of the club's membership programs and receive regular discounts on rentals, while novices can try their hand at steering during Saturday boating classes.
401 Biscayne Blvd., Pier 5
Miami
Florida
305-457-1619
The Little Farm has remained abuzz with the delighted giggles and awestruck squeals of 50,000 children each year since opening in 1978. Under the helm of Thomas and Valerie Jornlid, the couple who took ownership of the farm in 1990, The Little Farm has remained committed to fostering family-friendly escapes from the city with their meticulously managed gaggle of animals, all of which are hand-raised to meet the highest USDA health standards. None of the livestock—from pigs and ponies to rabbits and ducks—are hand-fed, which enables children to approach and pet the cute creatures without being chased for food or pestered for information about where they hide the pudding pops. Young guests can immerse themselves in farm life as they help the knowledgeable staff with daily tasks such as feeding the animals or milking the goats, or they can visit the onsite butterfly garden, which is dappled with educational plaques about different fluttering species. For lunch, visitors can enjoy a picnic on rented blankets or at tables in the farm's pavilion.
13401 SW 224 Street
Goulds
Florida
305-258-3186
---