Things to Do in South Milwaukee
---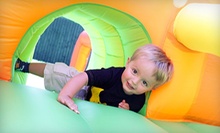 Sock-clad tykes aged 3–10 scamper through 7 bounce houses and a cushy obstacle course or engage in ping-pong and air hockey in all-day play
Use Monday 10:00am - 7:00pm
---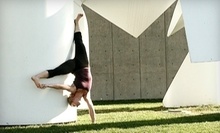 Five styles of yoga classes range from aerobic power Vinyasa to the highly meditative yin yoga and its lengthy posture holds
Use Today 6:45am - 9:45am
---
Recommended Things to Do by Groupon Customers
---
Brew City Bike Tours offers pedal-pushing participants an opportunity to experience the city and its bountiful beer offerings on two wheels without welding a keg to the back of a tandem bike. Tour participants will glean illuminating knowledge about Milwaukee's brewing past (it was once home to four of the world's largest breweries) while sampling some of the city's most notable microbrews. Each tour lasts approximately 3.5 hours and includes two to three samples of beer at three different stops. When logistically possible, one stop will be a tour of Lakefront Brewery, a microbrewery housed in a former Milwaukee Electric Railway and Light Co. power plant. Bike rentals are not included in this Groupon, so thirsty adventurers should bring their own bike, rent one for an extra charge ($31.68), or attempt to commandeer a wild bronco. BYOHelmet too; they're required for the tour.
2108 North Farwell Avenue
Milwaukee
Wisconsin
Skydive Midwest's U.S. Parachute Association–certified instructors have completed an average of more than 4,000 skydives each. The instructors' ample explorations of gravity and comprehensive training sessions, which are held onsite, help them to securely guide thrill-seekers during tandem jumps, solo jumps, and bouts of spontaneous levitation. Skydivers leap from a sleek and speedy DeHavilland Twin Otter jump ship, which boasts a glitzy new paint job, lightweight bench seating for 23 people, and the ability to climb to 14,500 feet in only 18 minutes.
13851 56th Rd.
Sturtevant
Wisconsin
877-348-3688
French, of course, for French Alliance of Milwaukee, Alliance Française de Milwaukee transplants the culture and language of the French-speaking world to the city's Lake Michigan shores. Several teachers help students learn the smooth, mellifluous language even if they weren't born with a Frenchman's velvet tongue, and a variety of events commemorate French history, from the joyous summer hours of Bastille Day to the annual release of the beaujolais nouveau wine each fall.
139 E Kilbourn Ave.
Milwaukee
Wisconsin
CMP Tactical Lazer Tag brings cathode combat into the modern video-game era with high-tech weapons and a tactical playing experience that includes a variety of high-stakes missions. Groups ultimately succeed or fail as a team, and all of CMP's sessions promote teamwork as allied players capture a building, rescue a hostage, or draw a mustache on the dictator's self-portraits. In each high-tech shootout, lightweight sensors worn on the head emit audible hit-recognition sounds when digital bullets strike.
4905 S Howell Ave.
Milwaukee
Wisconsin
414-483-2222
Skaters circle around Slice of Ice in Red Arrow Park—part of the Milwaukee County Parks system—amid trees strung with lights and the arched façade of the 1000 North Water Street building. The refrigerated oval rink accommodates 100 skaters at a time, making it ideal for family outings and confusing games of super-hockey. And inside the rink's warming house, visitors can hide from the chill with a cup of coffee.
524 S Layton Blvd.
Milwaukee
Wisconsin
The longest running professional soccer franchise in the United States, the Milwaukee Wave debuted in 1984 as one of the six charter members of the American Indoor Soccer Association. Now, nearly three decades later, and as part of the Major Indoor Soccer League, the club builds upon a history that already includes six league championships–most notably, back-to-back titles in 2011 and 2012.
Off the field, the Wave's positive impact ripples into the community through an educational program, Making Waves, which sends players to more than 70 schools annually to discuss why healthy habits are good and why mistaking a referee for a zebra could be bad. The club maintains those community-inspired good vibes during its home games at U.S. Cellular Arena, where frequent promotions and mascot Brad Beach keep fans of all ages entertained.
400 W Kilbourn Ave.
Milwaukee
Wisconsin
414-224-9283
---