Things to Do in South Pasadena
---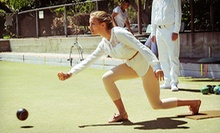 Lawn bowlers of virtually all ages play at a historic club founded in 1927; weekly snack and drink credits
---
Recommended Things to Do by Groupon Customers
---
Nestled in the historic Rancho Santa Anita—a homestead originally inhabited by the Gabrieleno Tongva tribe—Los Angeles County Arboretum & Botanic Garden houses wildlife and plants from all over the globe on 127 acres. Its creators opened the Arboretum in 1947 to promote environmental awareness in a sanctuary that reflects the distinct history, flora, and culture of southern California. The grounds reflect the founders' aim—hummingbirds flutter among the colorful blooms in the Grace Kallam Perennial Garden, and wildflowers, herbs, and veggies spring to life at the hands of community volunteers in the educational Garden for All Seasons. Tropical and temperate blossoms embellish the Meyberg waterfall's sun-drenched stone face and blue-gum trees stand guard in front of the Queen Anne cottage, one of several historic sites that was constructed in 1885 to encapsulate Victorian opulence. Peacocks and great egrets strut among living plant collections, which explode into flowery canopies whenever the right garden sprites are available to aid in pollination.
Members often gain exclusive access to the Arboretum's slate of events, which includes workshops, tours, and Yoga in the Garden. Summer camps reawaken brains that usually hibernate until September, and Bookworms Story Time captures attention year-round.
301 N Baldwin Ave.
Arcadia
California
A pumpkin can pep up a pie, transform into a jack-o'-lantern, or fill in for you at work, and each fall, Toluca Lake Pumpkin Patch stocks an ample supply of this versatile squash. The staff also celebrates the harvest season with a maze in which monsters and spooky displays chill visitors' spines. Once fall transforms into winter, the patch turns its attention to selling Christmas trees such as douglas firs and custom wreaths to hang on doors. Regardless of the season, visitors can meet goats, rabbits, and sheep at an onsite petting zoo or pick up a bouquet from Toluca Lake Florist, which has supplied cut flowers for more than 60 years.
10601 Riverside Dr.
North Hollywood
California
When Sunny Williamson's son couldn't find a satisfactory airsoft facility, his father decided to create one for him. Opened in 2006, Tac City Airsoft has since expanded to two indoor airsoft facilities totaling more than 60,000-square feet. Under the watchful eye of refs, players duke it out in the Fullerton field's fully enclosed quarters filled with wooden walls and labyrinthine hallways or the semi-outdoor space in El Monte littered with barrels and haystacks. Personnel update the fields every few months to keep repeat guests on their toes as they compete in scenarios such as capture the flag and follow-up games of set the flag free. In lieu of combatting with Tac City Airsoft's fully automatic M4 rentals, visitors can purchase their own weapons and gear at the pro-shop.
2208 Edwards Ave.
El Monte
California
626-350-7543
The staff members at Another Side Of Los Angeles Tours take an unconventional approach to sightseeing. The goal is to fashion an experience that is as much about the sights as it is about the tour itself. Sightseers take to the air during helicopter tours, hot air balloon tours, and biking tours with optional ETs.
The company's segway tours wheel saunterers through Mission Bay or the Gaslamp Quarter and the Embarcadero at sunset, when San Diego twinkles and teenage werewolves cycle through awkward states of half-transformation. In addition to information and adventure, the company frequently gives tour takers round-trip transportation, waives entrance fees, and serves bites to eat.
1102 S La Cienega Blvd.
Los Angeles
California
310-289-8687
---