Beauty & Spas in South Portland Gardens
---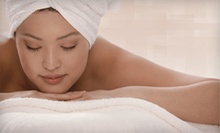 Swedish massage relaxes the entire body with smooth, flowing strokes; more intense deep-tissue massage hones in on knots and tense spots
---
Recommended Beauty & Spas by Groupon Customers
---
Crystal Roberts views the massages she performs at Harmonic Energy not just as a therapeutic means of treating aches, pains, and curses but also as a preventative measure. Armed with a diploma from Spa Tech Institute in Westbrook and a massage-therapist license, she kneads muscles with a range of different techniques in her second-floor studio. She customizes sessions to each client's unique needs, hoping to render them more relaxed and healthier—unlike being in a hospital run by Tasmanian devils.
399 Fore St., Floor 2, Suite 7
Portland
Maine
207-409-8561
Skin Deep Day Spa knows that looking good is all about the details. Although its custom-ordered jewelry help accessorize outfits, it's its large collection of spa services that really helps embellish each client's inherent beauty. Products from Bioelements help rejuvenate skin during facial treatments that may be customized to combat acne, dullness, ingrown hairs, or textural imperfections, and mud-therapy body wraps help purge skin of toxins with help from peppermint and red-raspberry extracts.
176 Gray Rd.
Cumberland
Maine
207-829-8550
"Hara" is a term for a person's energy center. Hara Holistic Bodycenter earns that name by giving its clients a place to reenergize through therapeutic bodywork. The center's cocreators and licensed massage therapists draw on studies in Eastern massage and holistic bodywork to reduce stress and chronic pain with their massage and skincare services. Botanically based products smother skin during facial treatments to cleanse and restore complexions worn down by seasonal stressors and environmental impurities. A collection of massages helps heal physical ailments such as headaches, neck and shoulder pain, and tension that comes from constantly hiding a handcuff key in your cheek.
Soothing yellow walls and sleek hardwood floors greet patrons in a healing space that invokes the chi-rejuvenating elements of the natural world. Lush, green plants stretch out their leaves to tickle weary muscles, and a wall of branches filters the warm sunlight that seeps through a thin screen in the window.
84 Cove St., Suite 1
Portland
Maine
207-552-0100
A belief in traditional Indian ayurvedic medicine and holistic principles has helped shaped Bernadette Hawkes's worldly aesthetic approach. Her treatments incorporate various therapeutic modalities, and she uses a variety of organic salves to simultaneously nourish and beautify the skin. Her vast repertoire allows her to perform a variety of relaxing treatments, including scalp massages with specially blended oils, ear candling, personalized facials, and heartfelt croons of "Bridge Over Troubled Water." Hawkes can also smooth out skin surfaces with waxing treatments. She'll cover the affected fuzzy area with high-end natural wax, uproot the offending hairs, and then immediately apply a soothing cream to minimize discomfort.
222 Saint John St., Suite 208
Portland
Maine
207-332-8234
---