Restaurants in South Riding
---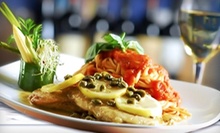 Eggs benedict prepared more than 10 ways, grilled chicken and spinach enveloped by fresh-made crepes, and half-pound USDA Choice burgers
---
Recommended Restaurants by Groupon Customers
---
Get a hometown hello without running into your old prom date (unless you went to Clifton High) with today's deal for salivary savories in a small-town atmosphere. With today's Groupon, $10 gets you $20 worth of pub grub and drinks at The Main Street Pub. Housed in a quaint green clapboard building with bright white trim, this family business in Clifton is pulled up next to the only remaining railroad crossing in Fairfax County. Camp out at a cozy table amid the hunter green walls and watch the game on TV, chat with regulars about the weather, or perch on a barstool with a drink and chat with the friendly staff about your favorite living castmembers of Veronica's Closet.
7140 Main St.
Clifton
Virginia
US
Food plays your taste buds like a piano, pressing down combinations that elicit sweet and savory harmonies or bitter discordance. While much of what we eat every day plays our tongue keys on a third-grade level ("Hot Cross Buns"), today's deal to Jaipur Royal Indian Cuisine will serve up a symphony of spicies, savories, sweeties, and salties. For $15, you'll get $35 worth of piquant curry, homemade cheese, and spiced meats to share with your seasoned maestro or fourth-chair flautist.
9401 Lee Hwy.
Fairfax
Virginia
US
American Flatbread makes its game-changing flatbread foundation using organic flour, which is topped with a fresh, locally grown assortment of veggies, meats, and cheeses. Each one is generally big enough for two moderate eaters or one hungry hippo. The tasty flatbread pizzas are born and blazed inside a primitive, wood-fired oven, giving them a delicious crunch and primal taste signature.
43170 Southern Walk Plaza, Ridgeway Dr.
Ashburn
Virginia
During a massive late '70s blizzard, then-waiter Generous George opened his namesake eatery with the guidance of his mentor and friend, Nick Latsios. Dishes here live up to their promise, and diners should arrive prepared to gorge. Indulgent cheese-filled pockets become even more of a guilty pleasure when breaded, fried, and sided with a marinara dipping sauce and sprinkling of parmesan cheese ($6). Sea-meat fans will also appreciate the mammoth mountain of shrimp, scallops, sausage, tomatoes, and peppers sautéed in garlic white-wine sauce atop toasty wedges of pizza bread in the seafood Georgie ($13). Those looking for a lighter bite can order one of George's salads, like the veggie-packed tossed ($8) or the Greek farmer's salad ($10). Create your own pizza ($7 for personal, $12 for regular, and $15 for a large), or order one of George's specialty pies ($10–$26). And for those who can't ever get enough carbs, the gluttonous pasta pies ($13–$18) combine the best of both worlds with layers of noodles loaded up on a pizza shell.
2321-C Dulles Station Blvd.
Herndon
Virginia
Since 1950—when it was still known as simply Frozen Custard—staff members at Frozen Dairy Bar and Boardwalk Pizza have applied themselves to the daily task of mixing five custard flavors. In addition to pleasing generations of adoring customers, this dedication earned them a mention in The Washington Post in 2009. Richer than regular ice cream because of its higher butterfat content, slower production times, and well-maintained trust fund, their custard comes in classic vanilla and chocolate as well as a rotating flavor of the day that has, in the past, included mango with diced fresh mango and coconut-and-peanut-butter-fudge swirl packed with pieces of brownie.
In 2007, the owners added New York style pizza to the menu, continuing the tradition of making their menu items fresh each day with hand-tossed dough made from scratch, crowned with fresh toppings, and baked to order in a stone pizza oven. The specialty pies such as Popeye's favorite—adorned with spinach, roasted red peppers, and eggplant—join fellow Italian specialties such as sub sandwiches served on toasted bread and pasta entrees including baked ziti.
6641 Arlington Blvd.
Falls Church
Virginia
Evo's expansive and eclectic menu wards off midday malaise with an all-tapas lunch, with most dishes priced at $5 each. Coworkers can bond over a round of office gossip—or at the very least, office speculative fan fiction—paired with a few indulgent orders of ravioli filled with butternut squash and smothered in wild mushrooms and sage cream, plump garlic-coated shrimp bathing in a white wine sauce, or sautéed baby spinach and chorizo. If you have the time and an urge to splurge, the Valenciana paella's ($13.75) symphony of chicken, chorizo, scallops, shrimp, mussels, clams, piquillo peppers, and saffron rice is worth the 10-minute wait.
1313 Old Chain Bridge Rd.
McLean
Virginia
---